Profile for Anna Keefe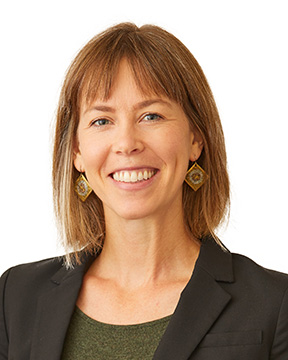 Specialty area(s)
Contemporary French and Francophone cultures, African cinema, French cinema, Postcolonial studies
Brief biography
I regularly teach French language courses and upper level courses focusing on French-language film and literature, and French-speaking cultures. I aim to draw students' attention to communities and cultural output in often lesser known areas of the French-speaking world. My research interests include contemporary French and Francophone fiction and documentary film. When I'm not engaged in teaching, scholarly activity, or committee work, you can find me hiking in the bluffs with my dogs, cooking, and doing yoga.
Current courses at UWL
FRE 101: Introductory French I
FRE 201: Intermediate French I
FRE 301: Sound, Speech, and Proficiency
FRE 305: Exploring the Story
FRE 395: French Literary Voices in English, a GenEd film and literature course in translation, taught in fall 2018 as "Voices from the Margins"
FRE 322: French without Borders
FRE 351: French Cinema
FRE 430: French Connections (capstone course)
Education
Ph.D., French, University of Virginia (2016)
M.A., French Literature, Boston College (2010)
Pensionnaire Étrangère, École Normale Supérieure de Paris (2008-9)
B.A., French, University of Minnesota, Morris (2005)
Research and publishing
Publications
(In progress) "Quand serons-nous banales?" French minority-ethnic actresses in contemporary French cinema
(Forthcoming) "Alain Gomis: An African in Paris," in Portraits de cinéastes, ed. by Michel Abecassis and Marcelline Block
"African cinema and its 'ancestor': local encounters in Jean-Marie Teno's Lieux Saints," Contemporary French Civilization 43.1 (2018), 91-108.
Conferences
(upcoming) Modern Language Association Annual Convention, Seattle, WA, 6-9 January 2020. "The auteur cinéma-monde of Alain Gomis: focus on Félicité (2017)"
African Studies Association Annual Meeting, Chicago, IL, 16-19 November 2017. "Screening the Text: Creation and Resistance in Juju Factory"
World Cinema and Television in French, University of Cincinnati, Cincinnati, OH, 9-10 September 2016. "Questioning African Cinema: Jean-Marie Teno's Lieux Saints"
African Literature Association Annual Meeting, Atlanta, GA, 6-9 April 2016. "Chaplin and Silent Comedy in Francophone Sub-Saharan African Film"
Conseil International d'Études Francophones, San Francisco, CA, 29June-5 July 2014. "Vers un nouveau mode de production filmique: l'allégorie cinématographique dans Les Saignantes de Jean-Pierre Bekolo"
Book Reviews
Review of Cultural Diversity in the French Film Industry: Defending the Cultural Exception in a Digital Age, by Sarah Walkley. Studies in 20th & 21st Century Literature. Vol. 43 (2019) No. 2.