Profile for Kyrsha Balderas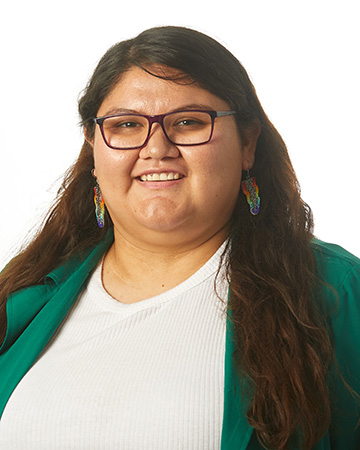 Contact me
Kyrsha Balderas
Student
College of Arts, Soc Sci & Hum University of Wisconsin-La Crosse
Brief biography
Hoa! Hola! Hello!
Kyrsha Balderas identifies as a Queer Meskwaki Mexican woman. She grew up in a multi-generation household on the Meskwaki Indian Settlement in Tama, IA. She grew up with a large family and always had small children around her. She graduated with a Bachelor's degree in Sociology from Coe College. While at Coe, she became a prominent voice for mentoring and creating programs for students of color. Kyrsha served as a College Possible Coach at Coe College for two years. She mentored first-generation, low-income, and students of color to overcome barriers toward achieving college graduation.
Currently, Kyrsha a first year master's degree student in the Student Affairs Administration program at UWL. She enjoys spending time with her family, analyzing Disney movies, binge-watching shows on HBO Max, and spending too much time on TikTok.
Education
B.A., Sociology, Coe College, 2018
Career
Professional history
2018-2020: Catalyze Success Coach, College Possible
2020-2021: Registrar/Secretary, Meskwaki Settlement School
2021-Present: OMSS Graduate Assistant, University of Wisconsin-La Crosse
Kudos
named
Kyrsha Balderas, Student Affairs Administration student, was named Convention Intern of ACPA - College Student Educators International on Jan. 27. Of the many graduate students across the nation who applied, Kyrsha Balderas from UWL's SAA graduate program was selected to be an ACPA Convention Intern for 2022. ACPA's Convention occurs from March 6-9, in St. Louis and this annual gathering of higher education professionals tends to attract close to 3,000 participants with nearly 500 educational sessions. SAA is well-represented at this international association. The incoming association president, Dr. Dre Domingue (Assistant Dean of Students for Diversity and Inclusion at Davidson College) is one of our ad hoc faculty members. Dr. Domingue will be teaching with us again this summer and is also on one of our doctoral students' dissertation committees. One of our ranked faculty members, Dr. Becki Elkins, was asked to be part of a select group of scholars to document the 100-year history of the organization. Another of our faculty members, Dr. Adele Lozano, will be co-presenting a workshop on social class and leadership, based on an article co-authored with Dr. Tori Svoboda. SAA is also hosting an Alumni & Friends social at the convention on Monday, March 7, as an opportunity to connect with current doctoral and master's students, ad hoc and full-time faculty, and alumni, as well as to promote online doctoral and master's programs to our broader higher education community. Most of all, we're delighted to celebrate the honor Kyrsha Balderas received in being selected for this competitive convention internship.
Submitted on: Feb. 2, 2022
Memberships & affiliations
[{"organization":"Multicultural Student Services","position":"Graduate Assistant","url":"https://www.uwlax.edu/multicultural-student-services/our-people/"}]