Profile for Basudeb Bhattacharyya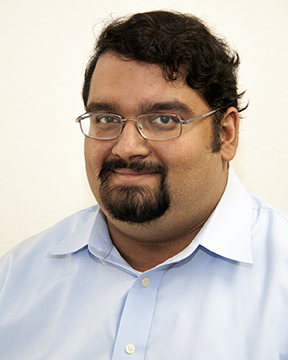 Contact me
Basudeb Bhattacharyya Pronounce my name
Teaching Associate Professor
Chemistry & Biochemistry University of Wisconsin-La Crosse
Specialty area(s)
Biochemistry
Education
B.S. Biochemistry/Spanish, University of Wisconsin-Madison
Ph.D. Biochemistry, University of Wisconsin-Madison
Career
Teaching history
CHM 103 (General Chemistry I) Lab
CHM 104 (General Chemistry II) Lab
CHM 250 (Introduction to Organic and Biochemistry)
CHM 271 (The Chemical Community)
CHM 325 (Fundamental Biochemistry)
Kudos
published
Colton Berger
,
Julian Grosskopf
and
Gage Stuttgen
, all Biochemistry; and
Basudeb Bhattacharyya
,
John May
and
Todd Weaver
, all Chemistry & Biochemistry; co-authored the article
"Closed fumarase C active-site structures reveal SS Loop residue contribution in catalysis."
in FEBS Letters published on Jan. 27 by Wiley. The article outlines high-resolution structural results from a collaborative research agreement with the Advanced Photon Source located at Argonne National Laboratory.
Submitted on: Jan. 28, 2020
published
Basudeb Bhattacharyya, Daniel Grilley and Todd Weaver, all Chemistry & Biochemistry; and Walter Novak, Wabash College, Chemistry Department; co-authored the article "Proteolysis of truncated hemolysin A yields a stable dimerization interface" in
"Acta Crystallographica Section F: Structural Biology Communications"
published on April 5, 2017 by Wiley-IUCr (International Union of Crystallography). The research results presented within this article reinforce the structural plasticity of beta-helix proteins. Implementation of beta-helix proteins has been identified within both bacterial pathogenesis and neurodegenerative disorders. Thus, the collaborative efforts presented within this publication connect structural plasticity with protein-based pathogenicity.
Submitted on: April 6, 2017