Profile for Dustin Barton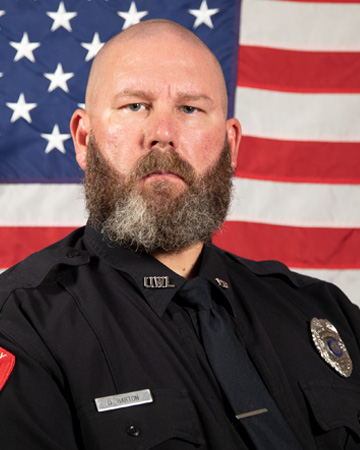 Contact me
Dustin Barton
Pronouns: He/ His/ Him
Police Officer II
University Police Services University of Wisconsin-La Crosse
Brief biography
Hello, my name is Dustin Barton. I am a 2nd shift patrol officer with the UW La Crosse Police Department. I am a veteran, having served 11 years in the US Navy, and 5 years US Army. I began a career path in law enforcement as Military Police Officer serving in Operation Enduring Freedom. After discharging from the active duty, I was hired as a Civilian Police Officer within the Department of the Army at the Fort Mc Coy Army Training Center. I've been fortunate to have served with several municipal law enforcement agencies as the City of La Crosse Police Department, the City of Whitehall Police Department and the Village of Trempealeau Police Department. These experiences have lead me to the UW La Crosse Police Department where I have continued to serve since 2009.
My spare time is spent with family and friends, or my two dogs. I enjoy duck hunting, fishing or the cathartic experience of woodworking.
Current courses at UWL
Here at UW La Crosse I am proud to continue to team with Rec Sports to provide a Self Defense program, available to the UW-L community.
I also work with several members of the UW-L community to provide "ALICE" Active Threat/ Active Shooter preparedness education programs available to faculty, staff and students.
Education
I possess an Associates of Arts Degree in Architectural Technology.
Career
Teaching history
I am WI Law Enforcement Training and Standards Board (LESB) certified instructor in such topics as Defensive and Arrest Tactics (DAAT), Handgun and Rifle, Tactical Response, Standardized Field Sobriety Tests (SFSTs), and Scenario. I am also certified as a Taser instructor, and Less Lethal Impact Munitions Instructor.
Most importantly I am a Department Field Training Officer, responsible for providing training and mentorship to our newest officers as they begin their careers within our department.