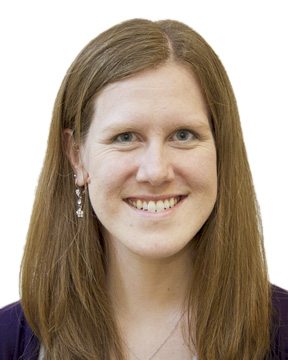 Specialty area(s)
Physics Education
Brief biography
One of my primary roles at UW-L is to advise and mentor future science teachers in the Secondary Teacher Education Preparation (
STEP
) program. I am part of a national effort called
PhysTEC
(the Physics Teacher Education Coalition) to recruit and retain physics teachers, and I also lead professional development seminars and workshops for current teachers.
My research in Physics Education focuses on cognitive science and problem solving. I use eye-tracking technology to study the way people view and interpret multiple representations in physics (such as diagrams, graphs, and equations.) This research will provide useful information for designing better instructional materials for teaching physics.
Education
PhD in Physics, University of Minnesota, 2009
Subfield: Physics Education Research
Adviser: Dr. Kenneth Heller
Dissertation: Development and validation of a physics problem solving assessment rubric

MS in Physics, University of Minnesota, 2006
Subfield: Experimental High Energy Particle Physics

BS in Physics and Physics Education, North Dakota State University, 2004
Teaching history
The courses I teach most frequently are PHY106: Physical Science for Educators and BIO/CHM/PHY 469: Teaching and Learning Science in the Secondary School. I also teach courses or laboratories in introductory physics.
Professional history
Prior to starting at UW-L in 2011, I spent two years as a Postdoctoral Fellow in Cognitive Science at the Beckman Institute for Advanced Science and Technology at the University of Illinois at Urbana-Champaign.
Research and publishing
Selected publications:
Docktor, J., Mestre, J. (2014). Synthesis of Discipline-based Education Research in Physics. Physical Review Special Topics - Physics Education Research 10, 020119.
Article Link
Ross, B., Mestre, J., Docktor, J. (2014) Understanding how to teach physics understanding in M. A. McDaniel, R.F. Frey, S.M. Fitzpatrick, & H.L. Roediger III (Eds.) Integrating cognitive science with innovative teaching in STEM disciplines (pp. 92-110). St. Louis: Washington University in St. Louis Libraries.
Article Link
Docktor, J.L., Mestre, J.P., & Ross, B.H. (2012). Impact of a short intervention on novices' problem categorization criteria. Physical Review Special Topics – Physics Education Research 8, 020102.
Article Link
(in press - available September 2015):
Docktor, J., and Sudhakaran, G. Building a thriving undergraduate physics teacher education program at the University of Wisconsin – La Crosse: Recruitment and retention (2015). In C. Sandifer and E. Brewe (Eds.), Recruiting and Educating Future Physics Teachers: Case Studies and Effective Practices. Physics Teacher Education Coalition, American Physical Society, and American Association of Physics Teachers.
Book Information