Profile for Kari Johnson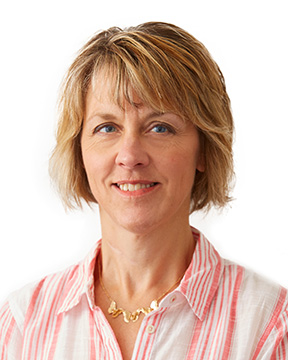 Contact me
Kari Johnson
Clinical Associate Professor
Microbiology University of Wisconsin-La Crosse
Specialty area(s)
Dept. Equity Liaison
Clinical Laboratory Science - academic advising; course instruction
Laboratory Management.
Brief biography
I am a Lifetime country girl and resident of the Driftless Region! I Love the beauty, flora and fauna of the countryside - Vernon County in particular. In my rare spare time I enjoy hiking and exploring all nature has to offer - within Wisconsin and beyond. I try to go on a major vacation at least every other year, hiking in the mountains of our great National Parks. My favorites so far have been Yosemite, Zion, Bryce Canyon and the Great Smoky Mts.
I consider myself a lifelong learner and a naturally very curious person. This is what brought me back to UWL for the 3rd time in my life -This time as an instructor! UWL has so much to offer our students and I am very proud to say I am alumni and have the opportunity to share my professional experiences with students as we learn together. There is never an end to learning as long as you are curious enough to continue asking the questions of why and how!
Current courses at UWL
CLI 120: Introduction to Clinical Laboratory Science
MIC 130: Global Impact of Infectious Disease (summer)
MIC 230: Fundamentals of Microbiology Laboratory
CLI 410: Clinical Hematology - Laboratory
CLI 440/540: Clinical Parasitology - Lecture and Laboratory
CLI 484/584: Laboratory Management
Education
MBA - Healthcare emphasis, 2014: Viterbo University, La Crosse, WI.
Bachelor of Science, 2005, Clinical Laboratory Science: University of Wisconsin, La Crosse, WI. Clinical rotation: Univ. of North Dakota, Grand Forks and Mayo Clinic Health System, La Crosse, WI.
Bachelor of Science, 1986, Microbiology (Chemistry minor): University of Wisconsin, La Crosse, WI
Career
Professional history
15 yrs - Laboratory Manager (Environmental Sciences and Healthcare)
12 yrs - Clinical Laboratory Scientist; Mayo Clinic Health System
20 yrs - Environmental Consultant and small business owner
12 yrs - Analytical Chemist; Environmental Testing
Memberships & affiliations
[{"organization":"American Society of Clinical Pathologists (ASCP)","position":"Member","url":"https://www.ascp.org"},{"organization":"American Society of Clinical Laboratory Science (ASCLS)","position":"Member","url":"https://ascls.org/"}]