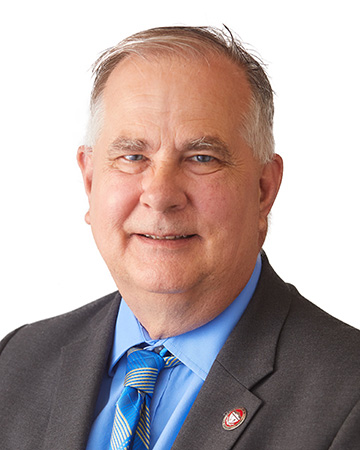 Specialty area(s)
University Centers, Student Development, organizational development
Brief biography
PGP's He, Him, His
My life has been pretty much dedicated to higher education.I earned my bachelor degree from UW-Eau Claire where I was involved with student government.My master's degree is from the University of Iowa.
I earned my doctorate from the University of Northern
Colorado (UNC), and I have been working and teaching at UW-La Crosse since 1985.

I have had the good fortune to
travel internationally through my positions at UW-La Crosse. My
family and I traveled to Melbourne, Australia in the summer of 2001, where I spent two weeks at Monash University teaching student development to their staff.
This culminated with my facilitation of a region-wide workshop on student development.
Spring break of 2006 presented another opportunity for travel.
I journeyed with faculty colleagues, Jodie Rindt and Chris Bakkum, to
Hong Kong, Guilin, and Nanning in China. We toured the Chinese institutions and discussed "helicopter" parents as well as other student
issues.We finished the trip with a few days in Beijing
to see the Great Wall, the Forbidden City,and numerous palaces.
I like to travel,and appreciate the opportunities when they arise, but it is always nice to come home. I grew up in southern Wisconsin in the small town of Belleville , which is just south of Madison.
Growing up in Belleville fostered my interest in gardening and spending time outsude,
I am married to Ingrid, who grew up in the Minneapolis
area.We have three children, all sixyears apart.Matt,our oldest, is an
Assistant Professor of Finance at Washington University at St. Louis. Jess ica, our oldest daughter, graduated from law school at the University of Minnesota and is looking for a job.. Kristin, our youngest, is attending UW-La Crosse.
Current courses at UWL
I teach in the Student Affairs Administration program about twice a year. My favorite course to teach is the student development course.

My real job is expanding the learning environment for students to their lives outside the classroom. We work to create educational opportunitities for students in their everyday lives. This learning occurs through a students involvement in student organizations, with their leadership experiences and sometimes in the life decisions they are making.
Education
Ph.D. University of Northern Colorado, 1986
MA. University of Iowa, 1979
B.A. University of Wisconsin-Eau Claire, 1976
Professional history
Bemidiji State University-Coordinator of Student Development 1980-82
UW-La Crosse, Associate Director, 1985-1991
UW-La Crosse, Director of University Centers, 1991 to present