Profile for Michael Forbes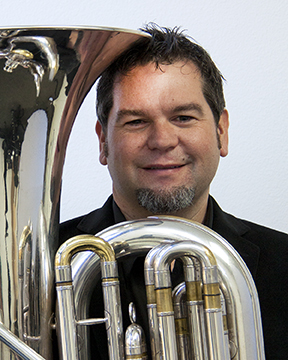 Specialty area(s)
Low Brass Musical Instruction
Brief biography
Mike Forbes (b. 1973) is "…an outstanding tubist with a solid, colorful tone, terrific technical skills, and dramatic flair" (American Record Guide). Today, he is the Principal Tubist with the La Crosse Symphony Orchestra and Tuba/Euphonium Instructor at the University of Wisconsin-La Crosse. Occasionally he serves as the tubist with the "Guy's All-Star Shoeband" on Garrison Keillor's popular radio show, "A Prairie Home Companion."

Dr. Forbes has recently released his 2nd solo album featuring his own compositions for solo tuba. This album, "Forbes Plays Forbes" can be found in the Summit Records catalogue along with his first solo album, "Forbes Plays Koetsier" and five other albums with the Sotto Voce Tuba Quartet and the Isthmus Brass. He also collaborated on two recently released chamber music albums in 2014: "Alec Wilder Four Suites" on Albany Records and "Snapshots" with euphonium virtuoso, Demondrae Thurman.

Staff Sergeant Forbes began his career as a tubist with the U.S. Army Band, "Pershing's Own" and subsequently served on the music faculties at a number of universities from the East Coast to the Midwest. He is an active soloist, high in demand throughout the United States, Canada, and Europe. He recently performed and taught at music conservatories and festivals in Spain, Portugal, Puerto Rico, and Norway. As the founder and manager of the Isthmus Brass and the Sotto Voce Quartet, Forbes enjoys performing and recording exhilarating chamber music with his colleagues around the globe.

Dr. Forbes has received numerous awards and accolades for his compositions and is regularly commissioned by notable brass artists and band directors. He has won the Dallas Wind Symphony Fanfare Composition contest numerous times, and his compositions have been given awards of merit by the U.S. Army Band, Humboldt Brass Festival, and the International Tuba-Euphonium Association. He has recently been commissioned by the National Band Association of Wisconsin to compose a new work for their 25th State Band Festival and the Wisconsin State Music Association to compose a new work for the State Music Festival Orchestra.

Mike performs on a Yamaha Custom 822 F Tuba (pictured). He acquired this instrument in 2001 from reknowned tubist, Toby Hanks.

Current courses at UWL
Trombone, Euphonium, and Tuba Lessons
Education
Doctor of Musical Arts, 2003
University of Maryland, College Park

Master of Music, 1997
University of Wisconsin–Madison

Bachelor of Music, with distinction, 1995
The Pennsylvania State University

Junior Year Exchange (Study Abroad), 1993–94
The Royal Northern College of Music
The University of Manchester, England

Teaching history
University of Wisconsin-La Crosse, 2014–
Instructor of Tuba/Euphonium

University of Wisconsin-Platteville, 2009–12
Associate Professor of Music
Chair, Music Theory & Composition Department
Instructor of Trombone, Euphonium, & Tuba

University of Nebraska-Kearney, Kearney, NE, 2008–09
Senior Lecturer of Low Brass/Music Theory

Illinois State University, Normal, IL, 2002–06
Assistant Professor of Tuba & Euphonium

Hot Springs Music Festival, Hot Springs, AR, 2005–06
Tuba Mentor Faculty & Chamber Ensemble Coordinator

Lincoln Christian College & Seminary, Lincoln, IL, 2003–04
Instructor of Tuba (Adjunct)

Blue Lake Fine Arts Camp, White Hall, MI, 2003
Tuba Faculty

Mary Washington University, Fredericksburg, VA, 2001–02
Instructor of Low Brass (Adjunct)

Frederick Community College, Frederick, MD, 2001–02
Instructor of Low Brass (Adjunct)

The University of Wisconsin–Madison
Music Theory Teaching Assistant, 1995–97
Music Technology Teaching Assistant, 1997–98
Professional history
Bands
The U.S. Army Band "Pershing's Own" Washington, D.C.
The U.S. Army Tuba/Euphonium Quartet—bass tubist, arranger/composer
The U.S. Army Band Brass Tentet—conductor, founder
The U.S. Army Brass Band—soloist, librarian
Rountree Wind Symphony, (Platteville, WI)
Trade Winds, Principal Tuba (Professional Wind Band in Tampa, Florida) 2005–07

Orchestras
LaCrosse Symphony Orchestra, Principal Tuba
Porto Symphony Orchestra, Porto, Portugal, Extra Tuba
Madison Symphony Orchestra (WI), Substitute Tuba
Milwaukee Ballet Orchestra, Substitute Tuba
Wisconsin Chamber Orchestra, Substitute
Fox Valley Symphony Orchestra (WI), Extra
Dubuque Symphony Orchestra (IA), Substitute
Hot Springs Music Festival Orchestra (AR), Principal
Illinois Symphony Orchestra: Substitute Tuba, Extra: Bass Trumpet
Champaign-Urbana Symphony Orchestra (IL), Substitute
Cedar Rapids Symphony Orchestra (IA), Soloist/Substitute
Alexandria Symphony Orchestra (VA), Substitute
Chautauqua Symphony Orchestra (NY), Extra

Summer Music Festival Orchestras
Starry Nights Summer Festival Orchestra, Milwaukee (WI), Principal Tuba
Chautauqua Summer Music School Festival Orchestra
Aspen Music Festival Chamber Orchestra
Hot Springs Music Festival Orchestra

Chamber Music
Sotto Voce Quartet (www.tubaquartet.com), Co-Founder, Business Manager
The Wild Trio (Horn, Tuba & Piano)
Ensemble Nouveau, UW-Platteville Faculty Ensemble
Illinois State University Faculty Brass Quintet

Brass Ensembles & Brass Bands
Isthmus Brass (Leader, Founder, and Business Manager)
The Madison Brass Band (soloist)
The Salvation Army Brass Band Southern District (substitute)
Brass Band of Central Illinois (Conductor/Music Director)

Research and publishing
All Compositions and Arrangements available at www.eBrassMusic.com

Discography
Forbes Plays Forbes. Mike Forbes Solo Album No. 2, Summit Records DCD469
Four Suites of Alec Wilder: Charles Tibbetts & Friends, Albany Records
Sotto Voce Quartet: "LIVE at Midwest Band & Orchestra Clinic." Mark Records.
Snapshots. Demondrae Thurman & Friends Chamber Music Album, CD Baby.
Take This Hammer. Sotto Voce Quartet, CD Baby.
Isthmus Brass Christmas. Isthmus Brass, Summit Records.
Clifton Williams: Works for Band. Rountree Wind Symphony, Mark Records.
Refractions: Old & New Music for Low Brass. Sotto Voce Quartet, Summit Records
Gottschalk: Works for Orchestra. Hot Springs Music Festival Orchestra, Naxos
Forbes Plays Koetsier: Complete Works for Solo Tuba. Summit Records DCD462.
Viva Voce! The Quartets of John Stevens. Sotto Voce Quartet, Summit Records DCD388.
Consequences. Sotto Voce Quartet, Summit Records DCD322.

Important links
http://www.MikeForbesMusic.com
http://www.eBrassMusic.com
http://www.IsthmusBrass.com
http://www.TubaQuartet.com