Profile for Meredith Thomsen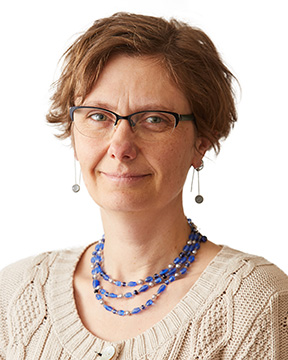 Specialty area(s)
I direct graduate and undergraduate student research in plant ecology, invasive species, ecological restoration, and habitat fragmentation. I primarily work in local floodplain forest and sand prairie habitats.
I welcome inquiries from students interested in starting a MS at UWL in fall 2020.
Brief biography
I grew up in Duluth, MN, and attended Carleton College in Northfield, MN. After working at the MIssouri Botanical Garden in St. Louis for a year, I headed west to attend graduate school in the Department of Integrative Biology at the University of California-Berkeley. I happily returned to the upper midwest after I graduated, and I have been at UWL ever since.
Current courses at UWL
Undergraduate: Organismal Biology (lecture and lab), Ecology, Quantitative Methods in Ecology, Biology Capstone
Graduate: Communications in the Biological Sciences
Education
Ph.D., Integrative Biology, UC Berkeley: 2005
B.A., Biology, Concentration in Environmental Studies, Carleton College: 1997
Professional history
Graduate Studies Director: 2017 - present
Professor: 2014 - present
River Studies Center: 2006 - present
Environmental Studies Program Director: 2015-2017
Associate Professor: 2010-2014
Assistant Professor: 2006-2010
Research and publishing
My primary research area is restoration ecology, with side projects in plant-microbe interactions, basic plant ecology, and wildlife ecology.
You can find a complete listing of my publications at my Google Scholar page.
Kudos
published
Veronica Yovovich, University of California-Berkeley; Christopher Wilmers, University of California-Santa Cruz; and Meredith Thomsen, Biology; co-authored the article "Pumas' fear of humans precipitates changes in plant architecture" in Ecosphere and was accepted for publication by John Wiley & Sons.
Submitted on: Aug. 3
published
Daniel Gibson-Reinemer, Adams State University; Scott Collins, Texas Tech University; Kristen Bouska, Nathan De Jager, Deanne Drake and Jeffrey Houser, all USGS; and Meredith Thomsen, Biology; co-authored the article "Conceptualizing alternate regimes in a large river floodplain: water clarity, invasive fish, and floodplain vegetation" in Journal of Environmental Management published on April 15 by Elsevier.
Submitted on: May 4
published
Olivia Clark, Biology BS and Meredith Thomsen, Biology, co-authored the article "Restoring wetlands dominated by Phalaris arundinacea with haying, spraying, and aggressive competitors" in Ecological Restoration published on March 4 by University of Wisconsin Press.
Submitted on: Mar. 9