Profile for Neal Dillon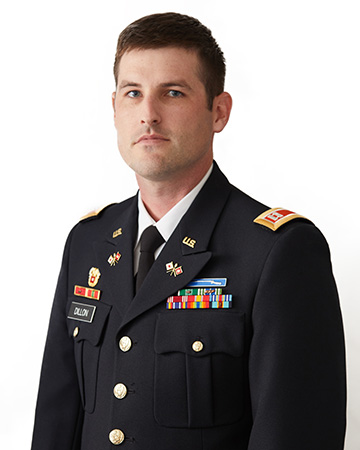 Brief biography
Originally from North Liberty, IN, Captain (CPT) Neal Dillon enlisted in the Army in 2004, serving three years on active duty as an Infantryman stationed at Schofield Barracks, HI. CPT Dillon left active duty in 2007 upon receipt of a Green to Gold Scholarship. He earned his commission through Notre Dame Army ROTC in 2011.
Upon completion of Signal Basic Officer Leader Course, CPT Dillon served as the Battalion S6 for 1-26 IN Battalion, and the Brigade S6 for 3rd Brigade, 1st Infantry Division, Fort Knox, KY from 2012-2014. After the Brigade deactivated, he was reassigned to Fort Sill, OK, serving as a Battalion S6 and Battle Captain in 4th Battalion, 3rd Air Defense Artillery (Patriot), where he deployed to Kuwait in support of Operation Spartan Shield from 2015-2016.
CPT Dillon is a graduate of the Signal Captain's Career Course, Master Resiliency Training Course (MRT), Military History Instructor Course (MHIC), Foundation Instructor Facilitator Course (FIFC), 3M Fiber Optic Installer Course, Field Sanitation Team Course, NATO Peace Support Operations Course, Unit Movement Officer Course (UMO), Link 16 Joint Interoperability Course, Information Assurance Course, Security +, Combat Lifesaver (CLS), IA Technical Level 1, NSS PKI Trusted Agent Course, Radiation Safety Course, CIO/G6 Ethical hacker Course, Voting Assistance Officer Course, Commander's Safety Course, Ammo Handlers Course, 40 HR HAZMAT Course, SBCT CO Fusion Cell Cohort Training Course, and the Basic Infantryman Course.
His awards include the Army Commendation Medal (1 OLC), Army Achievement Medal (3 OLC), Good Conduct Medal, National Defense Service Medal, Global War on Terror Expeditionary Medal, Global War on Terror Service Medal, Army Service Ribbon, and the Overseas Service Ribbon (1 OLC). He has also been awarded the coveted Expert Infantryman Badge.
CPT Dillon is married to the former Adrienne Singleton of Walkerton, IN. They have six children: Elleigh, Ethan, Shelby, Hanley, Maddux, and Conner.
Current courses at UWL
MS 101 - Introduction to the Army
MS 201 - Individual Leadership Studies
MS 402-Military History
Education
Master's in Human Services Counseling (Liberty University) - 2018
Bachelor's in Criminal Justice (IU) - 2011