Profile for Natalie Solverson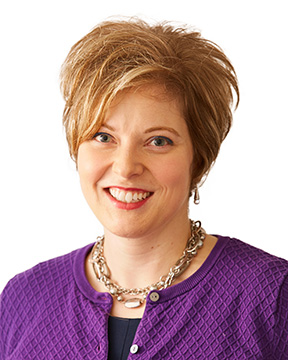 Contact me
Natalie Solverson
Institutional Research Director
Institutional Research University of Wisconsin-La Crosse
Education
MPA, University of Wisconsin-Madison, policy analysis
BS, Cornell University
Career
Professional history
Natalie Walleser Solverson is UWL's Director of Institutional Research, Assessment, and Planning. Prior to beginning this role in 2012, she was a program evaluator for the Wisconsin Legislative Audit Bureau and an admissions counselor for UWL, focused on nonresident recruitment and scholarship awards. Her duties include data analysis for enrollment management, managing UWL's processes for maintaining regional accreditation with the Higher Learning Commission, and coordinating UWL's response for external reporting including to UW System and publisher surveys like U.S. News and World Report.
Kudos
served
Brenda Leahy, Michele Nauman and Kalia Vang, all Academic Advising Center & Career Services; Ana Mendoza and Corey Sjoquist, both Admissions; Kaylie Connaughty, Heather Dutcher, Britney Heineman, Jake Speer and Maren Walz, all Advancement; Michael Abler and Renee Redman, both Biology; Zac Knutson, Budget Office; Dawn Hays, Campus Child Center; Mark Sandheinrich, College of Science & Health; Ashley Jochimsen, Counseling & Testing; Ryan Friesen, English; Samuel Schmidt, Exercise & Sport Science; Meredith Thomsen, Extended Learning; Ka Lia Smith, Financial Aid; John Kelly, Geography & Earth Science; James Longhurst, History; Natalie Solverson, Institutional Research, Assessment & Planning; Christine Manno, Management; Suzanne Anglehart, Microbiology; Anthony Chergosky, Regina Goodnow and Sean Hurtubise, all Political Science & Public Administration; Sandra Grunwald and Betsy Morgan, both Provost's Office; Nathan Barnhart and Jeff Keenan, both Rec Sports; Vitaliano Figueroa, Student Affairs; Kara Ostlund, Student Life; and Kyle Burke, University Centers; served Verification Tent Staffing during Move In Week. THANK YOU to the many staff and faculty who greeted students and their families at the Verification Tent during Residence Life Move In Week. These welcoming faces helped ensure those who are vaccinated are recorded as such and those who are not vaccinated had completed a negative COVID test prior to move in. We could not have completed this large task without their assistance. They have helped keep our community healthy and contributed to the campus-wide endeavor of welcoming students back to campus.
Submitted on: Sept. 13, 2021
named
Natalie Solverson, Institutional Research, Assessment & Planning, was named Co-chairperson of AIRUM (Association for Institutional Research in the Upper Midwest). AIRUM is the member-driven professional association for institutional researchers in Iowa, Minnesota, North Dakota, South Dakota, Wisconsin, and the Upper Peninsula of Michigan. AIRUM is a regional affiliate of the international Association for Institutional Research (AIR) and seeks to provide professional development and networking opportunities for members, facilitate members' involvement with AIR, and improve and promote research on institutional effectiveness in higher education.
Submitted on: Nov. 12, 2019
presented
Natalie Solverson, Institutional Research, Assessment & Planning, presented "The AIR Aspirational Statements in Practice" at Association for Institutional Research of the Upper Midwest on Nov. 12, 2018 in Bloomington, MN. Solverson presented with two other IR directors in the UW System about the opportunities and challenges of implementing the national Association for Institutional Research "Statements of Aspirational Practice". In addition, Solverson serves as a member of the Steering Committee that planned the conference.
Submitted on: Nov. 12, 2018
presented
Tim Dale, Political Science, Public Admin, and Natalie Solverson, Institutional Research, presented "Fixer Upper: First Year Seminar Edition" at AASCU Summer Meeting on Monday, Aug. 6 in Bellevue, WA. The poster presented information on the UWL 100 course redesign and outcomes for students completing the course.
Submitted on: Aug. 6, 2018
presented
Natalie Solverson
, Institutional Research;
Mark Morales
, Political Science; Jo Arney and Timothy Dale, both Political Science, Public Admin;
Betsy Morgan
, Provost's office;
Tesia Marshik
, Psychology; and
Enilda Delgado
, Sociology; presented "Utilizing data and strategic planning to bring student success to scale" at
AASCU Academic Affairs summer meeting
on July 26 in Seattle, WA. UWL student Mark Morales joined Tim Dale and Jo Arney for the closing plenary, "Opportunities Disguised as Challenges: Student Success Past, Present, and Future" to a standing ovation.
Submitted on: Aug. 6, 2018