Profile for Samuel Schmidt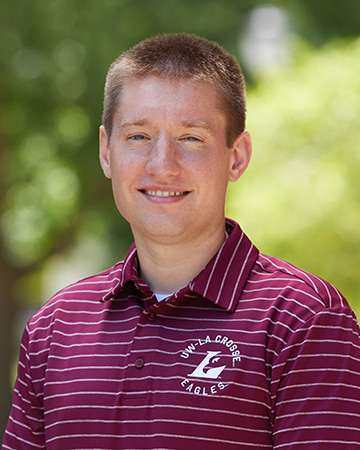 Contact me
Samuel Schmidt
Assistant Professor
Exercise & Sport Science University of Wisconsin-La Crosse
Specialty area(s)
Athlete Activism
Sport and Social Movements
Esport
Current courses at UWL
ESS 110 - Introduction to Sport Management
ESS 410 - Legal Implications in Sport & Activity
ESS 445 - Planning Facilities for Physical Activity & Sport
ESS 447 - Administration in Fitness & Sport
Education
Ph.D. University of Louisville 2018
M.S. University of Louisville 2014
B.S. University of Wisconsin-La Crosse 2013
Career
Teaching history
2018-2020: Assistant Professor of Sport Management at Wilkes University, Wilkes-Barre, PA
2015-2018: Instructor of Sport Administration at the University of Louisville, Louisville, KY
Professional history
La Crosse Loggers, La Crosse YMCA, Louisville Athletic Department, Bellarmine Athletic Department, P.G.A. of America, Churchill Downs and the Kentucky Derby, IRONMAN of Louisville, and as Head Esport Coach (Hearthstone) with Misericordia University.
Research and publishing
Schmidt, S. H., Hancock, M. G., Frederick, E. L., Hums, M. A., & Alagaraja, M. (2020). Examining Athlete Ally through resource mobilization theory. Journal of Sport & Social Issues, 44(3), 214-243.
Schmidt, S. H., Frederick, E. L., Pegoraro, A., & Spencer, T. C. (2019). An analysis of Kaepernick, Rapinoe, and the National Anthem protests. Communication & Sport, 7(5), 653-677.
Schmidt, S. H., Shreffler, M. B., Hambrick, M. E., & Gordon, B. S. (2018). An examination of activism effort and cause and purchase intent. Sport Marketing Quarterly, 27(1), 31-43.
Kudos
served
Brenda Leahy, Michele Nauman and Kalia Vang, all Academic Advising Center & Career Services; Ana Mendoza and Corey Sjoquist, both Admissions; Kaylie Connaughty, Heather Dutcher, Britney Heineman, Jake Speer and Maren Walz, all Advancement; Michael Abler and Renee Redman, both Biology; Zac Knutson, Budget Office; Dawn Hays, Campus Child Center; Mark Sandheinrich, College of Science & Health; Ashley Jochimsen, Counseling & Testing; Ryan Friesen, English; Samuel Schmidt, Exercise & Sport Science; Meredith Thomsen, Extended Learning; Ka Lia Smith, Financial Aid; John Kelly, Geography & Earth Science; James Longhurst, History; Natalie Solverson, Institutional Research, Assessment & Planning; Christine Manno, Management; Suzanne Anglehart, Microbiology; Anthony Chergosky, Regina Goodnow and Sean Hurtubise, all Political Science & Public Administration; Sandra Grunwald and Betsy Morgan, both Provost's Office; Nathan Barnhart and Jeff Keenan, both Rec Sports; Vitaliano Figueroa, Student Affairs; Kara Ostlund, Student Life; and Kyle Burke, University Centers; served Verification Tent Staffing during Move In Week. THANK YOU to the many staff and faculty who greeted students and their families at the Verification Tent during Residence Life Move In Week. These welcoming faces helped ensure those who are vaccinated are recorded as such and those who are not vaccinated had completed a negative COVID test prior to move in. We could not have completed this large task without their assistance. They have helped keep our community healthy and contributed to the campus-wide endeavor of welcoming students back to campus.
Submitted on: Sept. 13, 2021
Important links
Samuel Schmidt's office hours