Profile for Shaundel Spivey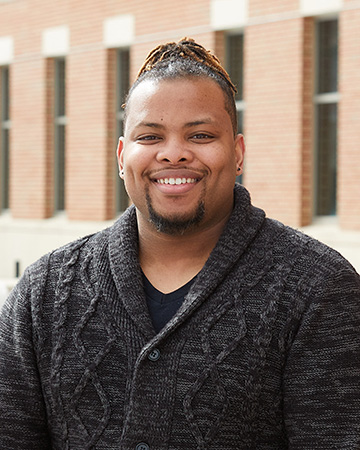 Brief biography
I am a two time Alum of UW-L, where I received my bachelors in Political Science and my Masters in Student Affairs Administration. I also received a food Production degree from Western Technical College. I am currently enrolled in the Educational Doctorate in Counselor Education and Supervision program at Viterbo University.I have over eight years of experience in both Higher education and K-12. I am truly passionate about education, equity, and community involvement.
Education
Associate degree in Food Production
Bachelors of Science Degree in Political Science
Master's of Science in Education Student Affairs Administration
Kudos
named
Shaundel Spivey, Upward Bound, was appointed to be a council member of the Governor's Advisory Council on Equity and Inclusion on Thursday, Feb. 4. From the linked article: "Gov. Tony Evers today announced 30 appointments to the Governor's Advisory Council on Equity and Inclusion. The Advisory Council will be chaired by Secretary-designee Dawn Crim of the Department of Safety and Professional Services (DSPS) and will provide strategic guidance to the governor, lieutenant governor, and Department of Administration (DOA) Secretary Joel Brennan, in developing a sustainable framework to promote and advance diversity, equity, and inclusion practices across Wisconsin state government. The Council is charged with: Identifying and promoting best practices and excellence in diversity, equity, and inclusion across the state. Reviewing and analyzing statutes, regulations, and policies to identify equity and inclusion barriers, and recommend changes or amendments, where necessary, to advance diversity, equity and inclusion. Taking into consideration the impact of policies surrounding homeownership, business development, education and other important issues. Analyzing and evaluating relevant information and data concerning diversity, equity and inclusion; and establishing specific goals and objectives for achieving and enhancing awareness, understanding, and support of underrepresented groups. Identifying and recommending strategies to increase the utilization of minority and women-owned businesses in the state contracting process. Identifying and recommending ways to engage, bring visibility, public acknowledgment and recognition to the community and state cultural events, significant activities and initiatives of underrepresented communities in Wisconsin. Providing membership recommendations to ensure that Boards and Commissions reflect the diversity of the people of Wisconsin"
Submitted on: Feb. 4