University of Wisconsin-La Crosse | uwlax.edu
Virginia Crank
Professor
English
Office hours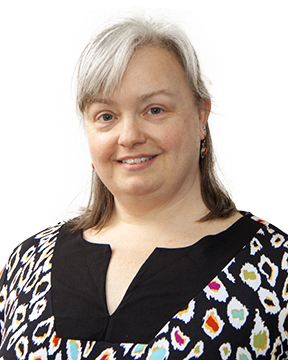 Virginia Crank's office hours
Monday
noon to 1 p.m.
or by appointment
Tuesday
10 a.m. to noon
or by appointment
Wednesday
noon to 1 p.m.
or by appointment
Thursday
10 a.m. to noon
or by appointment
Specialty area(s)
rhetoric and composition studies; writing pedagogy; first-year writing; Writing Center
Current courses at UWL
Spring 2017: Writing Center; Eng 201: American Lit I; Eng 433: Intro to Teaching Writing
Teaching history
Dr. Crank taught as Instructional Academic Staff at Peru State College in Peru, NE in the Fall 1995 semester. She taught at Missouri Western State College in St. Joseph, MO, as a Visiting Assistant Professor, in the spring 1996 semester. She then taught as a tenure-track professor at Rock Valley College in Rockford, IL, from 1996-2001 before coming to UW-La Crosse in Fall 2001. Dr. Crank's teaching experiences at UWL include freshman and upper-level writing courses, General Education literature courses, upper-level English education courses, and upper-level rhetoric and composition courses.
Professional history
Dr. Crank has been the Director of the UWL Writing Center and the Coordinator of the remedial writing course since 2008. Since 2011, she has also served as the Chair of the UW-System English Placement Test Development Committee. Dr. Crank has served as a manuscript reviewer for Teaching English in the Two-year College, the Wisconsin English Journal, and Teaching/Writing. She has also scored AP English Lit exams and served as a mentor for dual-credit college composition.
Research and publishing
"Thinking Like a Writer: Inquiry, Genre, and Revision." Writing and Pedagogy (Spring 2014).

"Negotiating Expectations: Preserving Theoretical Research-Based Writing Pedagogy in the Field." Co-authored with Margaret Finders and Erika Kramer. Teaching/Writing: The Journal of Writing Teacher Education. (Winter/Spring 2013).

"From High School to College: Developing Writing Skills in the Discplines." The WAC
Journal (Nov. 2012).

"When Process (Theory) Becomes (Consumer) Product: How the Six Traits Fails
Teachers." The Wisconsin English Journal 52.2 (Sept. 2010): 45-53.

"'Doing Disney' Fosters Media Literacy in Freshmen." Academic Exchange
Quarterly 9.3 (Fall 2005).

"Asynchronous Electronic Peer Response in a Hybrid Basic Writing Classroom."
Teaching Developmental Writing: Background Readings, 2nd Ed. Ed. Susan
Naomi Bernstein. Boston: Bedford/St. Martin's, 2004.

"Electronic Peer Response in a Hybrid Basic Writing Classroom." Teaching
English in the Two-Year College, 30.2 (December 2002): 145-155.

"Chasing Objectivity: How Grading Rubrics Can Provide Consistency and
Context." Journal of Teaching Writing 17.1-2 (Winter 1999): 56-73.

"The Best of Both Worlds: Asynchronous Learning as a Bridge to Online
Education." Instructional Telecommunications Council Newsletter,
Sept. 2000. (Co-authored with Erin Fisher and Ann Carter)

"Using Writing Conferences to Encourage Creativity and Diversity."
Proceedings of the Nebraska Teaching Improvement Council,
Faculty College, 1996.

"Review of Hearing Ourselves Think." Dialogue 2.1 (Spring 1995):
76-79.


Education
B.A. in English with secondary certification, Oakland City College, Oakland City, IN
M.A. coursework in English, Middle Tennessee State University, Murfreesboro, TN
M.A. in English, Southern Illinois University, Carbondale, IL
Ph.D. in English with Rhetoric and Composition focus, Southern Illinois University, Carbondale, IL
Virginia Crank English
Virginia Crank, English, presented "Undergraduate Research as a Source of Sustainability for Writing Centers" at the annual national conference of the Council of Writing Program Administrators on July 15, 2015 in Boise, Idaho. Crank also attended a special day-long pre-conference institute on language, diversity, global politics and writing support at the CWPA.
Virginia Crank English
Virginia Crank, English, presented "Kairos, not Comedy: Using Improv Training for Tutor Training" at the Midwest Writing Centers Association's biennial conference on Mar. 4, 2016 in Cedar Rapids, IA. Crank taught over 45 participants basic improv principles and exercises that can help Writing Center tutors develop better listening and planning skills for working with clients.