Posted 10:06 a.m. Tuesday, Feb. 23, 2021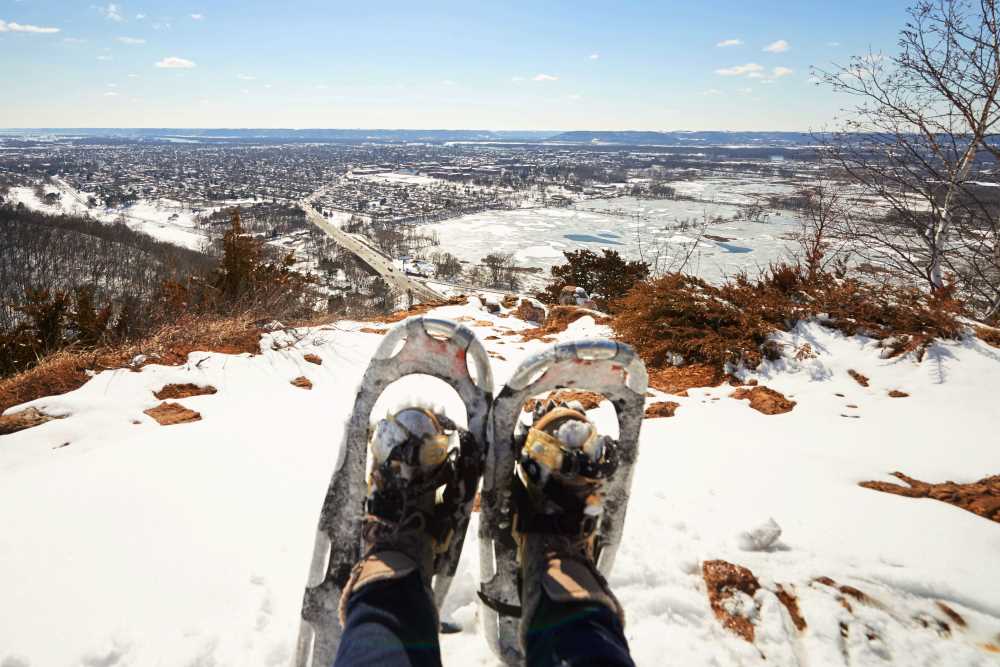 Students affairs staff share ways to build a strong mental health foundation, connect and practice self-care
Students are accustomed to using spring break time to mentally unwind mid-semester before finals begin. With COVID-19, many colleges and universities have skipped this mid-semester pause, but that doesn't mean we need to put a pause on mental health.
Here are some tips from Student Affairs professionals at UW-La Crosse to take care of your mind — just as you would your body — and finish spring semester strong.
1. Focus on mental health every day to build a strong and stable foundation
A bubble bath, listening to music, or a movie-watching night is a good temporary way to relax and unwind, but to take care of mental health in the long-term, it is important to practice activities every day that can build a good mental health foundation. Examples are:
Breathe: Although breathing is something your body naturally does, focusing on deep breathing from your diaphragm can reduce stress.
Take care of your body: Through fuel, movement and rest you are giving your body what it needs for a strong foundation.
Connect: Be with others, with what is most important to you and with something larger than yourself.
Be present: Be aware of how you feel and what is going on around you.
Set healthy boundaries: Setting boundaries — physical or emotional — for yourself means choosing and communicating what you want and what you will accept.
Take medication as prescribed.
Be thoughtful about the substances you put in your body.
2. Ask for help. Use university resources and connect with support staff.
If you are feeling like you need help and don't know where to turn, reach out. Connect with university counselors, support staff or self-help resources.
3. Develop a routine
Creating and maintaining a regular schedule for activities such as waking up, eating meals, working out and studying is important for your mental health. The easiest way to start is to set your alarm and try to wake up at the same time every day. Then, slowly add new things to your day.
As part of your routine, try scheduling your online classes that do not happen during a scheduled time (a.k.a. asynchronous classes). Divide up time for them just as your schedule is blocked off for other classes. For example, you may decide Mondays, Wednesdays, and Fridays from 1-1:50 p.m., you'll work on English.
Students at UWL needing time management help can connect with Senior Academic Skills Specialist Charlene Holler.
4. Share
Talk to your family and friends about how you are feeling, the support you are needing, and about your struggles. Opening up can be a great way to release anxiety or stress and explore new ways to solve problems or just feel better.
5. Focus on self-care.
First, you'll need to consider what self-care means to you. It is not one-size-fits-all. Self-care is a practice that involves pausing and listening to yourself and what you need. For some it may mean getting a long nap or a massage, while for others it might mean tidying up your personal space or writing out your feelings on paper.
6. Schedule in some fun.
Warmer weather of spring is on its way. Think of yourself as a tourist in your college hometown. Check out your Area Convention and Visitors Bureau website for ideas of things to do in your area and commit to visiting a few local spots. "Even in COVID-land a lot of these places are open. You may need to make a reservation as they limit crowd size, but it's worth looking at," says Lisa Weston, UWL assistant director of Residence Life. When the weather turns warm, check out this list of fun activities to do outside while social distancing from UWL Recreation Management and Therapeutic Recreation staff.
- Tips courtesy of Lilli Minor, UWL Wellness & Health Advocacy; Andrew Ives, UWL Student Life; Lisa Weston, UWL Residence Life and UWL Counseling & Testing.