Advising
A page within School Psychology
In the UWL School Psychology program, students are assigned to one of the core faculty members who advise them during their time in the program.
To see a record of the academic calendar, final exam schedules, or other information regarding registration, please visit the University of Wisconsin-La Crosse Records and Registration page.
UWL offers a 72-semester hour graduate program, which awards an Education Specialist (EdS) degree upon completion of all program requirements. Students first complete a 31-hour program, which meets the requirements of a Master of Science in Education (MSEd) degree. They then complete the remainder of the 72-hour program, which leads to the Education Specialist degree and certification as a School Psychologist in Wisconsin. The Education Specialist degree qualifies individuals for certification in most other states.
Students typically finish the program after three years. The first two years are focused on academic coursework, 700 hours of supervised practica, and completion of a capstone activity/thesis.
Students complete their 1200-hour internship during their third year. Students typically begin applying for internship positions between January and May of their second year and typically earn full pay during their internships in states such as Wisconsin and Minnesota.
Students only have requirements over summer between their first and second years. Students take two classes in June and July; there is a one week break between the classes. The Research and Program Evaluation in the Schools class is on campus while Child and Adolescent Mental Health for School Psychologists is offered online. It is highly recommended that students begin developing their capstone activity/thesis over the summer, as they have more free time. Some students work part-time over the summer and increase hours when the classes aren't in session.
UWL is a great place to be a graduate student. The faculty members are welcoming and supportive and they encourage collaboration and learning in all areas of life. The faculty encourage a cooperative rather than competitive environment. The students in the program form close collaborative relationships that often last for years after graduation.


Students and faculty at UWL Social during recent National Association of School Psychologists Annual Convention
Students work very closely with the core School Psychology professors. Their doors are always open to students. While each student will have an official advisor, students are more than welcome to consult and work with all of the faculty members.
Yes! However, students are expected to enter the program with a good understanding of psychological principles. This can be achieved through completing an undergraduate psychology major or completing psychology content classes through elective course offerings. Regardless of background, students are required to have an undergraduate statistics course. We find that most students will find the following classes helpful and would form a good foundation for School Psychology graduate work:
Psychological Tests and Measurements
Developmental Psychology
Personality Theories
Educational Psychology
Behavior Modification
Abnormal/Psychopathology
Research Methods
If these were not available through a specific course or across several courses, it would be advised to take a class to gain the content through distance education or online course options.
A practitioner-scholar model is the foundation of the program. Therefore we spend more time working on how to apply research to the school setting to solve problems. There is an education specialist capstone activity requirement for all students; however, additional research opportunities are available. These can include collecting data in the schools or assisting with faculty projects. Most students find they have limited time for research projects beyond their capstone project.
It is possible to balance work and school. The faculty feels that in order to educate you to be the best possible professional to meet the needs of children, your education needs to be your priority. Please remember that graduate courses are very demanding and time consuming.
UWL's School Psychology Program is a sequenced full-time program. It is not possible to enroll as a first year graduate part-time student. It is sometimes possible to enroll part-time to update certification or take classes for continuing education if arranged with the program director
Students begin visiting schools and practicing a variety of assessments during their first semester. Students spend two full days a week working side by side with a site supervisor in practicum during their second, third, and fourth semesters in the program.
View a detailed description of the similarities and differences between School Psychologists, School Counselors, and School Social Workers.
It is important to maintain a balance of school and recreation time. Although there is much more work required in our graduate program than there is in most undergraduate programs, there is still some time for climbing the bluffs, taking in a movie, or enjoying a bike ride.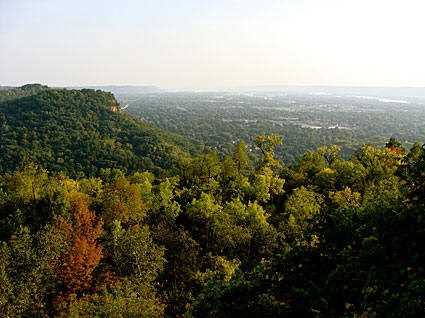 The scenic bluffs in La Crosse
After acceptance into the program, the program assistant provides students with one another's contact information and a list of popular rental options.
Our admissions committee takes a holistic view across all the materials. We look at strengths, experiences, and diversity. We look for evidence of a strong academic foundation (e.g., undergraduate performance, letters of reference, etc) and for experiences working with children, teachers, and parents (e.g., diverse populations such as children with and without disabilities across the age span). Letters of reference and your personal statement offer evidence of how you see the fit between your learning goals and the factors of the program that can support that goal. Finally, we look for a strong interpersonal presentation in the interview to solidify our decision.
Application involves:
applying to the University of Wisconsin Graduate School system
sending transcripts to UWL Graduate Admissions
submission of the following items: statement of purpose, letters of recommendation, sample of writing, and current résumé through the program application portal.
Please refer to the link "How to Apply" for detailed instructions.
Financial aid in the form of grants and assistantships are available, yet limited.
Two scholarships targeting graduate school psychology students have been created in the recent past:
Jay & Janet Fulkerson School Psychology Scholarship Fund ($1250)

Dr. Robert Arthur Endowed Scholarship in School Psychology ($825)
Students are encouraged to see the requirements for this and other scholarship opportunities by visiting the UWL Scholarship Resource LINK
Students are especially encouraged to review the financial aid page including the Advanced Opportunity Program (AOP) LINK
Being a Graduate Assistant within the School Psychology program offers students to work with individual faculty members or ensure the running of programs within the department. It offers flexibility within the work schedule to accommodate for graduate course requirements. We encourage you to apply for this opportunity.
See the following page for application details: Financial Aid