Posted 4:37 p.m. Tuesday, Nov. 30, 2021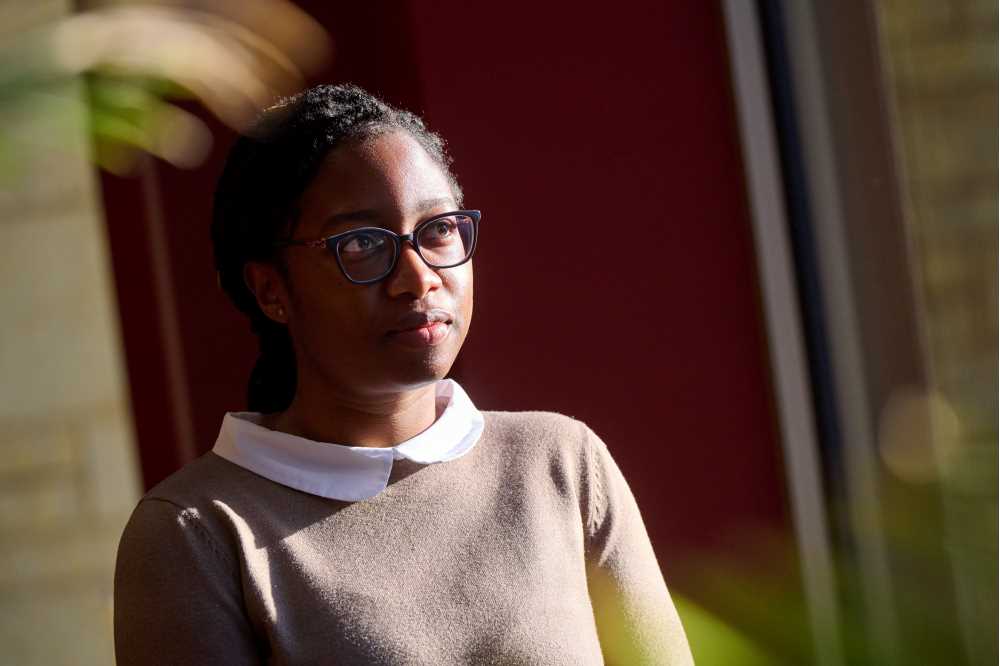 Edith Ben-Eboh recognized for academics, community involvement
Culture shock.
That's what Edith Ben-Eboh felt when she came to UW-La Crosse — an international student from Nigeria visiting the United States for the first time.
She had never seen snow. She was used to different foods and a vastly different lifestyle. Most of all, she worried that she would struggle to understand her professors, and that others would struggle to understand her.
Now in her junior year, Ben-Eboh has not only found her footing at UWL and in the community — she has begun to flourish.
Her success as a student and contributions as a community member were recently recognized by the UWL Student Association, which awarded her its Women of Color Scholarship in spring 2021.
"It felt like an honor I didn't expect," says Ben-Eboh, who is majoring in public health and community health education. "I'm happy someone saw something in me and felt I deserved this."
After graduating high school at 16 — which is customary in Nigeria — Ben-Eboh knew she wanted to go into the care service industry.
Her siblings had attended college in Chicago, which convinced her that a Midwest school might be a good fit.
She found UW-La Crosse and soon decided on a public health major, a discipline that satisfies her interests in health care and community service.
"I love learning about what systems are in place to make sure communities are healthy and people are better not just physically, but mentally, sexually and environmentally," she says. "Science is very systematic, but I like public health because you get to see the emotional and human aspect of it. I want to be in touch with my community and help in any way I can."
Ben-Eboh's desire to help others can also be seen in her work with Upward Bound, UWL's federally funded TRIO program supporting high school students transitioning to college.
Beginning her sophomore year, Ben-Eboh has been a tutor and mentor with Upward Bound, helping prospective college students realize their potential.
She also serves as a resident assistant in Reuter Hall and has worked as an advisor for UWL's Leadership & Involvement Center.
The more time she has spent in the La Crosse area, the more she has been able to find and share the culture she left in Nigeria.
She has connected with several Nigerians living in the Coulee Region and has discussed Nigerian culture and traditions during annual Global Initiatives Week programming on campus.
"I'm not always the emotional type, but I do miss (home) from time to time," she says. "If I wanted to go home for the weekend, I don't have that option."
After earning her bachelor's degree, Ben-Eboh plans to take a gap year before attending medical school in the United States.
She hopes to continue serving the community wherever her future career takes her.
About the scholarship
The Student Association's Women of Color Scholarship was established during the 2017-18 academic year.
It is supported through Student Association fundraisers, but can also be supported through private donations. Recipients are awarded a $1,000 scholarship.
To be eligible, a student must:
Be enrolled full time
Be in good academic standing with an above-average GPA
Be an incoming first-year student, sophomore, junior, senior or graduate student
Be a female-identifying student of color.
To donate to the scholarship fund, click here, select "other" in the drop-down menu and type "Student Association Women of Color Scholarship" in the fund designation box.
Read more stories from the December eLantern.