Posted 7:03 a.m. Sunday, Feb. 5, 2023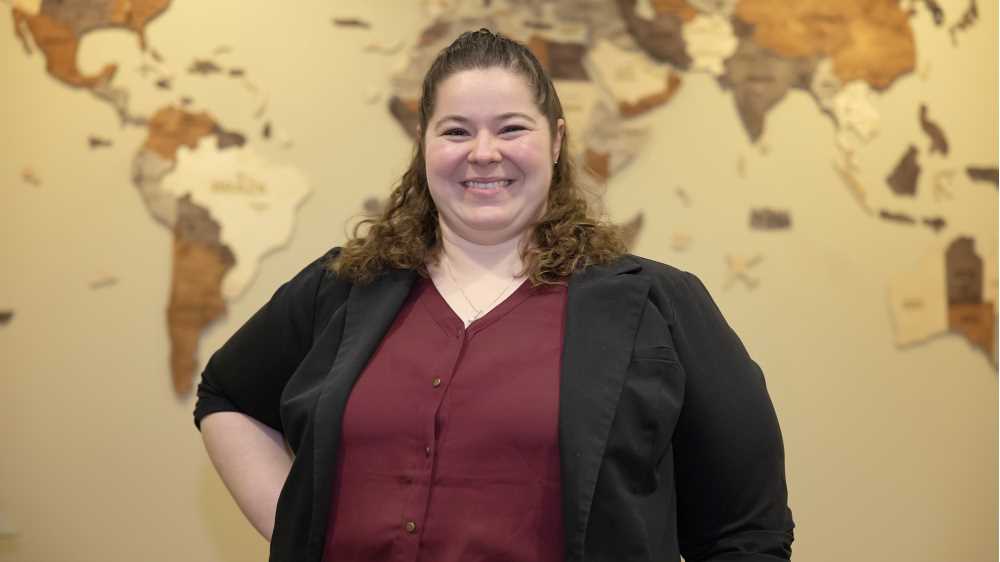 UWL's Miranda Panzer recognized for campus, community leadership
Miranda Panzer knows how much one moment can change a person's life.
During her sophomore year at UWL, Panzer, '10 &' 12, was given the opportunity to study abroad in Frankfurt, Germany.
"I was terrified," she remembers. "I had really no desire to leave Wisconsin, but when talking to my dad about it, he kept saying, 'Why not?' I took his advice and took a leap of faith."
Panzer's time in Germany exposed her to challenges and experiences she would never have found at home. It also served as a springboard for her career as a student and scholar advisor for UWL International Education & Engagement (IEE).
"Working with UWL's international students and scholars, I am able to be there from the beginning of their journey to the moment they depart the United States," she says. "One of my favorite parts of what I do is being able to be a small part of someone's life, as others have been for me."
For her work at UWL and the example she sets in the community, Panzer received the 2023 Emerging Leader Award from the La Crosse Area Chamber of Commerce Young Professional Group. She and other award recipients were recognized at a banquet Jan. 19.
"When I found out that I was selected for such an honor, I was stunned," she says. "I am beyond humbled to have been selected for this award."
In her role at UWL, Panzer helps coordinate IEE programming, and helps international students transition to a community and culture that may be entirely foreign to them.
One of her favorite projects has been serving on the committee for Global Initiatives Week, an annual, weeklong celebration of the Coulee Region's global connections. She joined the committee when the celebration was created in 2013, and went on to serve as chair from 2017 to 2021.
While supporting international students is her primary objective, Panzer's worldview is also enriched through these relationships.
"Being able to get to know someone — and I mean truly get to know someone — with a different perspective has immeasurable benefits," she explains. "I encourage each and every one of you to get to know someone from a different background and to not take those small moments for granted."
Panzer learned that firsthand during her time in Germany, where she spent a full academic year at Goethe University.
The trip was so transformative that she changed her major to German Studies and decided to pursue a master's degree in Student Affairs Administration.
"It truly changed my outlook on life," she notes. "It was during this period of time that I was truly challenged to think about who I was and what I believed in. I became more independent, confident and open-minded. I now hunger for new experiences and the opportunity to look at the world with a new perspective."
Karolyn Bald, director of IEE, says Panzer carries her enthusiasm for new and diverse perspectives into everything she does.
"In today's interconnected world, it is more important than ever to have a greater understanding of different cultures, traditions and languages," Bald says. "Miranda has worked hard to inspire global curiosity locally as more individuals find a desire to see and understand more of the world around us. Her programs, involvement and students help us all open our eyes and minds as we realize we are all citizens of the world."