Posted 8 a.m. Friday, June 9, 2023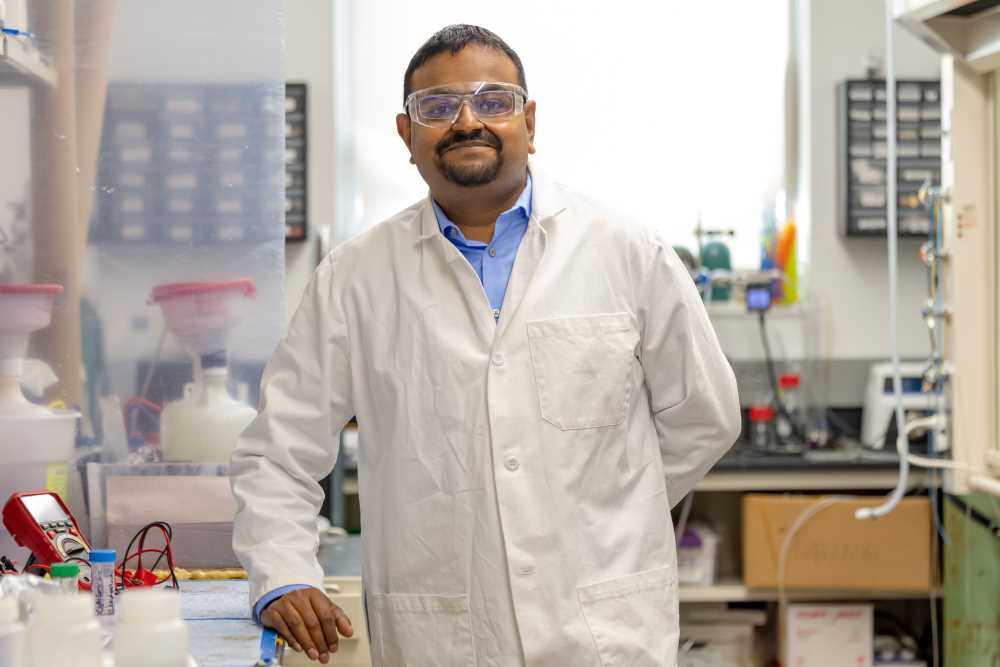 UWL professor recognized with state honor for research, mentoring
Ways to store energy will remain at the forefront for scientists working to meet the challenges of climate change. And students at UW-La Crosse will continue to get opportunities to take part in that challenge thanks to an innovative faculty member who is now receiving state recognition.
Assistant Professor Sujat Sen in the Department of Chemistry & Biochemistry leads a research group for undergraduate students exploring novel materials for energy-related applications such as batteries and electrolyzers. He will receive the Carl E. Gulbrandsen Innovator of the Year Award at the WiSys annual SPARK Symposium at UW Oshkosh in August. The award is bestowed upon UW System faculty or staff who make exemplary contributions as a WiSys innovator. WiSys is an independent, nonprofit organization helping to advance scientific research by patenting technologies developed at UW comprehensive campuses.
Sen, who has taught at UWL since 2018, is grateful for the recognition of his research, along with his teaching and mentoring.
"The discipline of electrochemistry — how electrons can be used to drive chemical reactions — has always fascinated me, and worldwide efforts to decarbonize the world are increasingly reliant on electrochemical technologies such as batteries, fuel cells, solar cells, electrolyzers and many more," Sen explains. "Such applied research that prepares us to deal with dynamic, societal and environmental challenges is essential. It is what motivates me to mentor students in this growing area of commercial and academic interest."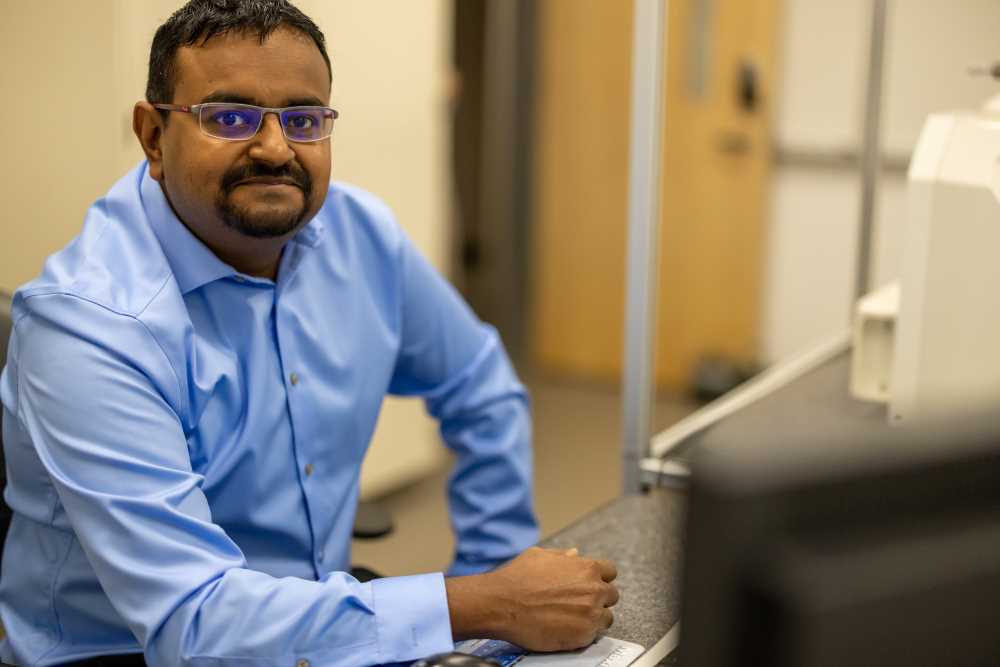 Sen says receiving the award is a sign of encouragement from WiSys and the state of Wisconsin, both willing to invest in efforts of the scientific community and development of the future workforce.
Sen says it can be challenging to balance research and teaching. He's grateful for support from colleagues in the Chemistry Department and the dean's office, along with the university for providing resources to facilitate research efforts throughout the year.
"The freedom to develop new course content has also been very helpful to incorporate elements of my research in an upper-level course that teaches the role of chemistry, physics and math in the development of practical devices such as lithium-ion batteries, hydrogen-oxygen fuel cells or silicon based solar cells," Sen says. "Electrochemistry is a highly interdisciplinary science requiring a confluence of knowledge from chemistry, physics, engineering and mathematics. I am grateful for the various collaborators and experts at UWL and beyond who have provided guidance and consultation over the years."
Sen's work with WiSys has involved different projects – from CO2 catalysts to generate hydrocarbon fuels, to electroplating of zinc on steel for corrosion protection applications. Two patent applications have emerged from the work and are in their nascent stages. Further work with industrial partners is needed for assessing commercial viability. The corrosion protection research is a collaborative effort with Professor Seth King in the UWL Physics Department.
With the annual WiSys SPARK Symposium, Sen has presented and mentored students with their presentations. He's also been an advocate of the WiSys Student Ambassador Program and encouraged multiple students to be a WiSys Ambassador on the UWL campus. Most recently, his student Marty Bond serves as a WiSys ambassador and also on the SPARK Steering Committee.
This summer, Sen's research continues with a WiSys grant studying nanofluids for energy storage and conversion applications, as well as a collaboration with Purdue University Researcher Sunghwan Lee in a multi-year National Science Foundation funded project. To focus on fundamental science, Sen and two undergraduate students will be hosted by Professor Sunghwan Lee's research group at Purdue for two weeks to learn state-of-the-art experimental techniques in materials science.