Posted 8:04 a.m. Tuesday, Aug. 1, 2023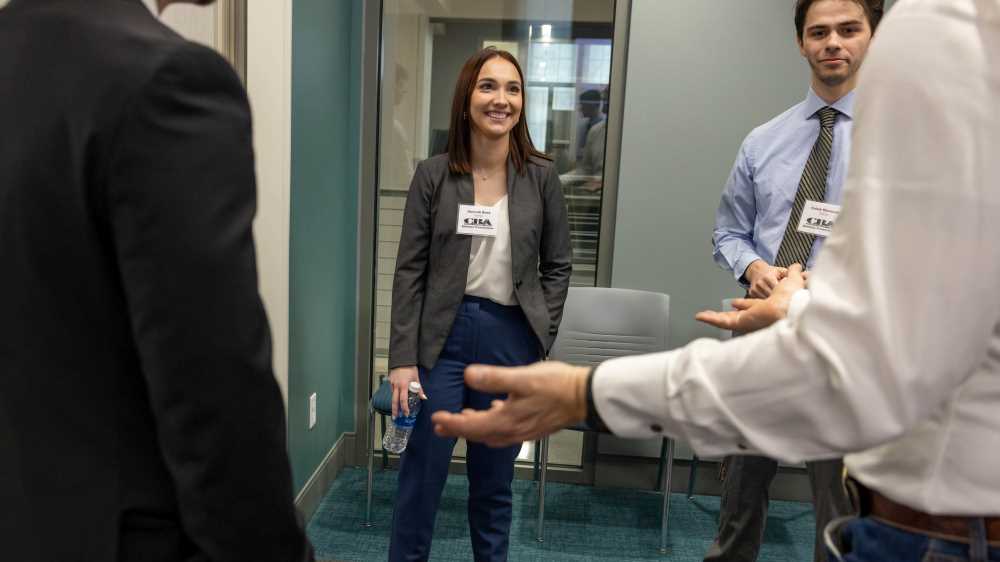 Spellman Fund allows students to explore investing — 'with real money on the line'
UW-La Crosse finance graduates are entering the workforce with a leg up thanks to their experience with a student-run investment fund.
During the spring semester, students in Associate Professor Adam Stivers' Investment Analysis and Portfolio Management course put their skills and knowledge to the test in managing the university's Gordon Spellman Fund.
The fund, established in 2006 to create hands-on learning opportunities in finance, has since grown to more than $380,000. This is despite $40,000 being withdrawn to fund student experiences and financial data over the past few years.
"The Spellman Fund allows students to make real financial decisions and recommendations with real money, which is something they typically would not be able to do in other classes or university experiences," Stivers says. More than a typical class project, the fund empowers students to make consequential decisions in a safe, supportive environment.
"Students know that real money is on the line – sometimes we make $10,000-plus transactions based on one group's recommendation," Stivers says. "Also, students know that money is withdrawn from the fund each year to help fund student experiences like conferences, student success banquets, etc. So, they want to make good investment decisions to preserve the fund's value for future students."
Throughout the semester, students gain experience assessing and reacting to financial markets, prioritizing long-term perspective over reactionary decision making.
At the end, groups of students present their recommendations to an advisory board composed of UWL alumni who have gone on to work in finance. The board then decides which stocks to buy and sell.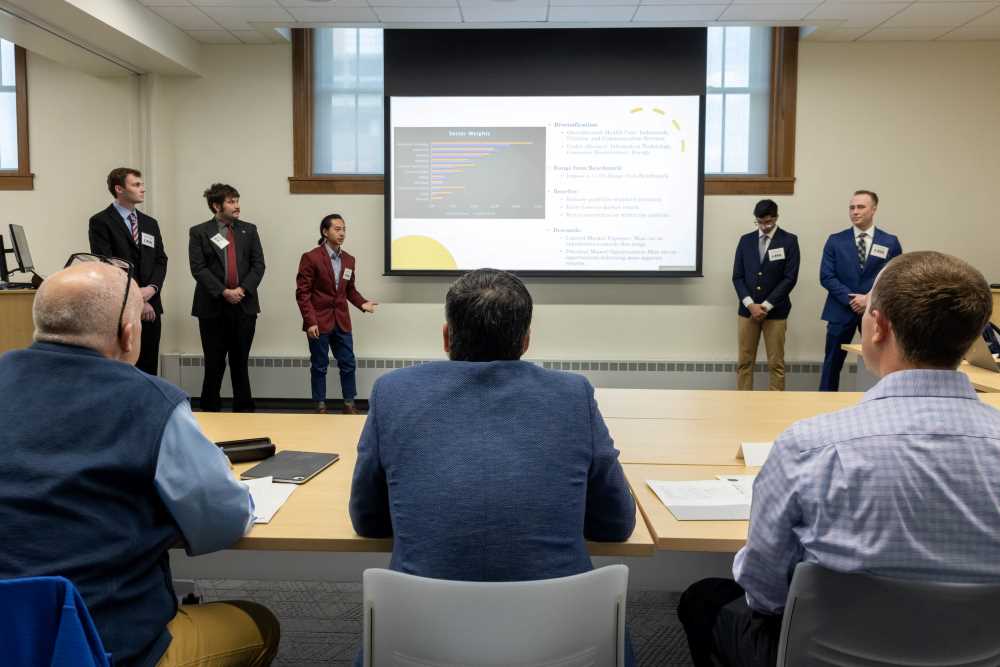 Maxwell Thiele, who graduated in May with a bachelor's degree in finance, says the project was both challenging and rewarding.
"It was a very dirt-under-the-fingernails kind of class," explains Thiele, originally from Oconomowoc. "It was very time consuming and rigorous, but it was a learning experience that required full commitment to get the benefits. If you apply yourself, you can really gain a lot from the class."
In addition to Stivers' instruction, students receive personalized mentorship throughout the semester from members of the advisory board.
They also have access to the state-of-the-art Kaplan Finance Lab, where they can view up-to-the-minute stock market information.
Casey Sambs, a senior portfolio manager at Columbia Threadneedle Investments in Milwaukee, says the opportunity for students to manage real investments while still in college cannot be overvalued.
"The opportunity to learn how to manage investments is incredibly important, as it teaches students valuable skills that can be applied to their personal finance decisions later in life, along with opening potential career paths," says Sambs, who graduated from UWL with a dual degree in finance and economics in 2001. "I also stress to students that the process of analyzing — which leads to a recommendation or course of action, and must be communicated clearly to peers — can be applied across a number of different fields beyond finance and investments."
Hannah Bast, who graduated in May with a bachelor's degree in finance, calls managing the Spellman Fund one of the most rewarding projects of her academic career.
Bast, originally from Waukesha, isn't sure where her career will take her.
But she does know that her experience at UWL, and with the Spellman Fund specifically, will provide a solid foundation for a career in finance.
"Dr. Stivers' class and working with the Spellman Fund certainly heightened my interest in portfolio management and the professional financial advisement industry as a whole," Bast says. "While my plans are not yet set in stone, I plan to continue to seek out opportunities and experiences to further my knowledge within the financial sector. I look forward to being an active UWL alumni member and maybe one day becoming a mentor myself."