Posted 8:26 a.m. Monday, Oct. 23, 2023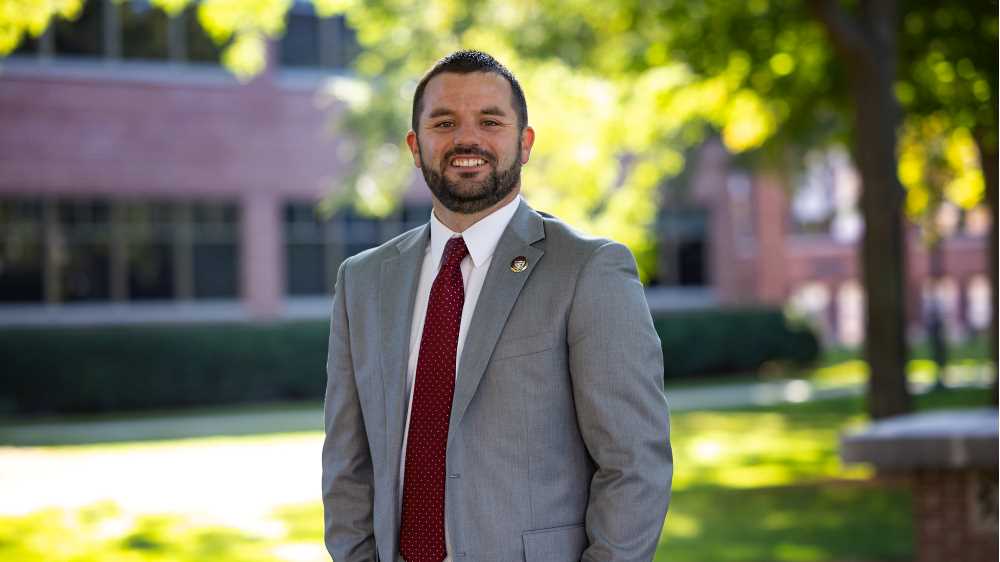 Sam Pierce named Rising Star for campus, community leadership
In helping others take the next step in their lives and careers, Sam Pierce took a big step of his own.
Pierce, associate director of Admissions at UW-La Crosse, has been a key contributor to the university's recent success in student recruitment — including record-setting classes at a time when many universities are experiencing enrollment declines.
For his service to campus and commitment to the community, Pierce was named a Rising Star Under 40 by the 7 Rivers Alliance in partnership with River Valley Media Group. The award recipients were recognized at a reception Thursday, Oct. 19.
"I struggle with receiving this kind of recognition, but it's an honor to be recognized," says Pierce, '15 (Student Affairs Administration). "It's great to know that the people I work with think I'm doing a good job."
In his role, Pierce coordinates the STudent Advising Registration and Transition program, oversees campus visits, advises Admissions counselors and the Vanguard Organization, and spearheads recruitment efforts at high schools and college fairs.
Often, Pierce and the teams he supervises serve as one of the first connection points between new and prospective students and UWL.
It's an opportunity Pierce does not take for granted.
"I really enjoy the energy of a college campus," he says. "It's just an exciting place where people are ready to take that next step, and it's fun to be a part of each student's story."
In his time at UWL, Pierce has seen some students make significant strides in school and in life — from new student, to Vanguard, to proud alumnus.
"You see them come in as first-year students, and then you see them graduate, and then, sometimes, you're invited to their wedding or you find out they have kids," Pierce says. "It's a great reminder of why we do what we do."
As much as UWL benefits from Pierce and the rest of the outstanding Admissions team, the Admissions team also benefits from UWL's stellar reputation.
"We have great staff, great faculty, great students and great buildings," Pierce says. "That makes it easy to do our job sometimes. We just want to take good care of people — be available, answer questions and help people figure out whether this is the right fit."
Pierce also credits his time in the Student Affairs Administration master's program for enriching his understanding of professional relationships and university operations.
"It really taught me to empathize with other people in other positions and understand that everyone has a unique role in making the university go," he says. "You don't need to be everything for everyone. You just do what you need to do and do it well, and then there are people, offices and programs that are there to help."
Before his work as associate director of Admissions, Pierce served as an Admissions counselor, hall director of Eagle Hall and assistant director of Retuer Hall.
In addition to his role on campus, Pierce and his wife, Megan, '16 (Student Affairs Administration), are extremely active in the community.
They volunteer their time with Rotary Lights, the Grandad Marathon, local Juneteenth festivities and other local events.
This year, they joined the Oktoberfest Grenadiers, a group of couples who escort the Oktoberfest Royal Family to parades and events throughout the year.
"Sam has a wonderful ability to connect with families in a way that establishes trust and a sense of belonging," says Corey Sjoquist, assistant vice chancellor for Admissions and Recruitment. It's a skill that serves Pierce well on campus and in the community, Sjoquist says, and that stems from Pierce's upbringing on a Monroe County farm.
"He learned that work and projects needed to be completed, and his family demonstrated the importance of serving the community," Sjoquist says. "Those priorities are displayed daily in his current position as associate director of Admissions at UW-La Crosse and his community activities."