Posted 1 p.m. Tuesday, Nov. 22, 2022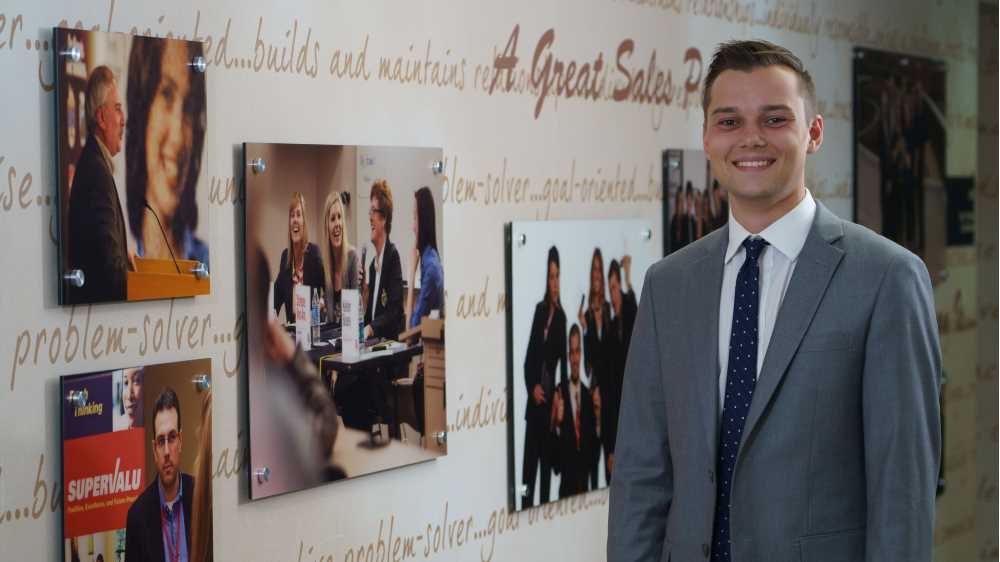 UWL's Christian Schommer wins Great Northwoods Sales Competition
Peanuts aren't known for being valuable.
The phrase "working for peanuts" implies the opposite.
But UW-La Crosse senior Christian Schommer looked past the limits of this lowly legume en route to winning the Great Northwoods Sales Competition. The contest, showcasing some of the best sales and marketing students across the United States, challenged participants to sell Planters Sweet and Spicy Peanuts to a variety of potential customers.
"Walking into the competition, I was confident in my own abilities, but I knew I was going up against some fierce competition from schools across the country," says Schommer, a marketing major from Green Bay. "When they called out the first runner-up, I was in slight disbelief for a second, but then it was a rush of exhilaration and joy."
By winning the competition, Schommer received $1,500, a custom Tom James suit valued at $1,000 and a glass trophy. (He wasn't the only UWL student to perform well — Kate Opsahl placed ninth and Katie Mack placed 16th, while the team placed third.)
Schommer and his teammates also left with invaluable experience in high-pressure, think-on-your-feet sales situations that are difficult to simulate in the classroom.
About a month before the competition, participants were briefed on the product they would be selling. They received no other information about these role plays, meaning they would have to prepare for every scenario.
The face-to-face competition had two rounds: In round one, students had 20 minutes to attempt to sell peanuts to a distributor, and in the second, they were given the same amount of time to attempt to sell peanuts to a university food center.
In both cases, the role of the customer was played by real-life industry professionals, who did everything they could to test the participants' sales skills.
"You never know what kind of situation you're going to walk into or the objection that the buyer could throw at you," Schommer says. "Case in point: For one of the role plays, when you walked in the door, there was stuff completely covering the buyer's desk, and they tried to kick you out, stating that they were too busy to meet because they had five people call in. We had to come up with a reason to keep them talking to us and had to fight for every minute we were in there."
Schommer was one of three to advance to the final round, which challenged them to sell peanuts to a large hospital system with 21 food distribution locations.
Their pitches were livestreamed not only to the judges, but also to an auditorium filled with those who had been eliminated from the competition.
Schommer says he leaned on the support of his classmates and coach, Teaching Associate Professor of Marketing Stacy Trisler — all of whom had helped him prepare.
"We met once a week leading up to the competition and went over different objections the buyer may have, the best questions to ask and ways to pitch the product to best set ourselves up for success," he says. "We also spent that time getting to know the product backward and forward, as well as doing outside research on consumer trends to give us an edge in the competition.
"Sales isn't about tricking someone into buying a product," he continues. "It's about building a long-lasting relationship by finding products that solve the problems your customer is facing and making their life better. To do that, you have to correctly identify their problems, and then show them how your product will provide value to them. By communicating effectively, you're able to ensure that you're doing what's best for the customer and for yourself."
Trisler called Schommer "an extremely hard worker." Along with being on the competitive sales team, he is a section leader for the UWL Screaming Eagles Marching Band, a member of the Wind Ensemble, a social media assistant for University Marketing & Communications and a marketing intern with Salelytics.
After graduating in December, Schommer plans to enter a career in marketing and eventually pursue a master's degree.