Profile for Laura Schaffer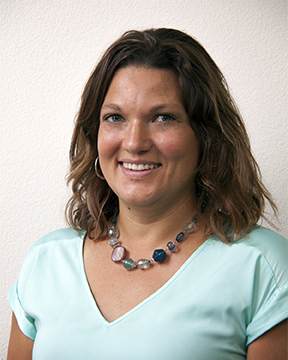 Contact me
Laura Schaffer
Program Director - Occupational Therapy
Health Professions - Occupational Therapy University of Wisconsin-La Crosse
Specialty area(s)
Physical Dysfunction
Neurological Conditions and Treatment
Acute care and inpatient rehabilitation
GoBabyGo!
Spinal Cord Injury Support Group Facilitator
LSVT-Big Certified (Parkinson's Treatment)
Strong interest in Interprofessional Education (IPE) and community based practice
Increasing access to OT for underserved populations
Brief biography
Laura was born and raised in the Milwaukee area (West Bend) and has lived in La Crosse since 2005 with her husband, Nyhus, and 3 children. Laura's clinical experience includes practice in acute care and inpatient rehabilitation with strong focus with clients with neurological diagnoses. Laura joined UWL's occupational therapy team in 2015 and has since completed her post professional doctorate and now serves as the program's director. As a 2000 UWL alumni, Laura has enjoyed working at her alma mater and advocating for the OT profession.
Laura enjoys outdoor activities, hiking, boating and spending time with family and pets.
Current courses at UWL
OT 520: Intro to OT
OT 545: Clinical Applications of Movement
OT 730/731: Physical Dysfunction II
OT 641: Health Care Systems
OT 785/786: Lab Manager and Mentor for Student Led Clinic - spring semesters
Education
Post Professional Doctorate (OTD) (2019) - University of WI-Madison
Masters Degree in Occupational Therapy (2003) - College of St. Catherine
Bachelor of Science (2000) - University of WI-La Crosse


Career
Teaching history
Biomechanics
Critical Analysis of Practice
Professional history
Gundersen Health System (acute care and inpatient rehabilitation) - 2005-2015
Children's Hospitals and Clinics (outpatient) -2003-2005
Research and publishing
Evolution of Multi-Institutional Education Experience to Teach Interprofessional Education - in progress
Impact of Virtual and In-person Interprofessional Education Activity on Student Perceived Competency of Collaborative Evaluation (2021)
Developing a Role for Occupational Therapy at a Free Community Medical Clinic - Capstone project (2019)
Making an IMPACT - An Interprofessional Model of Patient Care Training (2019)
Student Perceived Self-Efficacy of Interprofessional Collaboration Competency Following an IPE Experience (2018)
Student Perceptions of Interprofessional Collaboration After Participating in a Go Baby Go! Ride-On Car Build (2017)
-
Kudos
presented
Laura Schaffer, Health Professions, presented "Daily Living and Adaptive Equipment" at APDA 2023 Upper Midwest Conference on Nov. 4 in La Crosse, WI. Laura used her extensive knowledge on treatment of people with Parkinson's Disease to give contemporary options for adaptive equipment to improve quality of life and extend independence while living with a chronic neurological disease.
Submitted on: Nov. 13
served
Angela Benfield, Erin McCann and Laura Schaffer, all Health Professions, served as faculty instructors for the Occupational Therapy program's on-campus adult and pediatric clinics, offering community service and giving our students excellent hands-on learning opportunities to prepare them for fieldwork experiences. Each spring, the OT Program hosts these clinics weekly for community volunteers who are looking to improve physical or cognitive performance following illness or injury. This experience gives students the opportunity to practice hands-on application of skills learned throughout the program as well as effective communication strategies. Students are supervised by licensed instructors and community clinicians during these clinics. These clinic courses are one of the most anticipated parts of our curriculum and serve to improve competence and confidence of the students while providing a service to the community.
Submitted on: Mar. 4, 2020
Memberships & affiliations
[{"organization":"UWL Student Occupational Therapy Association","position":"Faculty Advisor","url":""},{"organization":"American Occupational Therapy Association","position":"Member","url":"https://www.aota.org/"},{"organization":"Wisconsin Occupational Therapy Association","position":"Member","url":"https://www.wota.net/"}]
Important links