Profile for Thomas Kernozek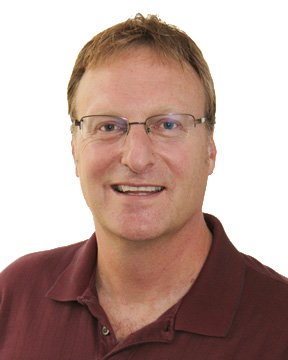 Contact me
Thomas Kernozek
Professor
Health Professions - PT University of Wisconsin-La Crosse
Specialty area(s)
Biomechanics of Human Movement, Research Methods and Statistics
Brief biography
Have taught in the Physical Therapy Program since 1996. Developed the Strzelczyk Clinical Biomechanics Laboratory in the Health Science Center and I am the founding director of the La Crosse Institute for Movement Science (LIMS) (est. 2005).
We currently have an active biomechanics research laboratory where we mostly study lower extremity injury mechanics and joint/soft tissue loading. Much of our work has examined the biomechanical factors related to anterior cruciate ligament (ACL) injury, patellofemoral joint pain and Achilles tendon loading, therapeutic exercises and jumping/landing. We also currently are using novel biomechanical instrumentation to provide feedback to performers in studies that blend biomechanical aspects with motor control/motor learning.
Here is an article regarding my work at UWL that was featured in the La Crosse Tribune.
Currently, I serve as the Director of the La Crosse Institute for Movement Science (LIMS), teach courses in Physical Therapy and serve as the Associate Dean for the College of Science and Health.
Here are some links to our laboratory, the instruments that we use and the research done here-
La Crosse Institute for Movement Science (LIMS) est. 2005. LIMS website
Strzelczyk Clinical Biomechanics Laboratory Lab website
Education
Post doctoral training, University of Minnesota
PhD, University of Minnesota (GO GOPHERS!)
Career
Research and publishing
Published over 100 research manuscripts with many graduate students as co-authors. Students have an awesome opportunity to be mentored and work directly with faculty members on research projects at UWL. My research has been a true faculty/student partnership and our outcomes over the years have been excellent. Often, students are listed as co-authors on publications or presentations at professional meetings based on their efforts in helping to conduct these contemporary research projects. Follow the link to see what I am currently publishing within our LIMS research group (Pubmed Publications website). Our research has been cited by many other scientists in this field. Follow the google link to learn a little more about our research and see which papers have been most often cited by other scientists (Google Scholar Kernozek Citations website)
We also have active research partnerships with the Gundersen Sports Physical Therapy residency program and the Mayo Clinic Health System in La Crosse.
If you want to become a physical therapist and be involved in contemporary research within movement science, UWL is a really great place to be! Get involved in LIMS research!
Kudos
published
Laura Jabobsen, C. Nathan Vannatta and Catherine Schuman, all Gundersen Health System; and Thomas Kernozek, Health Professions; co-authored the article "An updated model does not reveal sex differences in patellofemoral joint stress in running" in International Journal of Sports Physical Therapy and was accepted for publication by American Academy of Sports Physical Therapy. Laura Jacobsen completed this project as a family medicine resident within Gundersen Health System. C. Nathan Vannatta is a collaborator between Gundersen Health System and the La Crosse Institute for Movement Science (LIMS).
Submitted on: Nov. 21
published
Owen Mills, Gundersen Health System; Becky Heinert, Thomas Kernozek, Rachel Kiminski, Drew Rutherford and Cori Williams, all Physical Therapy; and Kyle Cluppert, Athletics; co-authored the article "Transfer of post-trial feedback on impacts during drop landings in female athletes" in Sports Biomechanics and was accepted for publication by Taylor and Francis. This was a capstone research project of Rachel Kiminski and Cori Williams, current students in the graduate program in Physical Therapy. Thank you to collaborators Becky Heinert, Kyle Cluppert, Owen Mills and to Viterbo Athletics for their involvement.
Submitted on: Sept. 26
published
Becky Heinert, Winona State University; and Thomas Kernozek and Drew Rutherford, both Physical Therapy; co-authored the article "Effectiveness of Augmented Feedback on Drop Landing Using Baseline Vertical Ground Reaction in Female Athletes" in International Journal of Athletic Therapy and Training published on June 13 by Human Kinetics. Becky Heinert is a two time graduate of the UWL Physical Therapy Program (BS and MSPT) and collaborator with the La Crosse Institute for Movement Science (LIMS). Drew Rutherford, MS is the Laboratory Supervisor with LIMS.
Submitted on: June 30
published
Renee Dade and C.N. Vannatta, both Doctorate in Physical Therapy; Thomas Kernozek, Health Professions; and Bryce Ertman, Physical Therapy student; co-authored the article "Offloading Effects on Impact Forces and Patellofemoral Joint Loading During Running in Females" in Gait and Posture published on Wednesday, Feb. 16 by Elsevier. This work received some support from Lightspeed Lift (Duluth, MN).
Submitted on: Feb. 16
published
Katarina Borer, Adam Daoud-Gray and Qingyun Zheng, all University of Michigan; and Thomas Kernozek, Health Professions; co-authored the article "Anabolic Bone Stimulus Requires a Pre‐Exercise Meal and 45‐Minute Walking Impulse of Suprathreshold Speed‐Enhanced Momentum to Prevent or Mitigate Postmenopausal Osteoporosis within Circadian Constraints" in Nutrients and was accepted for publication by MDPI. Research collaboration from NIH funded project at University of Michigan (K. Borer)
Submitted on: Oct. 25, 2021