Welcome to the website for the Center for Grief and Death Education. We all die, yet death remains a taboo topic. Through education, research and community events, we strive to increase awareness about end-of-life issues and encourage conversation around death, loss and grief. Please explore our community resources, educational opportunties, and current research projects.
COMMUNITY EVENTS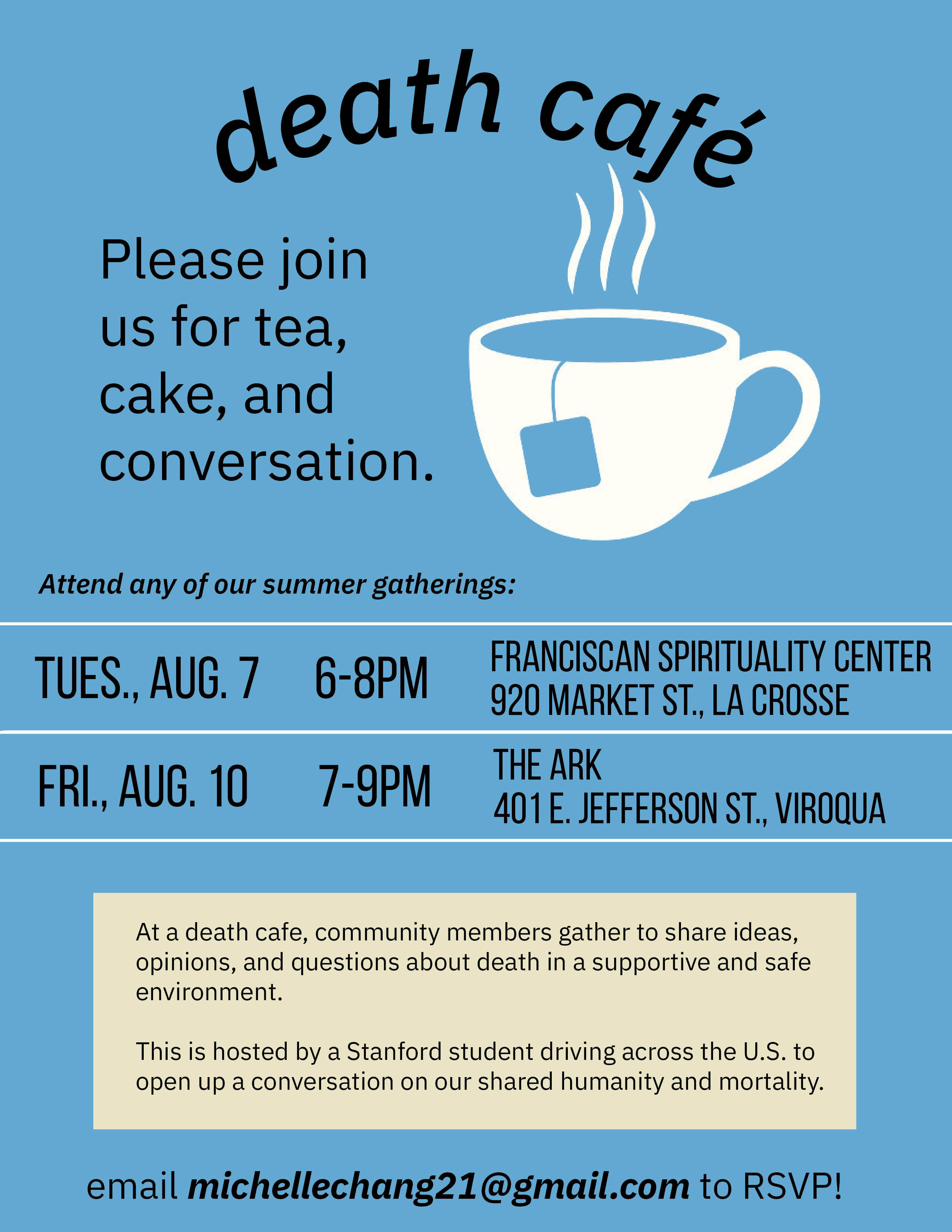 Aug 7 and Aug 10, Death Cafe: At a death cafe, community members gather to share perspectives, stories, and questions about death in a supportive and safe environment. In commemorating the death of a friend from high school a year ago, college student

Michelle

Chang has been hosting a "traveling death conversation," driving across the U.S. to host death cafe spaces for people to come together. She has already stopped in California, New Mexico, and North Dakota! We will discuss anything from what we hope our tombstones will read to how to lead awe-filled lives, connecting deeply with each other.
Michelle

and La Crosse community members will be facilitating two death cafes on Tuesday, August 7 from 6-8pm at the Franciscan Spirituality Center (920 Market St., La Crosse) and on Friday, August 10 from 7-9pm at The Ark (401 E. Jefferson St., Viroqua). The event is free, but please RSVP at michellechang21@gmail.com or esrinivasan@uwlax.edu

About

Michelle

:

Michelle

is an undergraduate psychology student at Stanford university. She is eager to experience how the community of Viroqua uniquely fits in with the broader narrative of our shared humanity and mortality. She views death as an imperative to self-authoring our lives—to approach each day with the intentionality and beauty of the gift that it is. Her storytelling project of death cafes in Northern California has won the Lunsford Award, and this traveling death cafe is funded by Stanford's Beagle II Award.
**Stay tuned for more death cafes and screenings of death and grief related documentaries in Fall 2018!
IN THE NEWS
1. Read more about the Center for Grief and Death Education, Our annual conference on death, grief and bereavement, and a local student's passion for death education, leading her to win a scholarship to attend the conference! http://news.uwlax.edu/getting-equipped-to-help-the-grieving/
2. This article highlights the research on loss and early-onset dementia, conducted by the Center for Grief and Death Education and local aging specialist Amy Brezinka. https://www.wpr.org/grief-struggle-those-who-develop-dementia-early-life
CURRENT RESEARCH PROJECTS:
1. Assisted Death and Grief: This qualitative study explores the family bereavement experiences following an assisted death under Oregon's Death with Dignity Act.
2. The Illness Experience and Motivation to Die and Assisted Death: This qualitative study explores illness narratives to understand the motivation behind choosing assisted death
3. The Experience of Living and Coping with Early-Onset Dementia: This qualitative study explores the subjective experience of living and coping with early onset dementia, with a focus on aspects of grief and loss. Now seeking participants. If interested, please contact Erica G. Srinivasan, at esrinivasan@uwlax.edu
4. Learning through Loss: This mixed methods study explores the use of a "lossography" assignment in death education. The assignment involves exploring and sharing about one's losses. Click on the following link to learn more about the study. Learning outcomes of the assignment are highlighted as well as instruction for how to implement the lossography assigment: https://www.ncbi.nlm.nih.gov/pubmed/24884824