Professional Studies in Education


Take the next step in becoming a leader in your school district.
Some programs complete in only 14 months!
Content
Fall for Education Conference Update - November 3rd & 4th, 2018
Click the "Fall for Education Conference" tab on the left side of this page for further info on the agenda, credit options, and presentation materials.
Reserve Your Seat Now!
Agenda
APPLICATION DEADLINE FOR SPRING TERM IS DECEMBER 23rd
Apply early to reserve your spot!

SCHOLARSHIPS NOW AVAILABLE - Resulting in only $396/credit
We are pleased to announce the offering of scholarships to our existing and entering students for our programs. Scholarships will be available to students with a minimum 3.0 grade average. Scholarship will be in the amount of $54/credit. Since our existing tuition is $450/credit, the applied scholarship to qualified applicants will take this amount down to $396/credit. For new students, we will look at your entering GPA at application and use that GPA for qualification standards. Existing students we will look at your GPA at time of your last term to determine qualification standards.
UWL ME-PD Graduate named March Top Notch Teacher
Congratulations to our ME-PD graduate, Larry Noll, for being named La Crosse area
"Top Notch Teacher" for March. Larry is a long time physical education teacher at Sparta High School and understands the importance of student relationship building, a key building block of our ME-PD program. Keep up the wonderful work with your students Larry! Read more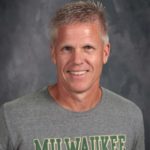 EXPERIENCE THE TRANSFORMATION!
"Although somewhat skeptical at the onset, I have to admit that when I saw the word "transformative" used for one of the outcomes of the program it was with some curiosity as to how that was measured or even described by the participants. Yet, person after person was able to share with me how each viewed the transformative process so that when educators went back to their buildings, others did see a change in those who had participated and principals indicated that the changes were felt at the building level itself."
- Diane Rauschenfels, External Reviewer March 2016