VOTE | Simple. Easy. Important.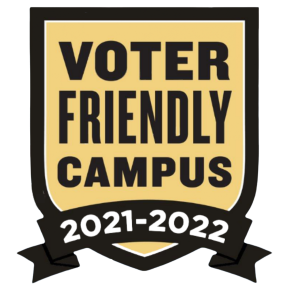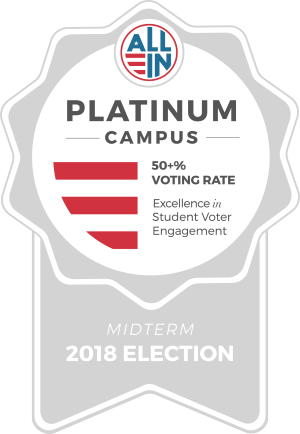 FAQ
Register Online
Up to 20 days before the election. Voters who have a valid State of Wisconsin Driver License or State of Wisconsin ID card issued by the Wisconsin Department of Motor Vehicles (DMV) can register to vote online on the MyVote Wisconsin website: http://myvote.wi.gov .
Register at the polling place on Election Day.
Proof of Residence is required for voter registration at the polling place on Election Day.
UWL can provide a valid Proof of Residence for voter registration:
UW-La Crosse students can update their current address in their WINGS Student Center and also print an enrollment form which includes their current local address. The form is located in the lower right corner of the Student Center in the "Other Resources" area. Look for the WI Voter Verification link. If using a mobile device to view the form, please remember to remove the pop-up blocker in your web browser settings.
Not registered yet? You can register to vote at your polling place on election day. See the box to the left about how to register to vote.
Wisconsin requires a photo ID to vote.
For UWL students, the Eagle ID Card can be used as your photo ID for voting in Wisconsin.
If you plan to use your Eagle ID to vote, it must contain:
Issued date
Voter Expiration date is no later than two years after the Issue Date (even if the Voter Expiration date has expired)
Your signature is on the back of your Eagle ID card
Eagle ID card must be accompanied by a separate document that proves enrollment
Helpful links
Bring It To the Ballot

(Wisconsin Elections Commission)
Describes several types of valid photo IDs for voting in Wisconsin.
City of La Crosse

The City is divided into 13 Aldermanic Districts. Within the 13 districts are 34 wards. The ward in which you live determines your voting location.
Consult the City of La Crosse Aldermanic Districts Map to determine your ward. (smaller black numbers on the map)
Consult the City of La Crosse Polling Places list to determine the voting location for residents of your ward.
UWL students living on campus reside in ward 8; ward 8 residents will vote at the Student Union.

All Wisconsin Citizens:
Receive your ballot by mail
Wisconsin voters can receive their absentee ballot by mail. If you are a regular voter who would like to vote in the 2022 General Election make sure to request your ballot by November 3rd at 5:00pm. Be sure to return your absentee ballot no later than November 8th at 8:00pm.
Vote early in your Municipal Clerk's office
Starting 14 days before Election Day, you can vote by absentee ballot in person at your Municipal Clerk's office.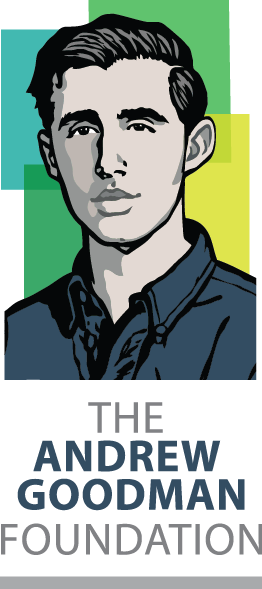 Andrew Goodman Foundation
About the Andrew Goodman Foundation
University of Wisconsin-La Crosse is an Andrew Goodman Partner Campus!
The Andrew Goodman Foundation's Andrew Goodman Vote Everywhere program partners with America's colleges and universities to provide resources and mentoring to a national network of student leaders who carry out voter registration, education, mobilization, and advocacy campaigns on campus. Learn more about UWL's Andrew Goodman Campus Team and how to get involved.
The Foundation's mission is to make young voices and votes a powerful force in democracy. The organization is named after Andrew Goodman, a college student and Freedom Summer volunteer who was murdered by the KKK in 1964 while registering Black Americans to vote in Mississippi.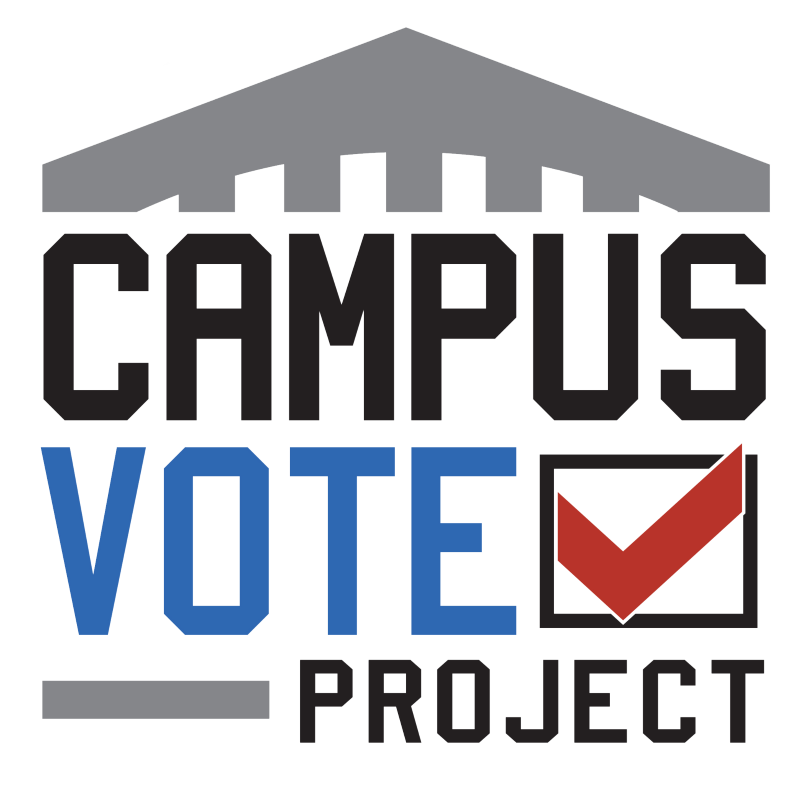 CEEP Description
CVP Description
In 2012, Fair Elections Center launched Campus Vote Project (CVP) to focus and expand its work around student voting issues.

Since then, Campus Vote Project
has been working to normalize and institutionalize student voting by working directly with colleges and universities across the country.

This includes the creation of the
state student voter guides,
answering questions specific to college students such as, "Will registering to vote with my campus address affect my driver's license or car registration?"
CVP works with colleges and universities across the country and focuses its time and resources on supporting community colleges and minority serving institutions where these resources can have a greater impact.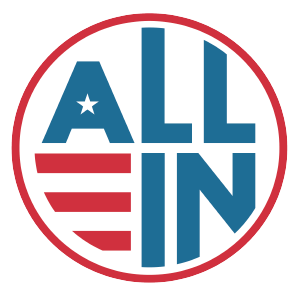 All In Description
All In Description Full
The ALL IN Campus Democracy Challenge empowers colleges and universities to achieve excellence in student democratic engagement
At the Challenge, we believe higher education should play a role in developing an active and informed citizenry by educating students, motivating them to engage in American democracy, and instilling the value of lifelong participation. Through an intentionally designed program – which provides incentive, structure, and accountability – this national, nonpartisan initiative inspires, supports, and celebrates colleges and universities working to improve civic learning, political engagement, and voter participation.- Taken from the All In Campus Democracy Challenge Website.