Posted 11:56 a.m. Thursday, June 29, 2023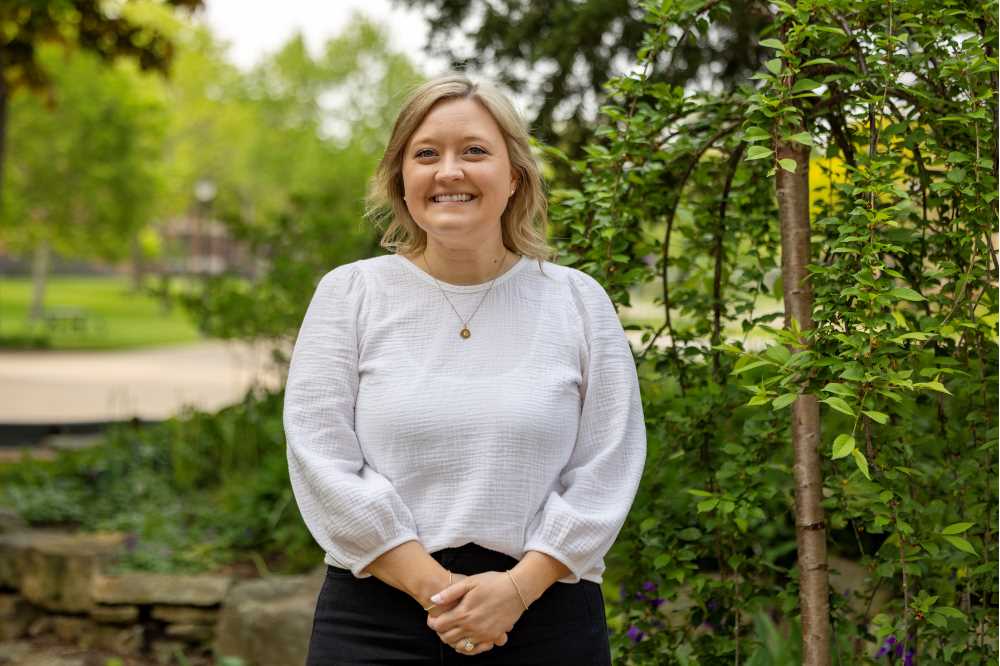 Kelly Arnost wins 2023 University Staff Excellence Award 
For Kelly Arnost, no two days are the same.
And that's exactly how she likes it.
"I love the variation of working directly with students, faculty and staff," says Arnost, '15, the academic department associate for the English Department at UW-La Crosse. "One moment I might be meeting with a student and discussing declaring an English minor, and the next moment I might be helping a faculty member with organizing an event for a visiting writer giving a presentation to our students.
"I feel like I have windows into both the academic-operating side of the university as well as the business-operating side of the university," she explains. "It is fascinating to see how they function separately — yet are inextricably linked — to keep UWL running smoothly."
For her outstanding service to the English Department and UWL, Arnost received the 2023 University Staff Excellence Award — given annually to a university staff member who has made outstanding contributions to the campus community.
"I work with an exceptional group of people," she says. "I am humbled to learn that they enjoy working with me as much as I enjoy working with them."
Arnost began working at UWL while pursuing a degree in English education.
She was an Eagle Guide for New Student Orientation, an academic tutor for the Mentoring and Readiness for College program, and a peer advisor for the Leadership and Involvement Center.
Upon graduating, Arnost worked full time as an operations program associate in Business Services. She began her current role in 2020.
"While Kelly has only worked in the English Department for a little over two years, she is a beyond-vital member of our administrative team, assisting with extremely high-level, complicated projects," says Kate Parker, department chair.
Arnost's responsibilities include tracking enrollment, improving budget processes, supervising student interns, spearheading recruitment efforts and participating in professional development related to academic advising.
But it's the way she approaches her work that sets her apart, colleagues say.
Whether she's giving a budget presentation or collecting donations for a local food drive, Arnost's professionalism and personality never fail to shine through.
"She is incredibly well-prepared, elegantly articulate, warmly responsive to questions and feedback, and just generally a lovely and enthusiastic presence," Parker explains. "She is, in every way, more than a department associate. She is one of our department's vital administrators."
Arnost credits her time at UWL, as both a student and an employee, for her ability to think critically, communicate clearly and unravel complex problems.
These skills help her remain flexible in a job that demands it, and to work effectively with people from all backgrounds.
The hardest part, she says half-jokingly, is getting people to respond to her emails.
Arnost's favorite day on the job came in October 2021, when U.S. Poet Laureate Joy Harjo came to speak at UWL.
Arnost served as Harjo's campus escort and spent much of the day one-on-one with the world-renowned writer.
"It was one of the most special, memorable days not just at work," she says, "but in my life."
Arnost says she is grateful to work at UWL, and not just because the perks include crossing paths with a poet laureate.
Working at UWL allows her to connect with many wonderful people, she says, with the common goal of serving students, the community and one another.
"I feel so fortunate to say that I enjoy my job," she says. "Words like 'job' and 'work' mean something different now that I am in a position where I genuinely enjoy what I do and believe I make a positive difference in people's lives."