Welcome
The Department of English at UWL offers students diverse opportunities to engage in high-impact learning practices in literature, linguistics, rhetoric, writing, and teaching. Our courses emphasize innovative and critical thinking, effective written communication, ethical decision-making, practical application of knowledge, and civic engagement in global communities.
A recent survey of business and non-profit leaders indicates a desire for job candidates who can demonstrate critical thinking, clear communication, and the ability to solve complex problems. Consider how a major, second major, and/or minor in English can offer you a well-rounded, flexible education that can lead to post-graduation success.
Contact the chair of the English Department, Dr. Natalie Eschenbaum, to learn more!
UWL English professor William Stobb announces Hear, Hear poetry contest
Dr. William Stobb, Associate Professor of English at UWL, and co-organizer, Dr. Ariel Beaujot (UWL History Dept.) have announced a poetry contest seeking original poems that give voice to personal and/or public histories, or poems that engage downtown La Crosse landmarks or events. This is a great way for students and members of the community to share their love for La Crosse. Rules, deadlines, prizes, and submission instructions are available on the Hear, Here website.
UWL English professors co-author Big Read grant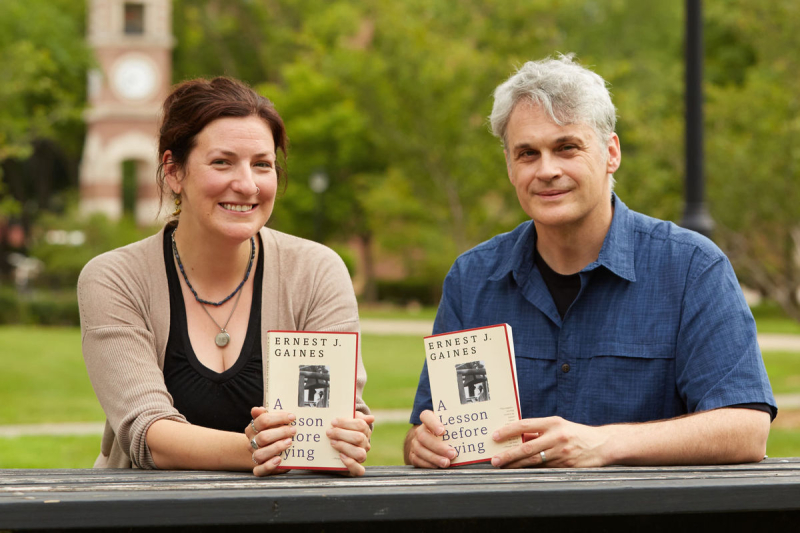 A grant from the National Endowment of the Arts will support a community-wide conversation about the Ernest J. Gaines novel "A Lesson Before Dying" during the coming school year. Drs. Kate Parker, Bryan Kopp, and Heidi Jones (not pictured) are co-authors of the grant. Partners in the project include the La Crosse Public Library; libraries at UWL, Viterbo University and Western Technical College; area schools; and several local businesses and nonprofit organizations. Read more at The La Crosse Tribune.
English Major/Minor Emily Mootz assists with La Crosse Reads
Emily Mootz, UWL senior majoring in English Education and minoring in both Professional Writing and Ethnic and Racial Studies, is working with professors and area partners to bring The Big Read to La Crosse, which is funded by a grant from the National Endowment for the Arts. La Crosse Reads will run from September of 2016 to June of 2017. Recently, Emily had the opportunity to work as the social media events intern and assist with an event that brought Dr. Jim Loewen to campus (author of"The Lies My Teacher Told Me"). As part of La Crosse Reads, Dr Loewen visited La Crosse this fall to speak about sundown towns and institutional racism. To learn more, check out @LaCrosseReads on Facebook.