Welcome
The Department of English at UWL offers students diverse opportunities to engage in high-impact learning practices in literature, linguistics, rhetoric, writing, and teaching. Our courses emphasize innovative and critical thinking, effective written communication, ethical decision-making, practical application of knowledge, and civic engagement in global communities.
A recent survey of business and non-profit leaders indicates that "for career success, a candidate's demonstrated capacity to think critically, communicate clearly, and solve complex problems is more important than his or her undergraduate major." Consider pairing an English major or minor with another UWL program for a well-rounded, flexible education that can lead to post-graduation success.
Contact the chair of the English Department, Dr. Natalie Eschenbaum, to learn more!
Faculty Spotlight
UWL English professors co-author Big Read grant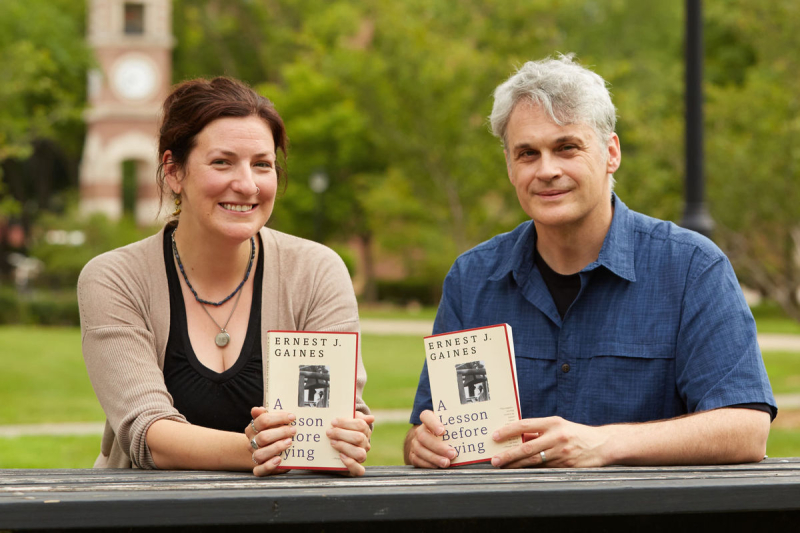 A grant from the National Endowment of the Arts will support a community-wide conversation about the Ernest J. Gaines novel "A Lesson Before Dying" during the coming school year. Drs. Kate Parker, Bryan Kopp, and Heidi Jones (not pictured) are co-authors of the grant. Partners in the project include the La Crosse Public Library; libraries at UWL, Viterbo University and Western Technical College; area schools; and several local businesses and nonprofit organizations. Read more at The La Crosse Tribune.