The English Department at the University of Wisconsin-La Crosse prepares students as professionals and global citizens through the study of literature & culture, writing & rhetoric, and English education. We engage with texts and ideas as imaginative, open-minded individuals who contribute responsibly to diverse communities in a changing world.
Winter & Spring 2024 Courses
What do English graduates do?
Our alumni are furthering their careers at businesses, nonprofits, schools and universities regionally and across the nation. Our English graduates prepare for their futures in a wide variety of exciting professions, including public relations, marketing, K-12 and higher education, law, medicine and event planning, and many of our students are successful in applying to competitive graduate programs across a broad range of disciplines.
Writing and Rhetoric major and Communications minor Whitney Tabbert shares how her classes and professors in the English program gave her the necessary personal and intellectual devices to grow her career after graduating.
Since 1998, English graduates have surpassed STEM majors in acceptance rates to medical school, and English has become the 7th most popular major on medical school applications.
Interested in pursuing a career in health and medicine? Check out the English Major: English for Medical Professions emphasis.
In the 2018-2019 academic year, English graduates boasted a 79.42% acceptance rate into law school, surpassing political science and legal studies applicants.
The values and skills English majors develop set them up to be prime researchers, critical thinkers, and social servants. For those interested in a career in nonprofit work, the English major is an excellent place to refine skills prior to entering the field.
"Metacognition," or thinking about how we think, is a concept in English developed in the field of Writing & Rhetoric that blends with the field of Psychology. In a major dedicated to thought and brain functions, where one must rely on what their patient tells them to make proper conclusions and diagnoses, metacognition can prove to be an immensely useful tool.
English Department Spotlights
Meet Christina Ries, Marketing Media Intern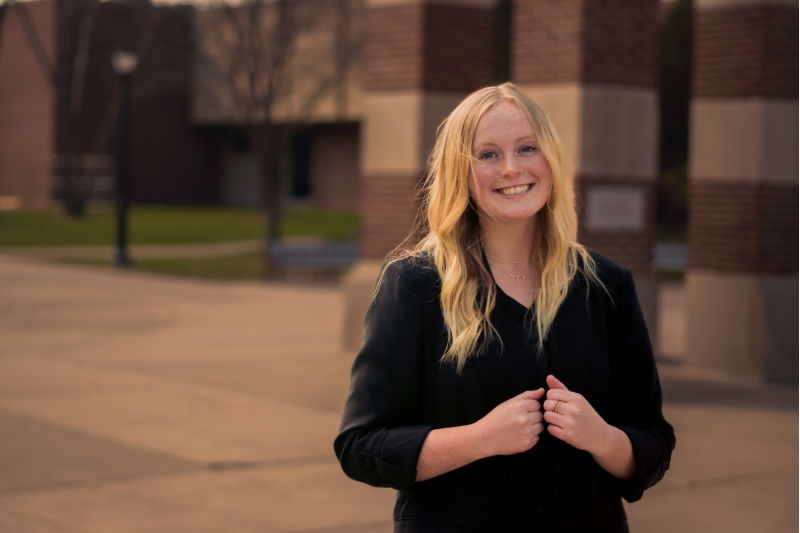 Christina Ries, Marketing Media Intern
What do you do as a Marketing Media Intern?
"As a digital marketing intern for the English Department, I am working on creating a variety of promotional videos highlighting different majors and minors offered by the department. This includes filming student interviews and editing the content."
Do you have a favorite project you've completed?
"So far, my favorite project I have worked on has been creating promotional videos for the English for Medical Professions Emphasis. It's been really interesting learning more about the major and I'm hoping these videos will help build awareness for such a cool program."
What is it like working for the English Department?
"Working for the English Department is great. Everyone I have met through the English Department has been so kind and supportive so it's a really fun atmosphere to be a part of."
Favorite part about being an English Intern?
"As a business student, my favorite part about interning with the English Department has been getting to know all of the different things that the department offers and getting the chance to speak with students I might have never met otherwise."
Meet Matt Cashion, Professor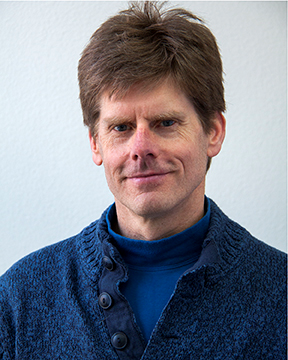 Matt Cashion, ProfessorAs a Creative Writing professor, what do you want others to know about the field? How do you see it changing the lives of your students for the better?
"Creative Writing as an academic discipline (as I see it at UWL, anyway) exists to honor students' unique voices and imaginations inside a supportive community of like-minded artists. We value the process of crafting original material (through fiction, memoir, poetry, scripts, podcasts, etc.) that communicates meaning for the self and others, often in a workshop setting where writers give and receive feedback in a nurturing environment intended to help everyone keep improving. The benefits are personal, professional, and civic-centered. Personally, we write to learn about ourselves, to give shape to our experiences, to connect, to escape, to create empathy, to achieve catharsis, to explore curiosities, and to develop habits of mind that enhance our daily lives because we sharpen our senses in ways that make us feel more alive, more alert, and (we hope) more compassionate. Professionally, we develop creative-thinking skills and abilities to innovate and collaborate that every good workplace values. And sharing what we produce builds community. Hearing stories from a diverse collection of writers allows readers (and listeners) to appreciate a wide range of experiences that strengthen our community by deepening understanding, respect, empathy, and acceptance."
You've published several books; can you tell us more about your writing process? What's your favorite genre to write with in the overarching field of creative writing? How do you want your readers to resonate/interact with what you've written?
"I've written novels, stories, poems, personal essays, and screenplays, and for each of them, I usually start with some fragment of a memory or observation that holds significant emotional power for me, then, while drafting, hope to surprise myself by making new discoveries that take the piece in unexpected directions, intuiting along the way through the first couple drafts that continue to grow and morph through multiple (endless?) revisions in ways that try to serve what the piece keeps becoming as it grows into focus. Then I revise again. Then set it aside, then re-read and re-revise, then give it to a trusted reader or twelve who always helps me see what I couldn't. I write more fiction than anything else, more short stories than longer pieces at the moment, though that may change when I finish my current story collection-in-perpetual-progress. I would hope my readers—whoever they are—might have a good time keeping company with characters who misbehave, who try and fail and try again to evolve, to change, who navigate relationships with people and places in ways that show a little of what it's like to be alive these days."
As an advisor to Steam Ticket, what makes the program so satisfying? What makes you and your students come back for more each year? Any exciting things happening in the near future?
"Students who enroll in the Steam Ticket class (ENG 320—Literary Journal Production) laugh a lot. I hear more laughter in that class than I hear in every other class combined over a full year. It's a student-run journal (where I try to stay out of the way), so they enjoy—as editors and readers—the autonomy they're given as they discuss what stories and poems (submitted from writers around the world) are worthy of being published. They get a very hands-on experience with contemporary publishing. They learn to see what makes certain pieces rise above other pieces, and since most of the staff consists of writers, they often come away with greater confidence for ways to improve their own work. I'm always impressed with how seriously they take their roles (while simultaneously having much fun), and our end-of-year release party is a good time that honors their hard work. We just published Vol. 26 (a long run in the life a lit mag), and our Creative Writing Curriculum is being revised now in order to feature a publishing component more prominently. A few past Steam Ticket staff members have acquired positions as literary agents and in publishing houses in New York and in Minneapolis, so it's always exciting to see how this class (among others) can contribute to one's personal and professional growth. And it's fun. Did I mention that it's fun?"
Meet Maddie McNeil, Marketing Outreach and Communications Intern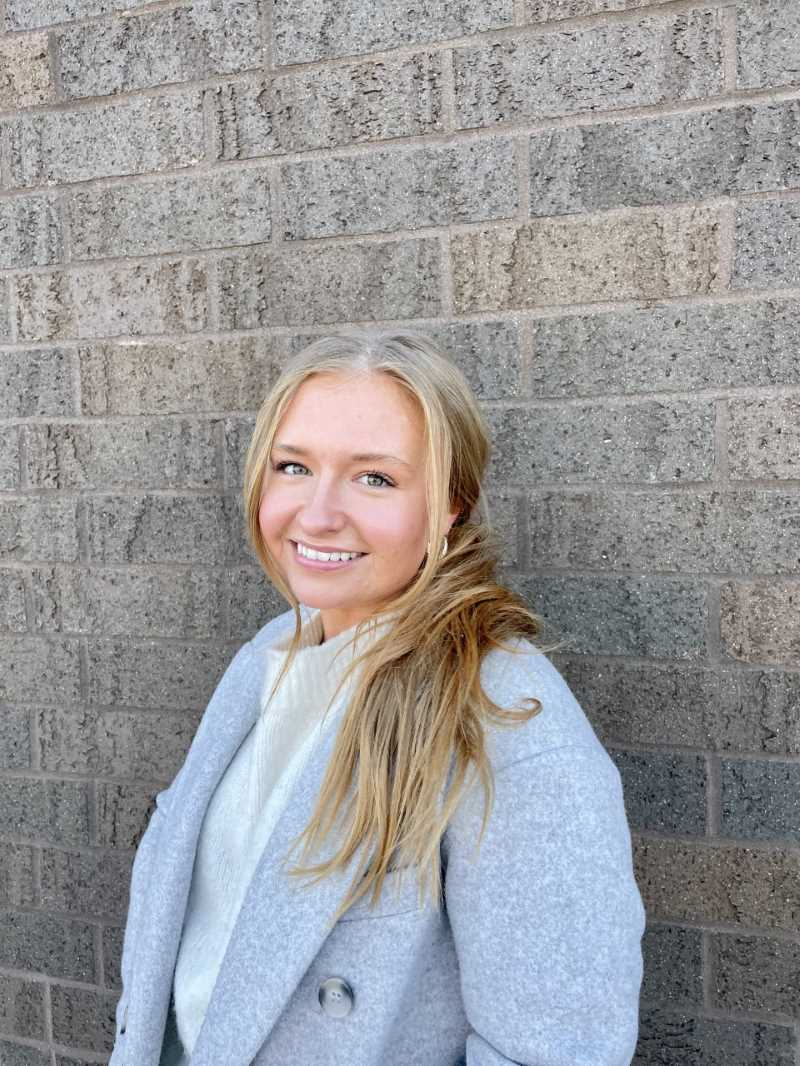 Maddie McNeil, Marketing Outreach and Communications InternWhat do you do as a Marketing Outreach and Communications Intern?
"Most of my time is used to create digital signage and promotional material for upcoming courses, English Department events, and other events put on by English faculty."
What is it it like working for the English Department?
"There is never a day that goes by where we don't enjoy a good laugh, a nice cup of coffee, or an occasional visit to events. Working for the English Department has really brought everything I have learned in my Marketing and Digital Media classes together and is a large part of the skillset I will carry with me into my future career."
What are your favorite parts about being an intern?
"My favorite part about being an English Department intern is the people. Kelly Arnost has been such an amazing mentor for me the past year and a half. She has helped me with several things that fall outside of work and has never made me doubt whether or not I can count on her as someone to turn to.
Dr. Parker is single-handedly the coolest person I have ever met. She has never failed at putting a smile on my face or making me laugh with her insanely hilarious stories. She is also the best tarot card reader in the greater La Crosse area."
Any advice for future interns?
"Take EVERYTHING as a learning opportunity. I never could have imagined all the things I would learn through working with the English Department that have helped me with my major and minor."
Meet Dr. Darci Thoune, First-Year Writing Program Coordinator and Professor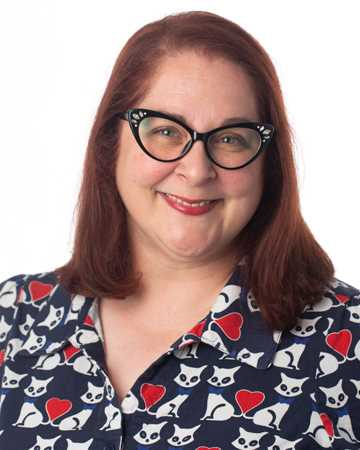 Darci Thoune, First-Year Writing Program Coordinator and ProfessorWhat do you do as a First-Year Writing Program Coordinator?
"First-year writing and writing program administration are two sub-disciplines within the larger field of writing studies. Both of these sub-disciplines are preoccupied with how students learn to write and how instructors learn how to teach students how to write. On the surface these seem like neat and tidy or discrete activities, but once you dig in they're wildly (and wonderfully) complex.
So, what is this field about? It's about giving students the best possible writing experiences we can offer in just fifteen quick weeks while also making sure that we're supporting their academic, physical, emotional, and mental well-being."
What's your favorite part about teaching in Writing Studies?
"I'll be honest, I love teaching first-year writing (ENG 110)… I like the challenge of teaching FYW—of working with students from a wide range of backgrounds and helping them to develop the skills and confidence they need to be successful in a wide range of writing situations at UWL."
What's happening in the field right now? Any personal projects?
"Embodiment, affect and emotion, post-COVID reflections, failure, and anti-racist pedagogy have been hot topics in the field for the last several years. We're feeling all of our feelings these days and there's no denying that there are lots of valid feelings to process right now.
I'm also currently in the early stages of studying fat phobia and weight stigma in the first-year writing classroom. I will start gathering data for this project during the 2023-2024 academic year."
Meet Annika Koenen, Research Intern
Annika Koenen, Research Intern
What do you do as a Research Intern?
"As our department's research intern, I take on projects sponsored by our Chair, Kate Parker, and other members of our department as a means of promoting events and changes happening in our English community here at UWL. Much of my work is, of course, investigation and the presentation, usually written, of my findings."
What is it it like working for The English Department?
"An absolute blast. Kelly is so helpful and cheerful while I'm in the office, it makes every hour I spend there so uplifting. All of the faculty members in our department have been so welcoming too and it really makes it feel like we're all one big family!"
What projects have you worked on?
"The first project I took on after being hired was our Hyde Project. I had the opportunity to work with Murphy Library in the archives and design the tribute webpage on our homepage from scratch! Currently I'm putting together an annotated bibliography and presentation on English graduate demographics in Medicine and Law careers that I can't wait to show you all."
What is your favorite part about being an English intern?
"My favorite part of being an intern here in the English Department is getting to interact with the professors and other faculty in our community. It's really fun to talk to and learn more about our professors outside of a classroom setting, as they often come in and out to visit Kelly Arnost and Kate Parker whose offices are connected to mine. You'll learn very quickly that our professors are a lot more interesting than you think!"
Meet Dr. Susan Crutchfield, Associate Professor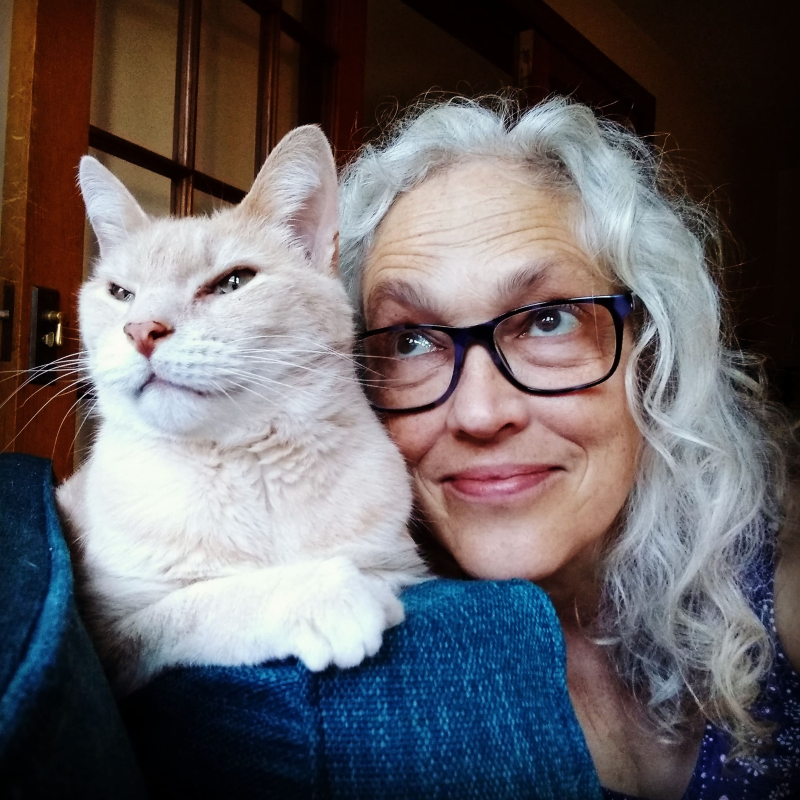 Dr. Susan Crutchfield, Associate Professor
What kinds of courses do you teach in the English department? What's your favorite class to teach?
"I teach first-year writing, general education literature, and upper-level courses in literary and cultural studies. More specifically, I've taught courses in disability representation, adaptation studies, film studies, multicultural American authors, and Western and global women authors.
My favorite classes to teach are the ones in which the whole class becomes a community engaged in discovering new knowledge together. For real! I'm not trying to be obtuse! I find all the subjects I teach to be endlessly fascinating, and every class I teach holds the potential for me to experience the excitement of learning new things through the ever-changing perspectives of my students."
Your research was recently profiled nationally on Radiolab. How would you explain your scholarly interests/field to those who aren't literary scholars?
"The Radiolab-profiled research was an article in which I analyzed Helen Keller's vaudeville routine from the 1920s for how that show and its advertising campaigns used the rhetoric of the freak show to appeal to non-disabled audiences. As someone who studies representations of disability in a wide variety of media, my goal is to better understand the ways that the stories we tell about people with disabilities, and the ways that we represent disability through metaphor and symbolism, have clear impacts on the lived experiences of people with disabilities."
What's the best book you've ever read?
"It's impossible to choose! I wouldn't want to compare George Eliot's Middlemarch with William Faulkner's The Sound and the Fury, nor Henry James's The Golden Bowl, nor Toni Morrison's Beloved. There are too many amazing works of literature out there to choose just one."