Posted 9:43 a.m. Friday, Feb. 24, 2023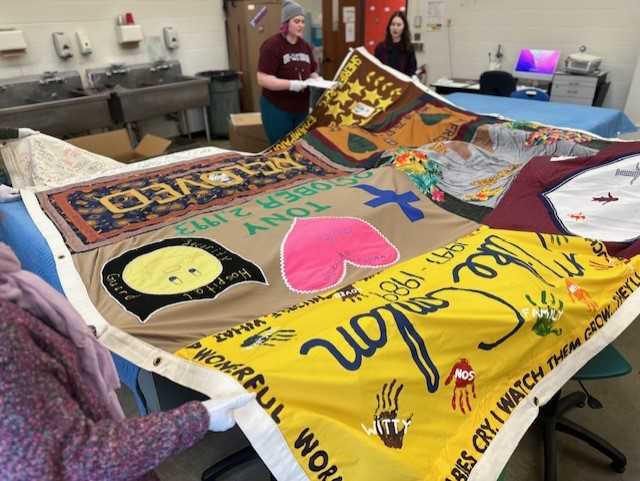 Panels return to campus to educate a new generation
After nearly a 30-year hiatus, some AIDS Memorial Quilt panels will return to UW-La Crosse.
"Sewn in Memory: National AIDS Memorial Quilt Panels" will run Monday, Feb. 27, through Friday, April 7, in the University Art Gallery, Lowe Center for the Arts, 333 16th St. N. The exhibit, free and open to the public, is part of ArtsFest, which runs Feb. 27 and 28.
The 12' x 12' quilt panels arrived mid-February, with students from an art class conducting "condition reports." During the inspection of each of the nine blocks, the students checked for stains, broken seams, missing grommets, discoloration and anything that required documentation to maintain the quality of the quilts.
The students also worked on scripting and recording an audio tutorial about the quilt that can be listened to by those viewing the exhibit.
Elisa Engman, a junior majoring in fine arts and psychology with an art therapy minor, says at first, she was only involved because it was part of her class. But as time passed and she learned more about the disease and the AIDS epidemic, Engman was touched by the love that went into those who had sewn quilt panels.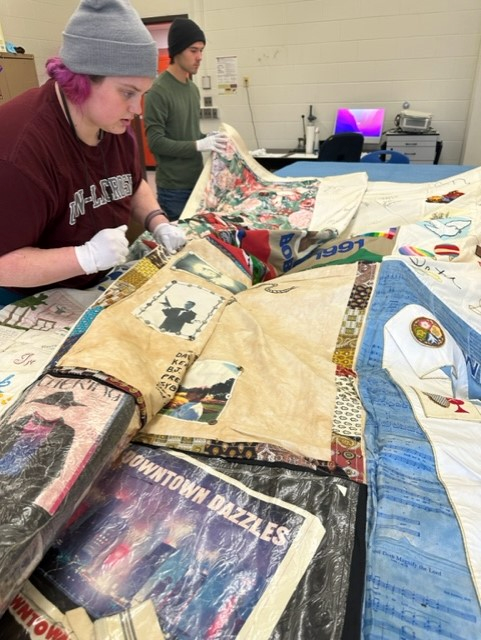 "This exhibit allowed me to learn about an experience that I have never had, but that deeply impacted many people," says Engman, a Rochester, Minnesota, native. "I am sure that this will help me even more to empathize with others going through experiences that I will never understand. This deeper ability to connect with the pain of others will also help me in my future career as an art therapist."
Engman admits she had very little prior knowledge about the AIDS epidemic and how it impacted so many people, especially minority groups. That changed when she saw the panels firsthand.
"I cried or almost cried many times due to the pain and love I sensed from the quilt," she says. "I highly recommend everyone seeing the quilt and learning more about it as it is a commonly ignored, but a very important part of history."
Trinity Lee, a biology major and art minor from Twin Lakes, Wisconsin, was also impacted by the panels.
"The quilt blocks were stunning to see in person up close, as we had only seen pictures before during our research," Lee explains. "It was also a solemn experience as each panel represented a community member who lost their life to AIDS."
Regular gallery hours are 1-8 p.m. Mondays-Thursdays, 1-5 p.m. Fridays-Sundays, and during events at Toland Theatre.  The exhibition is sponsored by the UWL College of Arts, Social Sciences & Humanities, the UWL Pride Center, Gundersen Community Foundation, and the Franciscan Sisters of Perpetual Adoration as part of ArtsFest.
Two presentations, free and open to the public, will be held in conjunction with the quilt during ArtsFest. They include:
"Discussion: Exploring the Quilt" by Jada Harris of the AIDS Memorial Foundation at 2:15 p.m. Monday, Feb. 27, in 116 Lowe Center for the Arts. May also be viewed at: https://wisconsin-edu.zoom.us/s/96028676411
"Discussion: Local Connections and Responses to the AIDS Memorial Quilt," featuring a panel of local people involved in bringing the quilt to La Crosse in 1995 and current wellness educators, at 6:30 p.m. Tuesday, Feb. 28, in Annett Recital Hall, Lowe Center for the Arts.
Other presentations about the quilt are being organized. Get more information about the gallery, artists and special presentations.