Welcome to the UWL Pride Center! We are located on the second floor of the Student Union, in The COVE area. Our Center seeks to provide ample educational opportunities and resources for UWL's students, faculty & staff including ally workshops, trainings, clubs, panels, books, documentaries, speakers, & student-led programs on current issues in our community.
Our Mission Statement: The Pride Center shall foster a safe environment for all LGBTQ+ students, faculty, and staff, educate the campus and community on issues, and advocate for student success and inclusivity.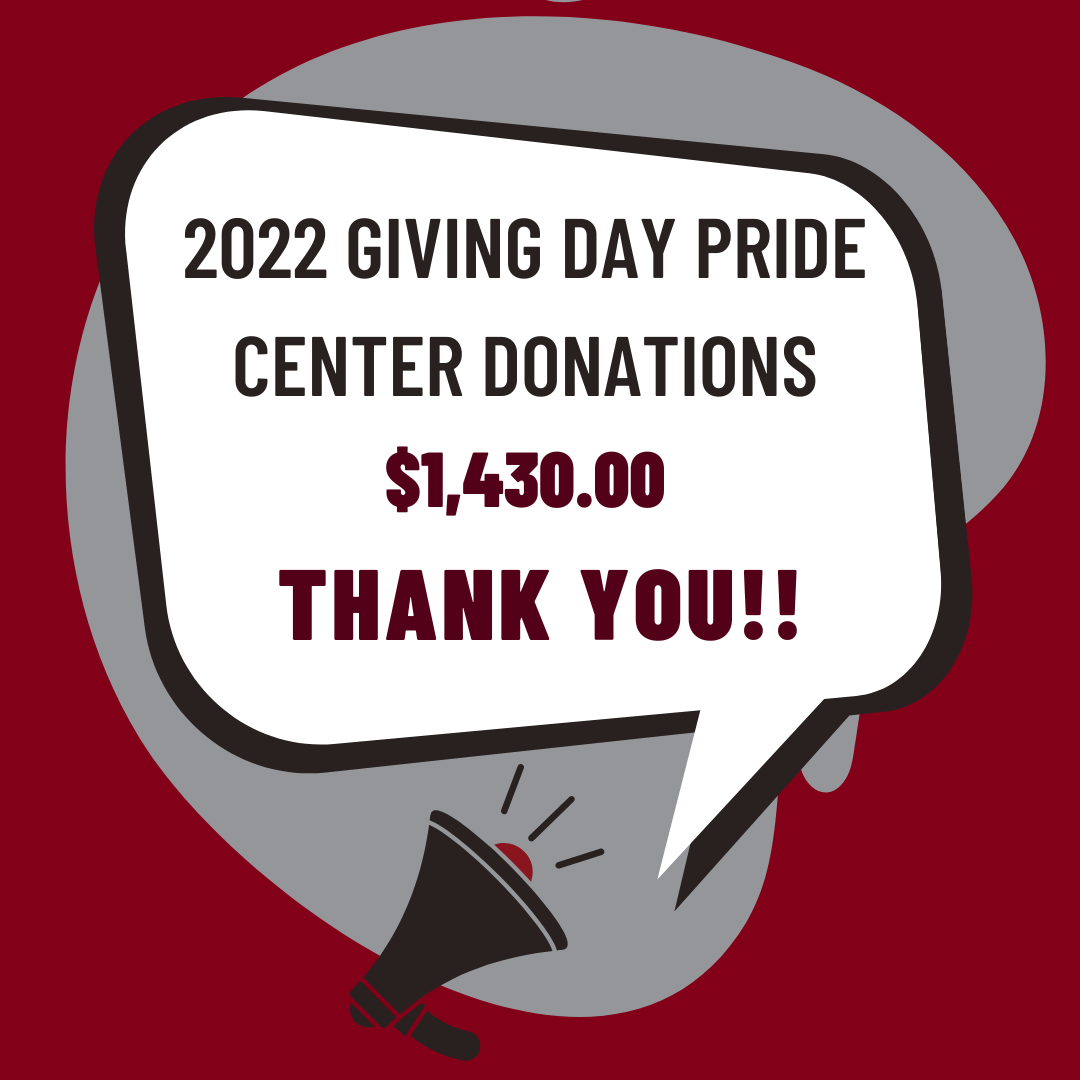 Maroon background, with a gray blob, black and white voice outlines (2022 Giving Day Pride Center Donations $1,430.00 Thank You!!!) and a small black speaker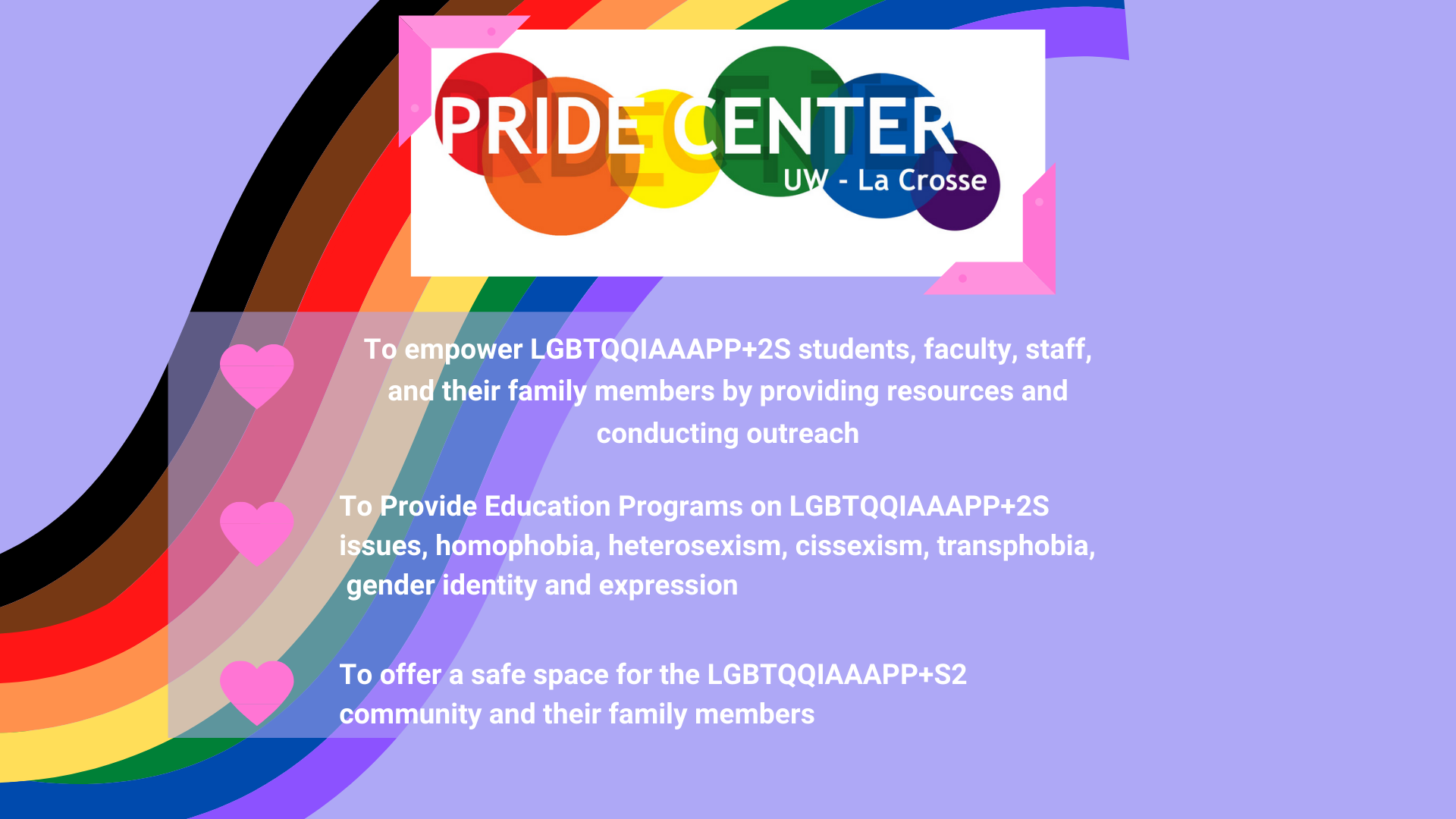 Purple Background with a rainbow, Pride Center Logo, and three goals the center promises to fulfill. The goals are "1. To empower LGBTQQIAAAP+2S students, faculty, staff, and their family members by providing resources and community outreach. 2. To Provide Education programs on LGBTQQIAAAP+2S issues, homophobia, heterosexism, cissexism, transphobia, gender identity, and gender expression. 3. To offer a safe space for the LGBTQQIAAAP+2S community and their family members."
Meet Our People
Visit our peoples' page here!
Please help us welcome our new Graduate Assistant!!
News and Upcoming Events
Visit our events page here!
Safer Space
The UWL Pride Center aims to foster a safer space in which all individuals are supportive of the LGBTQ+ community. Part of this model is using inclusive language and committing to inclusive action. To learn more about our creation of a safer space, please follow this link.
Campus and Community Resources
Online Opportunities
Get connected with us in the Pride Center through online means. As the year goes on, we will have even more available online.
Check us out on Social Media
Facebook Logo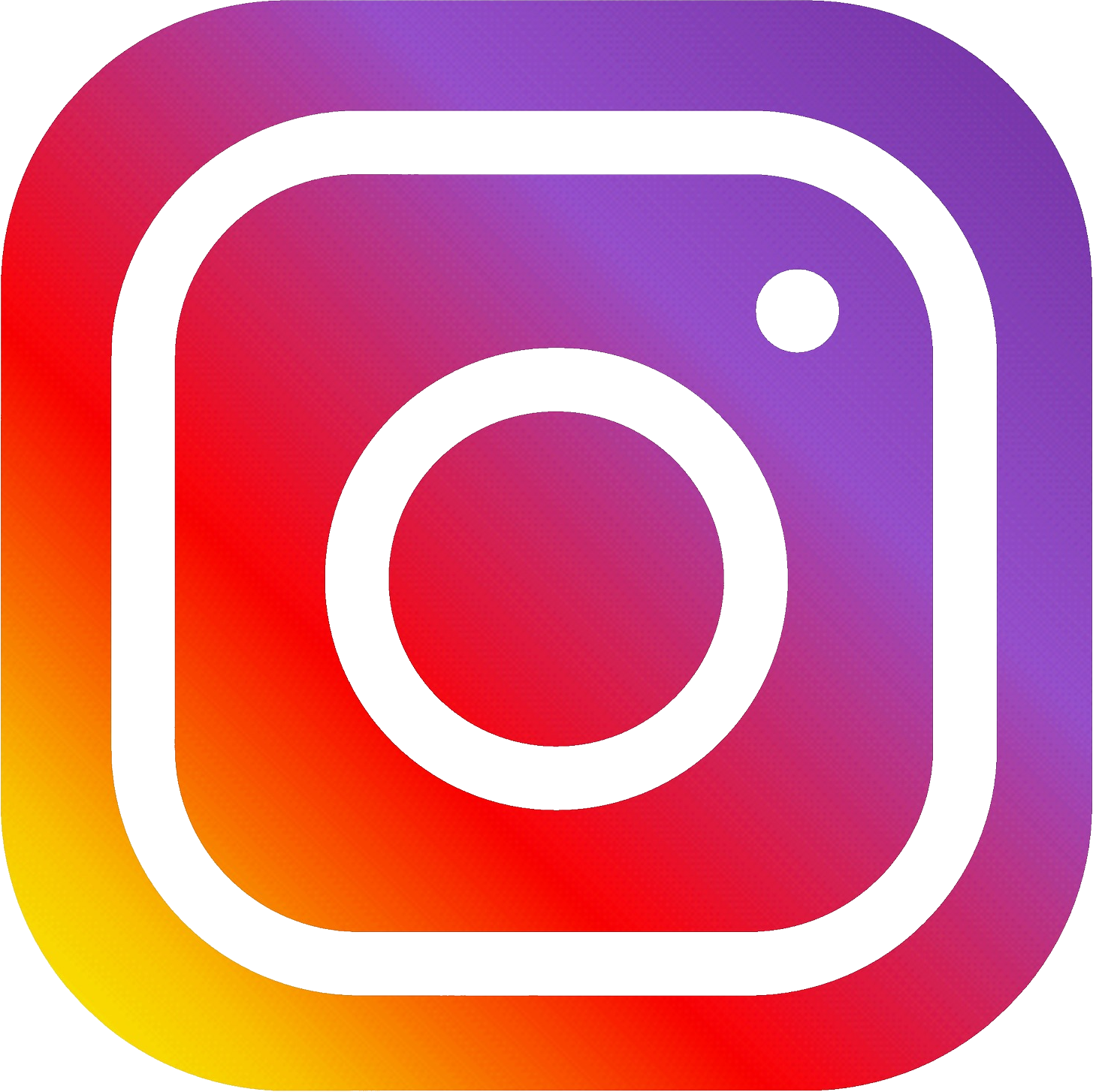 Instagram logo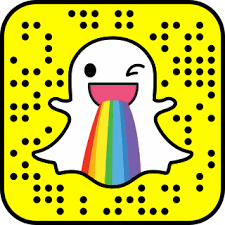 Snapchat Logo
Diversity & Inclusion Statement
UWL is committed to earning the trust and support of our campus community as we work to provide a safe, equitable, and welcoming environment for our students, faculty, and staff. We know that current events can sometimes trigger strong emotions; therefore, it is crucial that we support one another by leveraging our relationships with each other.
At UWL, we lean on each other for care, support, and growth. You may be wondering what we, as a predominantly white campus, can do to support each other regardless of the identities we hold.
Recommit to making our campus as safe and welcoming as we can for historically excluded students. We do this by encouraging our community members to appropriately address campus climate issues in our classrooms, recreation, wellness, research, policies, and procedures.

Participate in opportunities that will expand our knowledge of global citizenship and allow us to share and connect with the lived experiences of one another.

Have honest, forthright conversations with one another about safety, trust, and belonging that are dependent on our identities.

Become an upstander. When you see wrong or an act of injustice or intolerance – take action. One way to take action is to contact someone who can help with the situation. Another way is through the campus hate/bias reporting form.

Come together to uplift and support one another. By striving to create change, have difficult conversations and confront racial injustice, we have the power to overcome any force that seeks to divide us. We hope you'll join us in that effort.
To our Black and brown faculty, staff, and students, your experiences and feeling are valid. We are here to support you. Please feel free to reach out to the following offices:
For more information regarding UWL's justice, equity, diversity, and inclusion work, please visit the D&I website.
Dr. Dina Zavala, Interim Vice Chancellor for Diversity and Inclusion
For accommodations, contact 608.785.8887 | pridecenter@uwlax.edu