Welcome to the UWL Pride Center! We are located in the second floor of the Student Union, in The COVE area. Our Center seeks to provide ample educational opportunities and resources for UWL's students, faculty & staff including ally workshops, trainings, clubs, panels, books, documentaries, speakers, & student-led programs on current issues in our community.
Our Mission Statement: The Pride Center shall foster a safe environment for all LGBTQ+ students, faculty, and staff, educate the campus and community on issues, and advocate for student success and inclusivity.
Pride Center Letter of Support!!!
Dear Campus Community:
The Pride Center is aware of conversations by lawmakers and politicians to define gender narrowly as the biological sex assigned at birth which would remove state legal protections for transgender and intersex people. As a Center dedicated to the equitable treatment of our LGBTQIA+ community we are outraged by this. We fear the harm this action will cause within our community as trans, nonbinary, and intersex people find it harder to access necessary resources and hate and bias incidents regarding gender identity and expression remain on the rise. We are particularly concerned about our trans siblings of color who are targeted and impacted by violence and injustice at a far greater rate. The Pride Center opposes any legislation that invalidates, oppresses, and limits the civil rights of trans, nonbinary, gender non-conforming, agender, gender fluid, and intersex students, faculty, and staff. We remain committed to a campus climate that recognizes the dignity of every member of our community.
We would like to remind you of the resources available in our community. Should you feel the need to reach out, we urge you to do so. Simply put: we care about you and want to see you flourish and succeed. These resources are just one way to ensure you continue to do so:
We recognize and share the fears, anxieties, anger, disappointment, and all the other emotions you may be feeling. We also want to recognize the racially-motivated murder of two African Americans at a grocery store, the shooting at The Tree of Life Synagogue in Pittsburgh and, most recently, the reference to an executive order that would end birthright citizenship, we, as a department, wish to express our support for people of all racial, ethnic and gender identities and people of all religious faiths.
The Pride Center is here for you!
We see you!
You are not alone!
In Solidarity and Pride,
Will, Garrett, Kadie, Maggie, and Dalton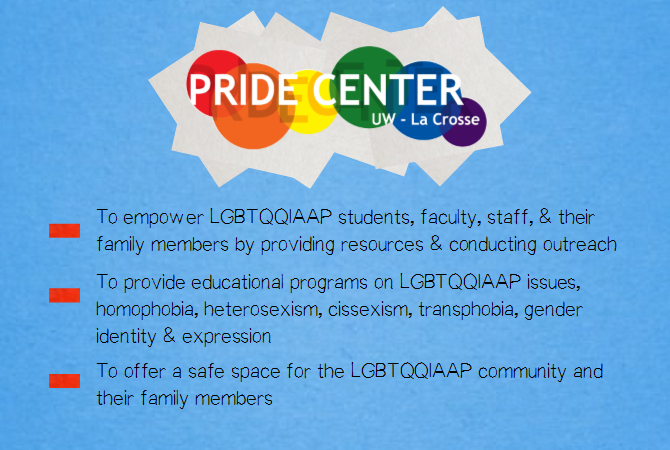 News and Upcoming Events
Visit our events page here!
Safer Space
The UWL Pride Center aims to foster a safe space in which all individuals are supportive of the LGBTQ+ community. Part of this model is using inclusive language and committing to inclusive action. To learn more about our creation of a safe space, please follow this link.
The Pride Center on Social Media
You can find us on Facebook!
For accommodations, contact 608.785.8874 | pridecenter@uwlax.edu