The University Gallery displays works by student, faculty, regional and nationally-known artists in all areas of art. In conjunction with the gallery program, the Department of Art presents a visiting artist series of lectures, demonstrations and workshops. Gallery director John Ready and a staff of student workers manage gallery operations.
The gallery is on the first floor of the Center for the Arts located at the corner of 16th and Vine on the UWL campus. You can find a campus map here.
Indidents of Light Opening Reception & Artist Talk
Opening Reception--Thursday, February 7--4-6 pm in the UWL Art Gallery, CFA
Gallery Talk--Thursday, February 7--4:15 pm--CFA 116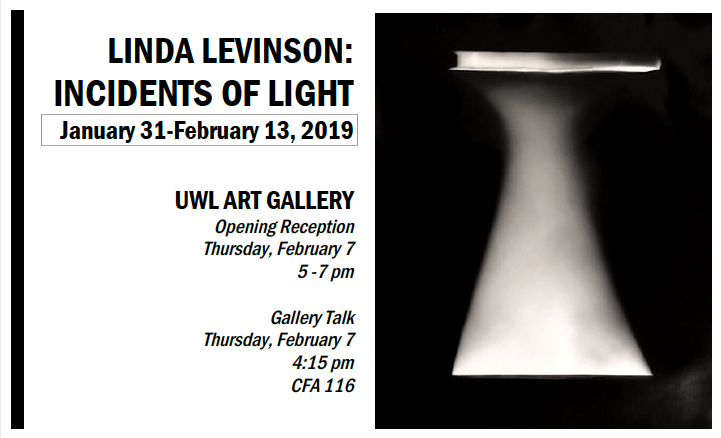 Exhibitions 2018-19 Calendar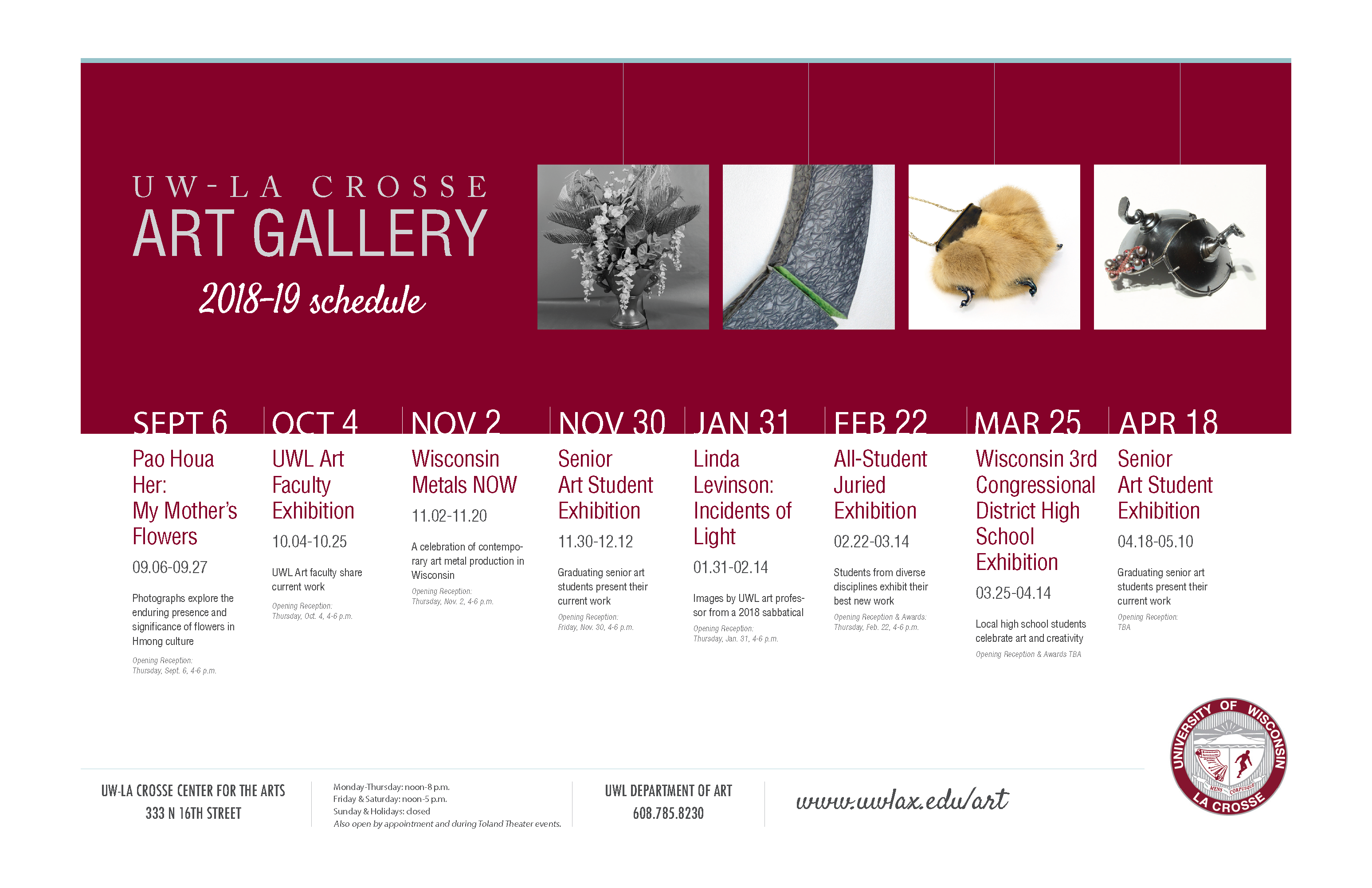 Past exhibitions
Senior Art Student Exhibition
November 3-December 12, 2018
Wisconsin Metal NOW
November 2-November 11, 2018
A Celebration of contemporary Art metal production in Wisconsin.
David Barnhill
Michael Bernard
Jeffrey Clancy
Teresa Faris
Lisa Gralnick
Yevgeniya Kaganovich
Erica Meier
Masako Onodera
Vincent Pontillo-Verrastro
Andrew Redington
Aric Verrastro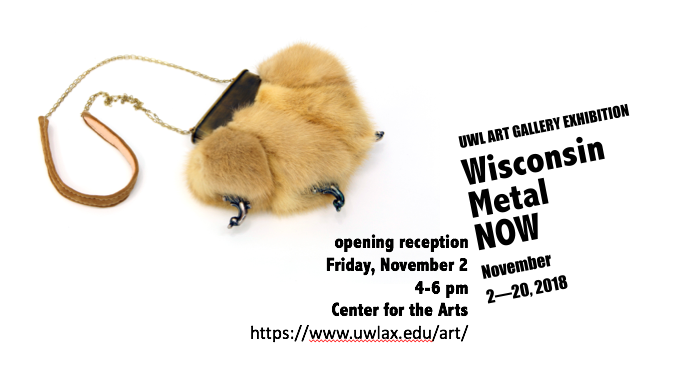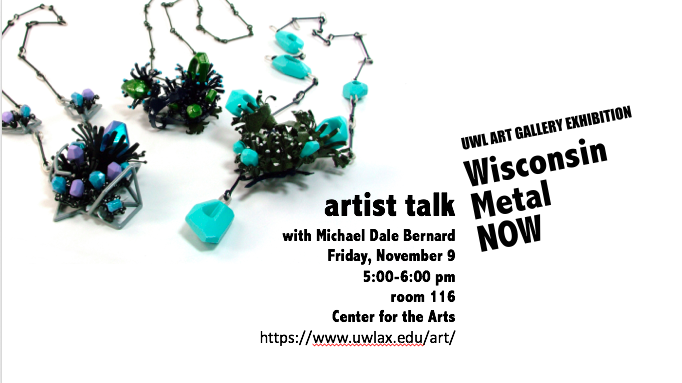 UWL Art Faculty Exhibition
October 4-October 25, 2018
Pao Houa Her: My Mother's Flower
September 6-September 27, 2018
Photographs that explore the enduring presence and significance of flowers in Hmong culture. https://news.uwlax.edu/my-mothers-flowers/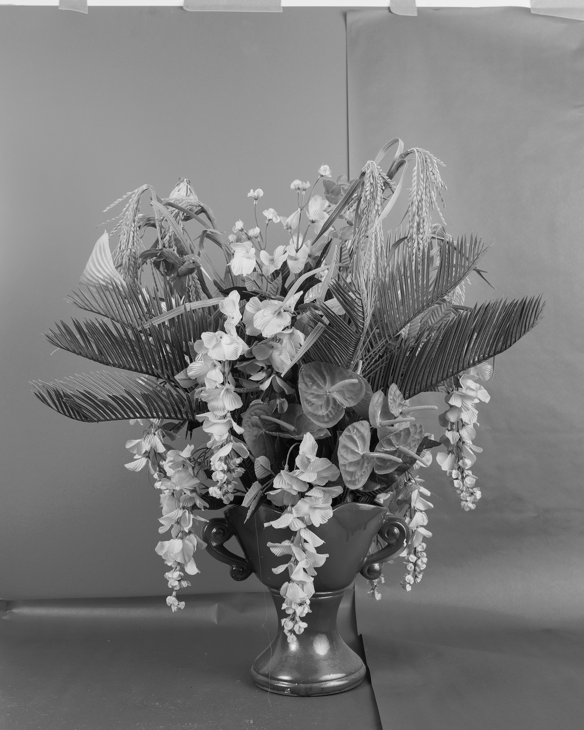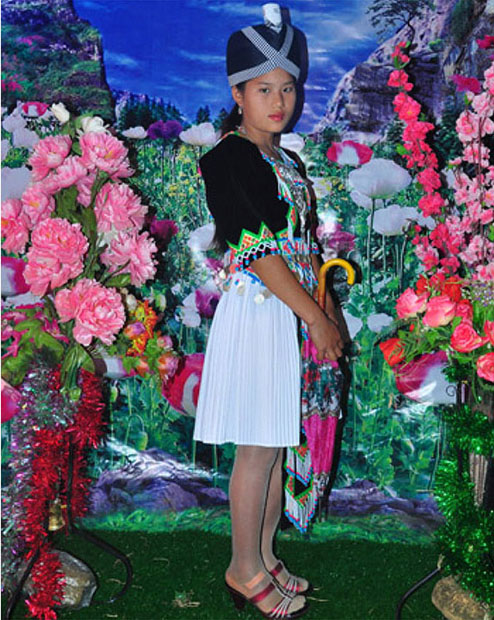 Senior Art Student Exhibition
April 13-May 4, 2018
Graduating senior art students present their current work.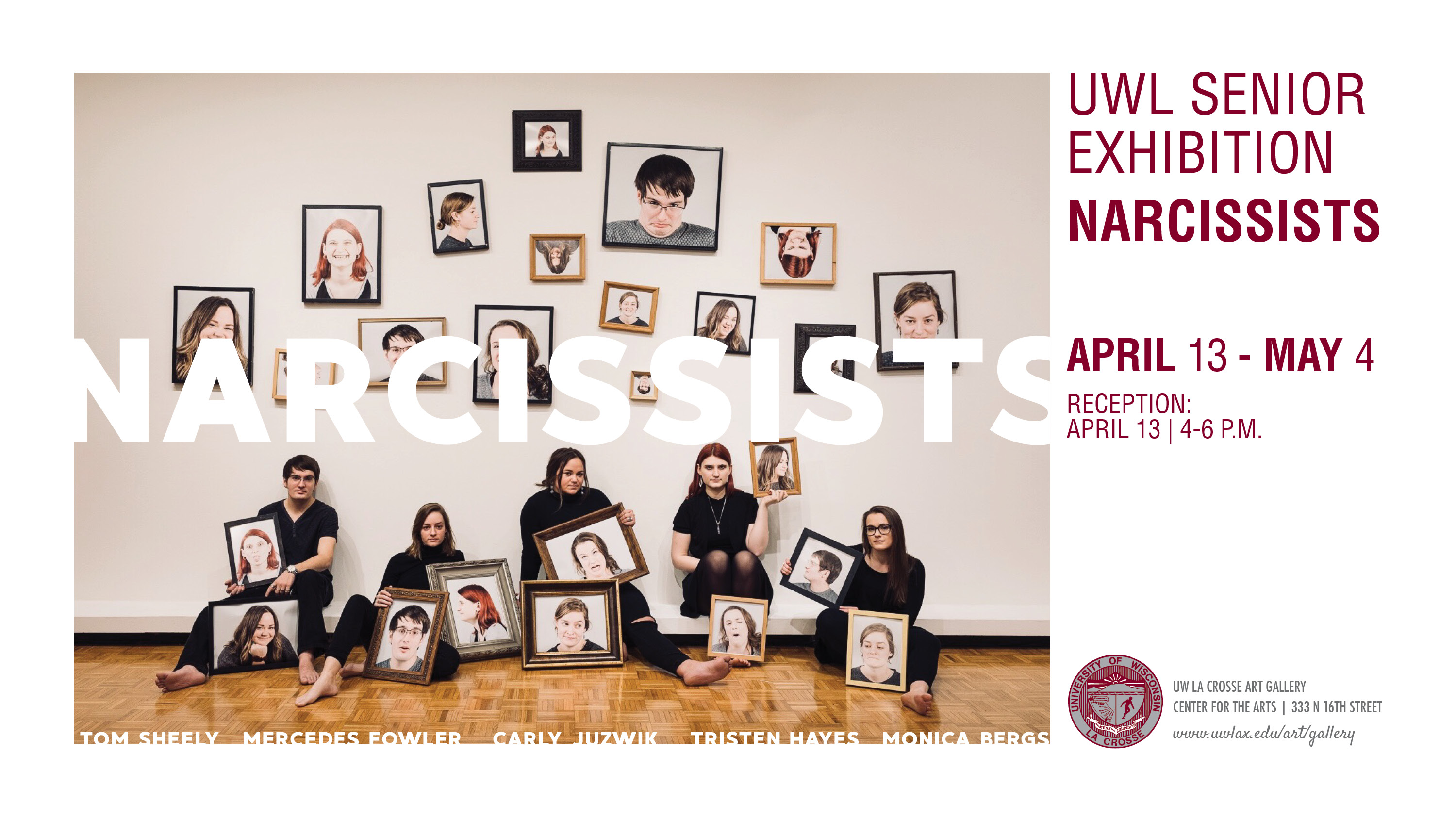 Wisconsin 3rd Congressional District High School Exhibition
March 22-April 8, 2018
Local high school students celebrate art and creativity.
All-Student Juried Exhibition
February 23-March 8, 2018
Students from diverse disciplines exhibit their best new work.
China Changes Everything :: Made in Beijing
January 25-February 10, 2018
Fine art prints explore cultural exchange, technology and East/West links.
Senior Art Student Exhibition
December 1-13, 2017
Karen Terpstra: A Cheval Retrospective
November 3-18, 2017
Art Professor Karen Terpstra's retrospective in the University Art Gallery included a diverse body of her artwork — pieces dated back 20 years to recently completed ones. The exhibition included sketches, drawings reworked with watercolors or oil crayons, reworked giclee prints, and ceramics.
Terpstra's lifelong passion has been horses, "The 'horse' has always been and always will be a major influence and the subject matter of my utilitarian and conceptual works."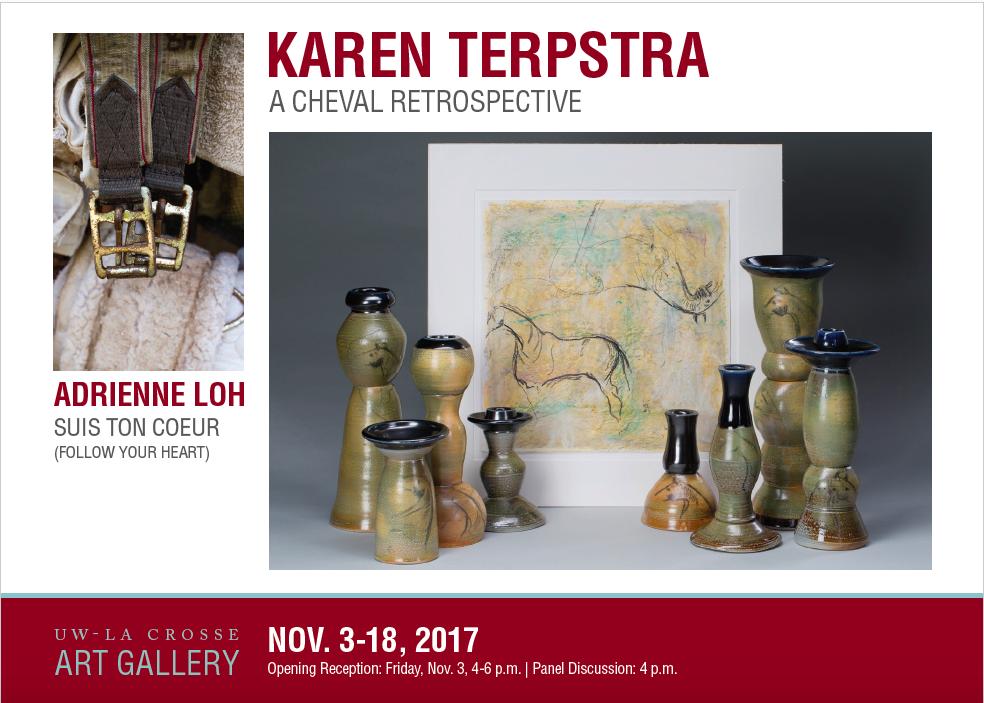 Adrienne Loh: Suis ton coeur (Follow your heart)
Chemistry Professor Adrienne Loh's photographs were taken on an iPhone 6S and a Fuji X100S and feature elements of equestrian life. Loh hopes viewers of her photography feel a sense of the space — physical and emotional — that those who live with and love horses occupy.
"Maybe they will be inspired to look a little more closely at those things that make up the essence of the places we inhabit and the experiences we have," she explained.
What a Relief: Traditional to Experimental Printmaking at Tandem Press
Tandem Press studio stands at the forefront of experimentation and new developments in the field of printmaking. Since 1987, Tandem and artists have pushed the boundaries of printmaking, exploring new materials and techniques, and producing highly ambitious projects. This exhibition of prints made since 2001 showcased the collaborations between master printers and established artists including Suzanne Caporael, Robert Cottingham, Lesley Dill, Jim Dine, Sam Gilliam, José Lerma, David Lynch, Judy Pfaff, and Alison Saar.
Laura Moriarty: Pay Dirt
September 7-23, 2017
Sculptural paintings and works on paper explore the processes that shape/reshape the earth.
Senior Art Student Exhibition
April 12-May 5, 2017
Wisconsin 3rd Congressional District High School Exhibition
March 24-April 8, 2017
All-Student Juried Art Exhibition
February 23-March 3, 2017
An exhibition of sculpture, painting, prints, photographs, metals/jewelry, ceramics, drawing, illustration, textile and mixed media work. A total of 128 works were submitted by 57 student artists, with all majors allowed to participate. The judges selected 60 works of art to include, representing 41 student artists. Special recognition was given to 14 works.
Jurors were Heather Delisle, a professor at UW-River Falls, and Jon Swanson, curator at the Minnesota Marine Art Museum in Winona.
2017 Awards: Dale and Betty Kendrick All-Student Art Exhibition Award — Grant Broeckel • Carol Hutchins Winther Art Award — Sarah Heyer • Ray Sherin Art Award — Kara VanKirk • Catherine Crail Art Award — Pa M. Yang • Milton and Margaret Kosbab Art Award — Ellie DeMuth and Jeffery DeMuth • James Quillin Art Award — Sofia Kozidis • Richard Koehler Art Award — Liz Alexander • Bill Kader Art Award — Mathew Sigrist • Dan & Ruth Devitt Award in Painting — Sylvia Neumann • Dan & Ruth Devitt Award in Drawing — Theresa Kasper • Bil Fiorini Award — Tom Sheely • Ruth Ann Knapp Award — Stewart Stehly • Betty L. Kendrick Award — Gemma Zahradka • Louise Drumm Award — Jacqueline Obst
Other students with art selected for this exhbition: Rachel Ajack, Connor Claus, Alydia Downs, Lauren Follansbee, Rachel Geniesse, Tristen Hayes, Alexa Henson, Hunter Hulley, Brianna Julian, Chynna King, Libbie-Sienna Miller, Lexi Mitchell, Ivy Molls, Hayley Mosson, Baley Murphy, Ryan Naughton, Kasey Pesch, Carolyn Peterson, Chloe Pittelko, Grant Sachs, Emily Sander, Sarah Schultz, Ryan Send, Briannae Theodore, Elizabeth West, Hannah Wise
UWL Alumni Invitational Exhibition Spring 2017
January 27-February 11, 2017
UWL Art graduates exhibit post-graduation work
Senior Exhibition Fall 2016
December 2-December 14, 2016
Graduating senior art students present work from their time at UW-L
The Mississippi: A Sense of Place, Works by Leo Smith
November 4-November 20, 2016
Faculty Exhibition
October 7-October 23, 2016
UWL Art Faculty showcase their work
Re-Riding History: From the Southern Plains to the Matanzas Bay
September 9-September 25, 2016
A metaphorical retracing of the imprisonment and forced assimilation of American Indian peoples. Re-Riding History website here.
Senior Exhibition Fall 2015
Sabrina Bruehling, Nicole Finch, Scott Jablonski, Natalie Kotnik, Kayla Linde, Rebecca Marks, Danielle Nolden, Kelsey Walsh
Lois Bielefeld:

Androgyny
September 18 – October 3, 2015
Artist Lecture: Friday, September 18, 3-4 pm, Room 116 CFA
Senior Exhibition Spring 2015
April 17 – May 8, 2015
3
rd
Congressional District High School Exhibition 2015
March 27 - April 11, 2015
All Students Juried Art Exhibition 2015
February 13 – March 7, 2015
Jurors: Phillip Ahnen and Carolyn Payne
Full list of student artists and award winners is available here.
Faculty Biennial Exhibition 2015
Recent work by the UW-La Crosse Department of Art Faculty
November 20– December 10, 2015
View photos
Abhyasa: Recent Works by Kim Matthews
October 17 – November 8
Lovesickness with Trees
September 12 – October 4, 2014
Sophia Heymans and Garrett Perry, SooVAC in La Crosse
(Exhibition courtesy of Soo Visual Arts Center, Minneapolis, MN)
Senior Exhibition Spring 2014
April 18-May 9, 2014
3rd Congressional District High School Exhibition
April 10-12, 2014
Hosted by Congressman Ron Kind and Tawni Kind
All-Students Juried Exhibition 2014
March 7-April 5, 2014
Justin Quinn: Tales of space and time
January 31-February 22, 2014
Senior Exhibition WANTED:
Artists of Conviction
November 22-December 11, 2013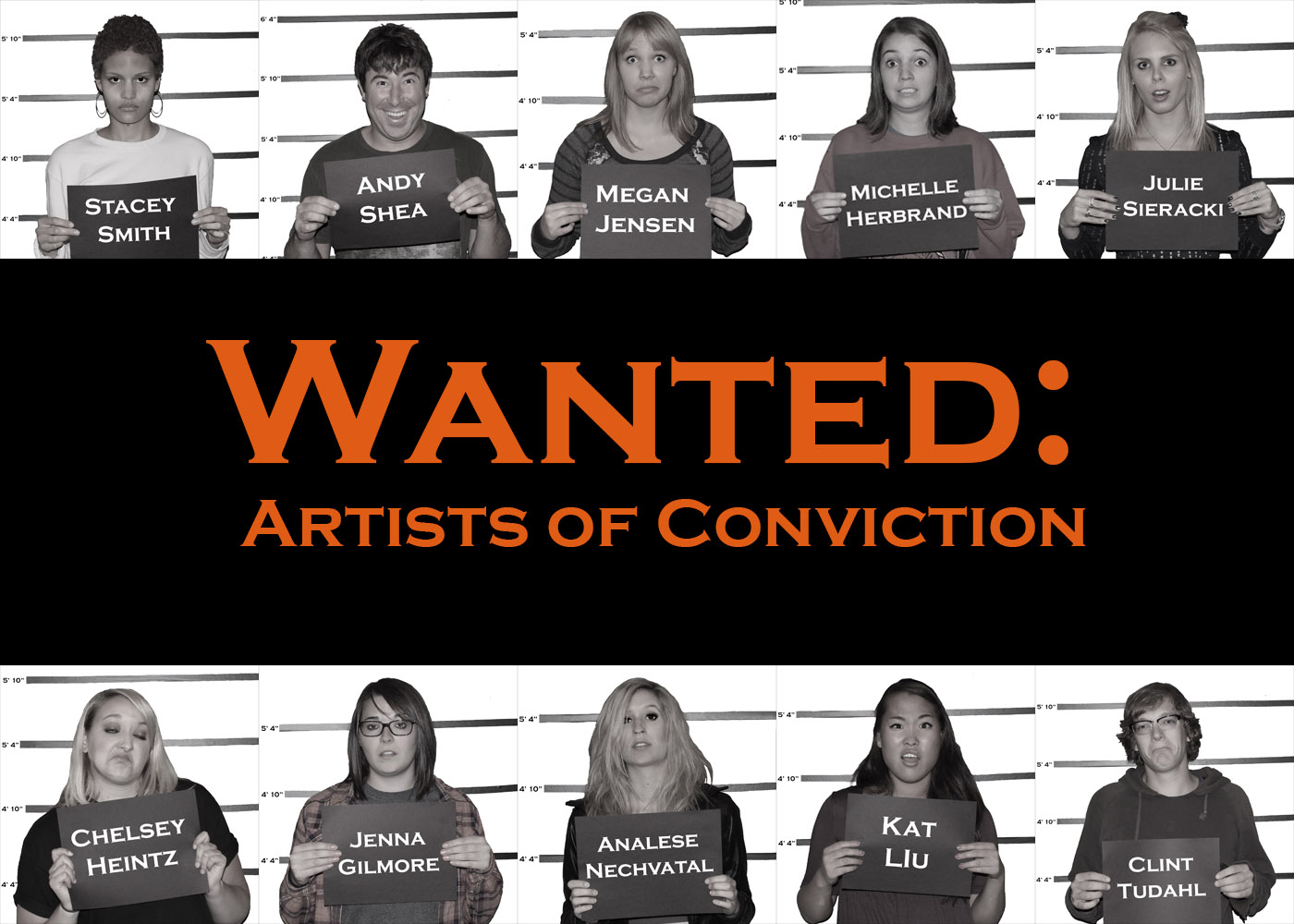 Erasure
October 25-November 16, 2013

Curated by Roger Boulay
Justin Kimball (Florence, MA)
Hunter Lewis (Chicago, IL)
Colleen Merrill (Lexington, KY)
Adrienne Salinger (Albuquerque, NM)
Tina Tahir (Chicago, IL)
Izel Vargas (Miami, FL)
"Erasure" brings together work from six artists across the United States who use subtraction, erosion or removal to create meaning. The exhibition includes photographs, paintings, sculpture, works on paper, video and installation by both established and emerging artists. Themes pertain to identity, American traditions as well as memory.
Biomorph:
Contemporary Metals Invitational
September 20-October 12, 2013
Yuyen Chang (Madison, WI)
Daniel Dicaprio (Richmond VA)
Catherine Grisez (Seattle, WA)
David Huang (Sand Lake MI)
Evan Larson (Detroit, MI)
Ana Lopez (Denton, TX)
Sharon Church (Philadelphia, PA)
Jennifer Williams Terpstra: Transcendence/Immanence: New Encaustic Paintings
June 28-September 14, 2013
Related Activity: Encaustic painting workshop, Saturday, June 29 9 am-4 pm
Gallery hours
Gallery Hours
| | |
| --- | --- |
| Monday - Thursday | 12:00 - 8:00 pm |
| Friday - Saturday | 12:00 - 5:00 pm |
| Sundays & Holidays | * Closed |
* The University Gallery is open extended hours (Noon to 5 pm) during events at Toland Theater. Call the Gallery at 608.785.8230 for more information.
Exhibitions are free and open to the public.