"Art is humanity's most essential, most universal language. It is not a frill, but a necessary part of communication. The quality of civilization can be measured through its music, dance, drama, architecture, visual art and literature.
We live in a dangerous, interdependent world, and today's students need to hear not just the language of politics and propaganda; they also need to learn languages that transcend the intellectual and ideological barriers that distrust truth and suffocate the human spirit.
Now more than ever, our children need to see clearly, hear acutely, and feel sensitively through the exquisite language of the arts."

-Ernest L. Boyer, Carnegie Foundation for the Advancement of Teaching
Did You Know?
Employers want liberal arts skills and knowledge!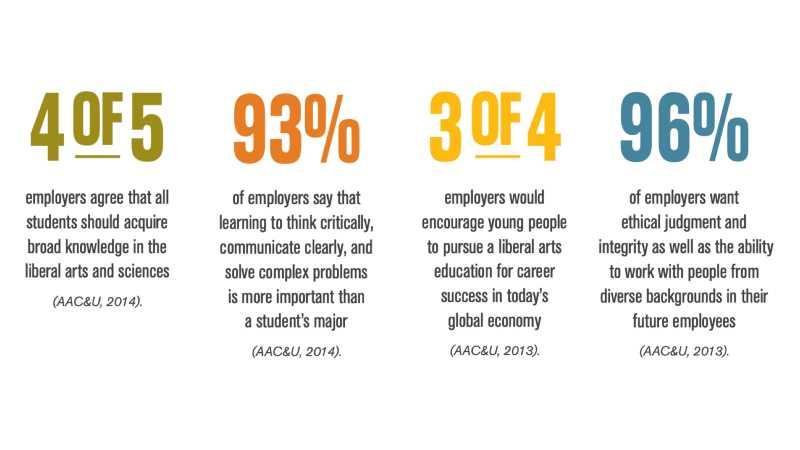 liberal arts statistics
Why?
Allows creative expression difficult to find in many traditional college courses

Teaches problem solving and critical thinking

Builds essential skills such as analysis, synthesis, evaluation, and critical judgment

Helps you tolerate ambiguity

Puts you in touch with other forms of cultural expression

Develops a deep appreciate for diversity

Adds to your aesthetic literacy

Provides you will skills and experiences not learned through other subjects
Why Study Here?
The School of Visual and Performing Arts (VPA) within the College of Arts, Social Sciences and Humanities, fosters innovation, technical knowledge, theoretical understanding, and interdisciplinary collaboration.The VPA also hosts an annual Creative Imperatives festival celebrating the Arts and Communication. The Department of Art's curriculum blends liberal studies with studio practice, and as our studio classes are hands-on and small, we can offer individualized support and mentoring.
International Study: There are opportunities to study abroad in a variety of countries for a semester, a full year or several weeks over intersession (www.uwlax.edu/international-education)
Undergraduate Research and Creativity Grants: There are opportunities to fund independent art projects, research and travel (www.uwlax.edu/urc/)
Financial Support: Beyond the standard need-based financial aid offered by UWL, art students are also eligible for financial support from...
Department of Art scholarships, including several specifically dedicated to incoming first year art students
VPA scholarships and awards
All Student Juried Exhibition awards
Work Study employment/assistantships in the Department of Art
The natural beauty of the Driftless Region and Mississippi River Valley, outdoor activities, comfortable/easygoing atmosphere, support of the arts (art fairs, exhibition, music and theatre performances), and festivals (Bicylcle Festival, Storytelling Festival, Oktoberfest and more)! Oh, and the campus is beautiful; close to Myrick Park and not far from downtown!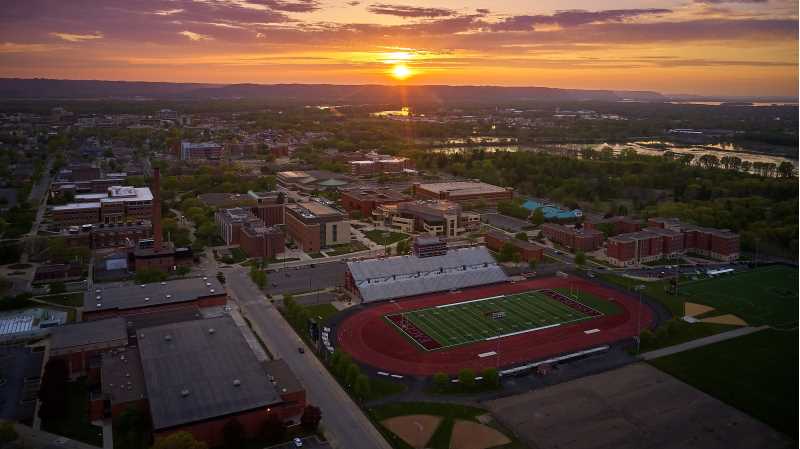 aerial view of UW-La Crosse campus at sunset