Posted 10 a.m. Friday, Oct. 20, 2023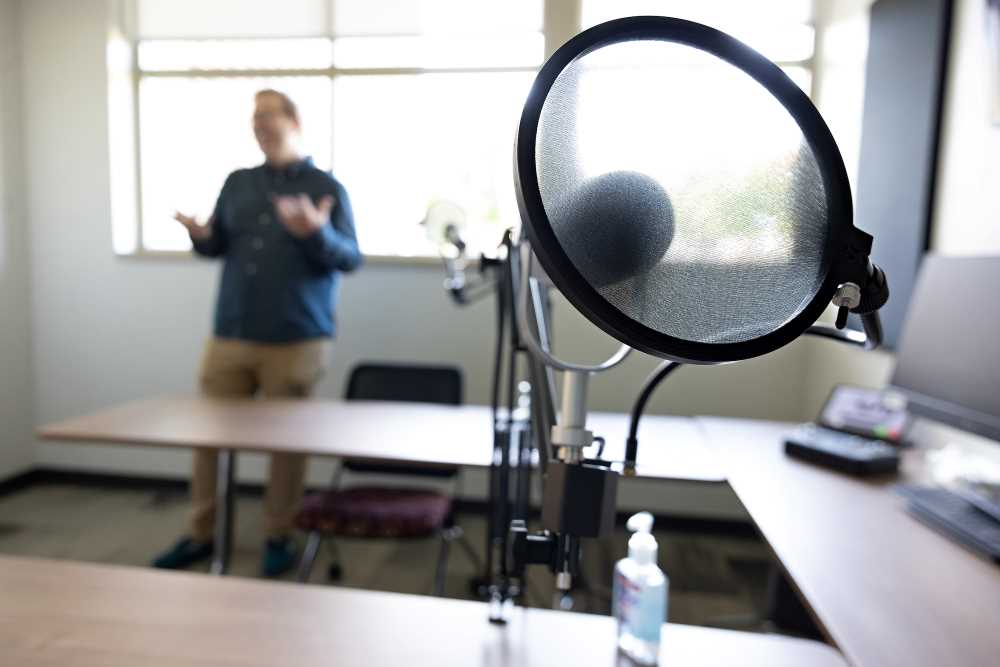 New media lab gets students over the humps of working with the latest A.I., virtual reality and more 
The metaverse. Augmented reality. Artificial intelligence. The rapidly-changing world of communication can be either feared or embraced.
UW-La Crosse students will be doing the latter in a new eight-room media lab suite called the Communication and Media Lab (or the CaML for short). The CaML provides UWL College of Arts, Social Sciences, & Humanities students and faculty a space for research and production using new and emerging digital media technologies and forms including podcasting, digital filmmaking, virtual reality, generative A.I., augmented reality, media research, A.I.-assisted participant observation, and more.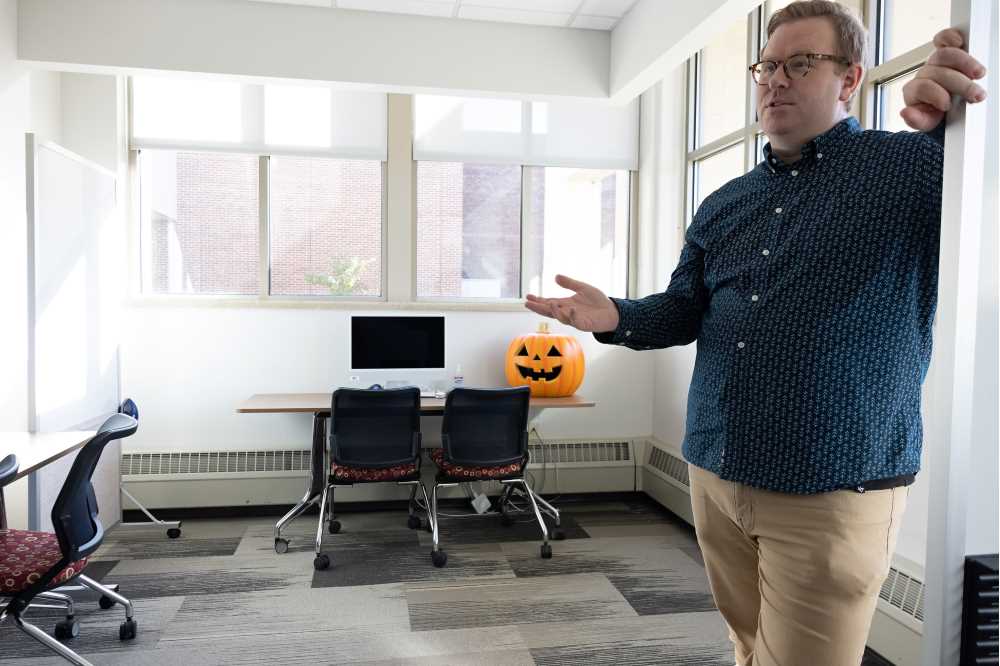 "We are practicing with new technology because it is here whether we like it or not and understanding how it works and how to incorporate it into work will make our students more competitive in the professional world," says CaML Director Taylor Cole Miller, an assistant professor of Communication Studies.
A grand opening, ribbon cutting celebration, and open house for the CaML will be from 4-5 p.m. on Tuesday, Oct. 24, in 165 Murphy Library, a lab suite located in the northwest wing of the first floor. To learn more about how a class or student could use CaML resources, attend the grand opening event or view the website.
UWL Junior Ellie Davis, who wants to become a news anchor or reporter, says the new lab was one of the reasons she wanted to attend UWL. The technology in the lab makes the campus competitive with larger research universities, yet she can still have the small class sizes and connection with professors that she wanted in a university campus.
"It is a very welcoming space," says Davis regarding the lab. "I definitely feel like I have a place on campus where I belong."
During the open house, stations will be set up for public demonstrations of the technology and equipment available — including some Halloween-themed activities.
Evil laugh competition using podcasting equipment
Practice with the "vertigo effect" or dolly zooms -- a filmmaking technique made famous by Alfred Hitchcock's "Vertigo."
Augmented reality (AR) and virtual reality (VR) experiences
Storyboarding practice
Student showcase in Media Production Classroom
Space sparks teaching innovation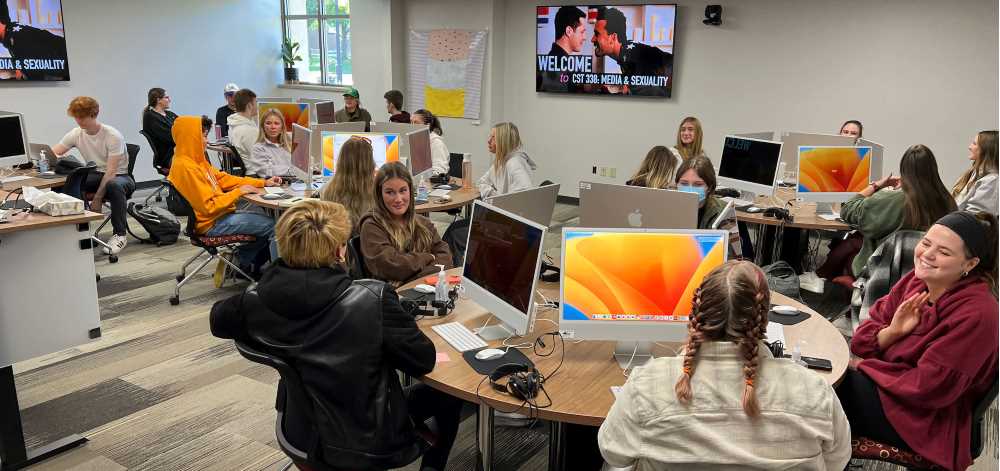 Miller says the lab space energizes him to be more innovative with his teaching and hopes it will do the same for other CASSH faculty — even ones not teaching media production-focused classes. For example, with advancements in A.I.-generated content from platforms like ChatGPT, professors are looking for alternative ways to assess their students' mastery of course concepts and meeting learning outcomes. In his course Media and Sexuality, for instance, not traditionally a media production course, students are creating podcasts and videographic essays.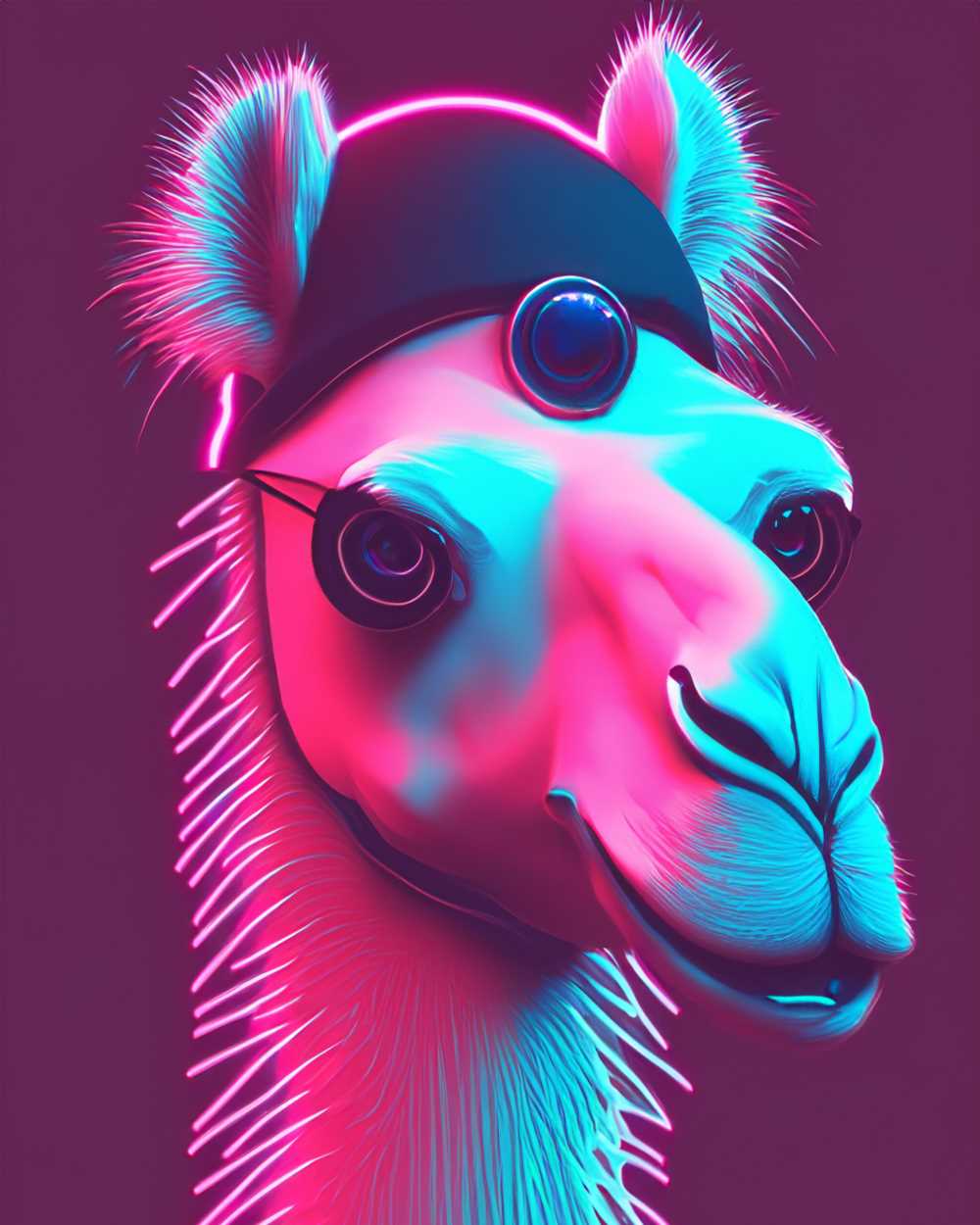 "It is really hard to let my teaching stagnate while I'm rushing to keep up with a professional world that is moving faster than it ever has before," he says.
While the lab is futuristic — down to the generative A.I. art and drone photography decorating some walls — the CaML also pays homage to the robust media production history on campus with a curated display. For more than 40 years, broadcasting students earned their reporting chops through a student-run TV station, WMCM, located in Wing Technology Center. While that television and broadcasting program ended in 2019, its call letters are housed in a glass case in the lab entrance, along with other memorabilia documenting the history of media education on campus from Polaroid cameras to floppy disks, Camcorders to VHS tapes.
Who is the lab for?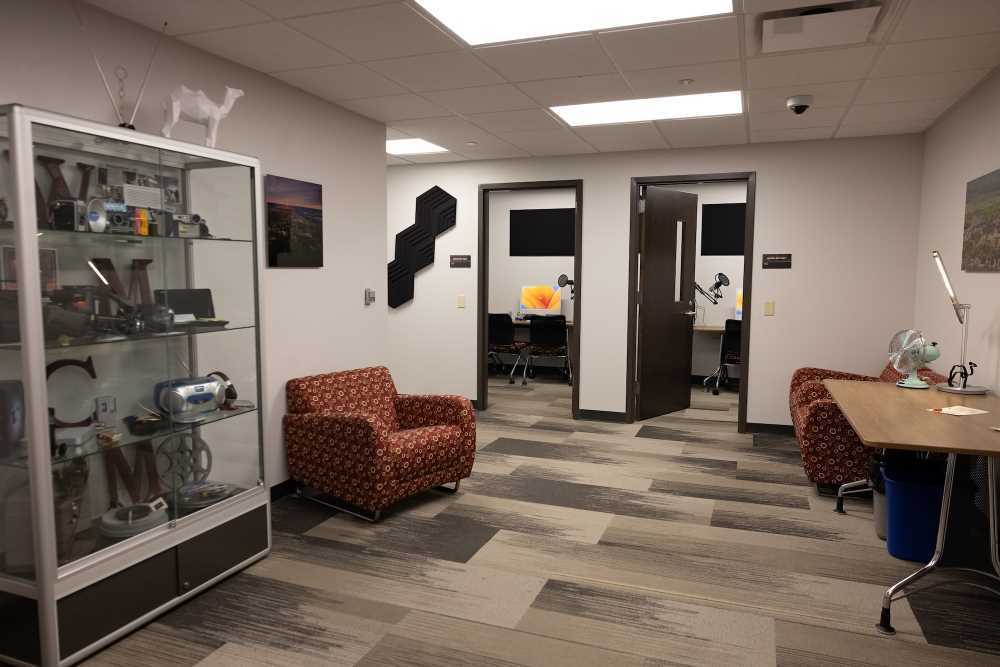 The CaML is a resource for College of Arts, Social Sciences, & Humanities faculty to enrich their classroom experience and research with new media projects. The lab offers both media production and research facilities and equipment. Anyone within CASSH can inquire about use of the space for a course or for an individual student during the open house or through a website form.
While the lab is currently used for various Communication Studies courses such as Digital Media Production, Interactive and Experiential Media, and Documentary Production, Miller envisions the CaML being used by a much broader group to improve digital media literacy, which could help in diverse careers from photography to nursing.
What's available in the space?
4K cameras
Professional podcasting equipment
Glasses with eye tracking software
Virtual reality and augmented reality equipment
Other cutting-edge research equipment
30 work stations new Mac computers for student projects including Adobe Creative Suite.
A Research and Conference Room featuring a camera and omni microphone that use AI to find a specific speaker and capture sound and video.
Activity in the Research and Conference Room can be viewed in a separate observation room for participant observation research.
"I'm so pleased that UWL, as a student-centered institution, is really investing in the professional readiness of its students with an incredible lab on par with major research universities," says Miller.
If you go —
What: CaML grand opening event with a ribbon cutting, cake, and demonstrations for the campus community to see how they might incorporate it into their CASSH classrooms or CASSH student projects.
When: 4-5 p.m. Tuesday, Oct. 24
Where: CaML, 165 Murphy Library