Posted 8 a.m. Friday, Sept. 1, 2023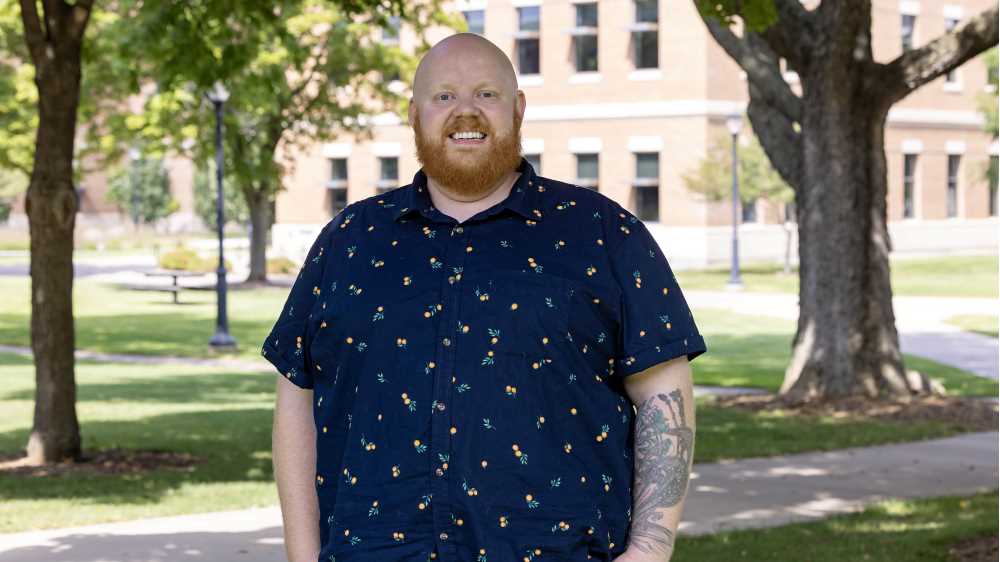 Jake Speer receives Academic Staff Excellence Award
Websites, and the people who work on them, often get noticed when something breaks down.
But Jake Speer, director of Web & Design Services at UWL, is being recognized for an entirely different reason.
Speer's commitment to collaboration, relationship-building and creating a website that supports UWL's vast array of programs and services has earned him the 2023 Academic Staff Excellence Award.
The award was announced Wednesday, Aug. 30, during Chancellor Joe Gow's opening remarks for the fall semester. An official presentation ceremony will be held during the Academic Staff Council kickoff event, set for 3 p.m. Wednesday, Sept. 13, in 1300 Centennial Hall.
"The work itself is very rewarding to me, so to get an official award for it too just makes it feel complete," Speer says. "The web changes a lot. So to have this milestone, this kind of timestamp on my career, it means a lot to me.
"But it's also not just me. I'm fortunate to work with a great team of developers, designers and specialists, which is one of the reasons I look forward to coming to work every day."
Speer started at UWL as a web content manager and designer in 2013. In 2020, he was promoted to his current position, in which he oversees web design and development, graphic design, visual brand strategy, and digital signage across campus.
Although much of Speer's work happens behind the scenes, he plays a crucial role in establishing UWL's reputation among the public, including prospective students and families.
"A lot of people tell me they appreciate the website because it's really their first gateway to UWL," Speer says. "The web is where they get their information, even if we can't see them. When I look at reports and page views, it blows me away how many people are looking at the website at any given second."
Adds Maren Walz, chief communications officer: "Jake's work is, bar none, the most visible and most consumed product of the entire institution."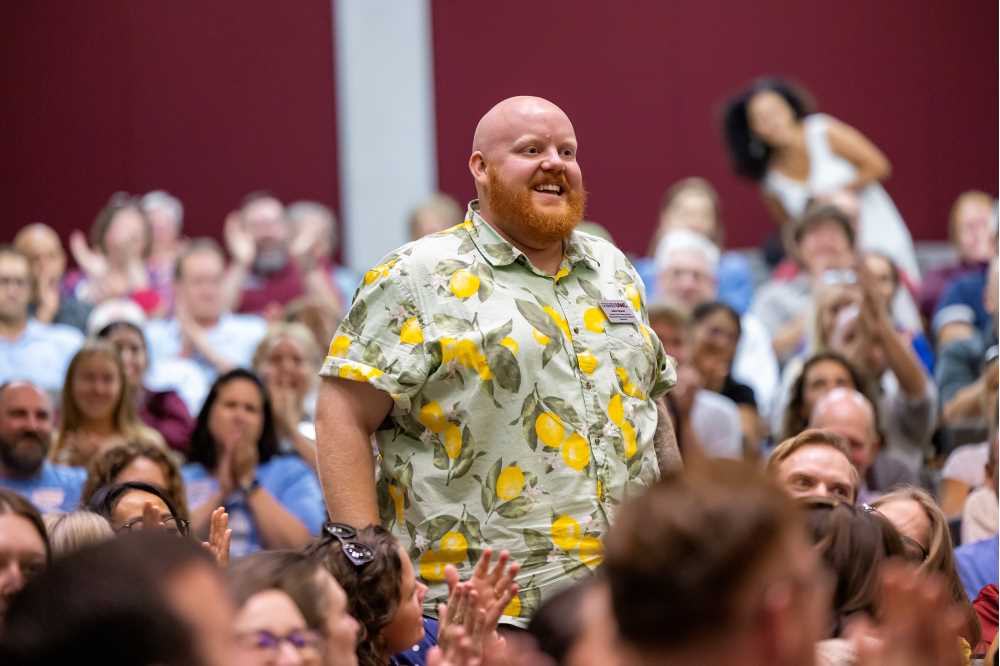 Because of the website's essential function in marketing and communications, Speer is an important player in coordinating major events such as Eagle Fest and the WIAA State Track & Field Meet, as well as the university's response to crises such as COVID-19.
But these significant responsibilities have not stopped Speer from being an engaged member of the campus community.
In fact, Speer chairs UWL's Individuals with Disabilities Advisory Committee — work that aligns with his efforts to make the website as accessible and user-friendly as possible.
"Most people utilizing UWL's website will never understand the importance of Jake's work at UWL," says Andrew Ives, director of the ACCESS Center. "However, a user utilizing a screen reader to find information to support their learning will recognize Jake's attention to accessibility. For this student, Jake's commitment could mean the difference between success and failure."
Speer has also adopted a collaborative approach to updating the website. He has created dozens of tutorials and regularly hosts web workshops, with the goal of training and supporting the extensive community of web editors across campus.
"It is refreshing and motivating to work with someone like Jake Speer," says Lisa Klein, Community Engagement coordinator. "His expertise and solution-based approach to new challenges can be felt across campus and in the community."
This year, in addition to the Academic Staff Excellence Award, Speer received the Friend of Graduate & Extended Learning Award.
His ingenuity and helpfulness have even earned him a nickname in some circles on campus.
"I nicknamed the awardee 'Wonder Jake' after one of my first meetings with him, when he quickly and aesthetically solved a web design problem for my department," Provost Betsy Morgan says. "My appreciation for his wonderfulness has done nothing but grow over the years. He is creative, practical and laser-focused on serving UWL."