Posted 3:54 p.m. Tuesday, Sept. 14, 2021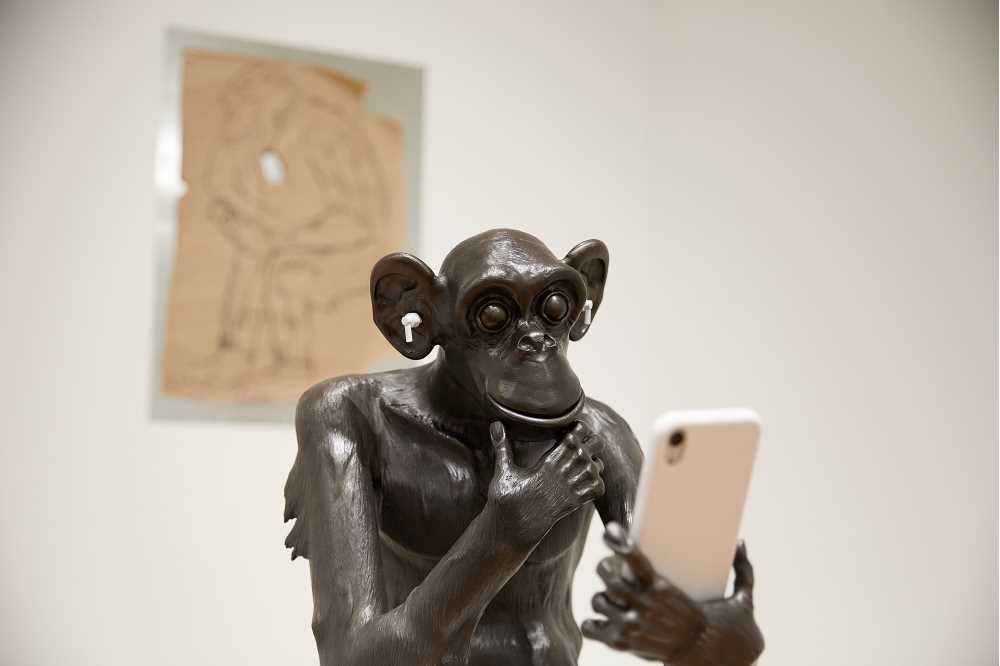 UWL exhibition comments on tech, social media
An exhibition providing a satirical view of today's prevailing social media impact and technology use can be seen in the UW-La Crosse Art Gallery.
"Satirical Steel" runs through Thursday, Sept. 23, in the gallery on the first floor of the Center for the Arts, 333 N. 16th St. Nichols will share his inspiration during an Artist Talk following a closing reception from 5-6 p.m. Thursday, Sept. 23. His talk will begin at 6 p.m. Both events are free.
Art Department Chair Professor Brad Nichols says his idea for the forged and fabricated steel pieces featured in the show was born around 2005 when his then 6-year-old son asked him to draw a picture. While his son wasn't impressed and crumpled up the drawing, Nichols got an idea from his work — that it would transfer well into steel. Nichols experimented with that idea with his work, eventually culminating during a sabbatical in fall 2019.
See Nichols talk about his work on this YouTube video
Upcoming exhibitions
UWL Faculty Exhibition
Reception: Thursday, 5-6:30 p.m. Thursday, Oct. 21
Noon Gallery Talks TBA
Created, Collected, Kept
An exhibition of art that lives on campus, highlighting pieces from recent donations to UWL.
Senior Art Students
Opening reception: 5:30-7:30 p.m. Friday, Dec. 3
The University Art Gallery is on the first floor of the Center for the Arts, 333 16th St. All exhibits are free. Get more about the UWL University Art Gallery: https://www.uwlax.edu/art/exhibition-opportunities/university-gallery/