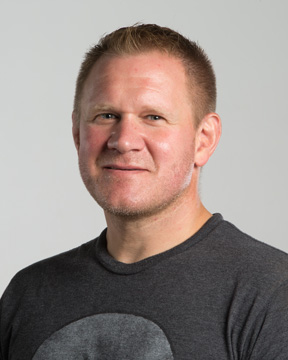 Specialty area(s)
Metalsmithing and Blacksmithing
Brief biography
Brad Nichols received his Masters of Fine Arts from Cranbrook Academy of Art and his Bachelors of Science from University of Wisconsin –La Crosse. He has exhibited his work internationally and nationally including venues such as the International Gallery of Contemporary Art, the National Ornamental Museum, the Cranbrook Art Museum, and the Alden B. Dow Museum of Science and Art of the Midland Center for the Arts.
Current courses at UWL
Art 220: Introduction to Forging and Raising (Spring)
Art 221: Introduction to Metalsmithing
Art 222: Metalsmithing for Non-Majors
Art 223: Introduction to Blacksmithing (Fall)
Art 320: Intermediate Forging and Raising (Spring)
Art 321: Intermediate Metalsmithing
Art 323: Intermediate Blacksmithing (Fall)
Art 421: Advanced Metalsmithing
Art 425: Perspectives in Art
Art 160: General Art Foundations
Research and publishing
Brad's work has been published in books, journals, and magazines such as Ironwork Today 4: Inside and Out, The Lapidary Journal Jewelry Artist, The Anvils Ring and The Hammers Blow.
Important links