Profile for Brad Quarberg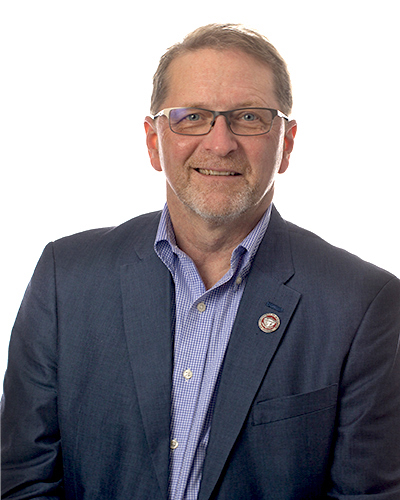 Contact me
Brad Quarberg
News & Marketing Director
University Advancement University of Wisconsin-La Crosse
Specialty area(s)
Public information, news, marketing, branding, event planning
Brief biography
Brad Quarberg has worked in higher education institutional relations since graduating from UWL in 1985. Along with many campus committees, he is actively involved in various community and non-profit organizations, along with serving in leadership positions in the Council for Advancement and Support of Education's district five (CASE V), a professional organization for higher education professionals in the Midwest.
As Director of News and Marketing at UWL, his job duties include:
• Promote the university's mission and marketing strategies
• Oversee external relations
• Lead university branding efforts
• Coordinate social media efforts
• Coordinate direct contacts with media
• Coordinate general university advertising efforts
• Write, edit and distribute news releases, public service announcements and media advisories
• Edit alumni communications
• Edit and proofread content created by other writers.
• Oversee communication with UW System Administration
• Oversee development of the university's Student | Staff Directory
• Work with the Chancellor and administrative team in times of crises
Education
BS, Mass Communications and Political Science, UW-La Crosse 1985
Career
Professional history
Quarberg has worked in higher education institutional relations since 1985. Throughout his career, he has been heavily involved with CASE V, the Great Lakes advancement professional organization. He has served on the CASE V Board of Directors and the CASE V Conference Committee for more than a decade, from 1997-2012. He chaired the district conference - the largest in the country - twice, in 2003 and 2004. He was editor of the district's newsletter, Advance, and oversaw the district's print and Web marketing efforts. In 2019, he became chair-elect of the CASE V District Cabinet.

On campus, Quarberg has served on and chaired a variety of campus committees. He was elected to two three-year terms on the Academic Staff Council, serving as chair for two years. In 2001, he was honored by his peers when he received the Academic Staff Excellence Award, the university's top award to academic staff.

Quarberg has been deeply involved in the community. He has served as president of La Crosse's Oktoberfest and president of the La Crosse Valley View Rotary Club. In Rotary International District 6250, he has served as District Secretary, on the District Training Committee, on the District Governors Council and as one of the district's Assistant Governors. He is a multiple Paul Harris Fellow and received the Lifetime Achievement Award for La Crosse Area Rotary Clubs.

Quarberg has also been involved in the La Crosse Area Synod of the Evangelical Lutheran Church in America and his congregation, English Lutheran, in La Crosse; Lutheran Campus Ministry of Wisconsin and Upper Michigan; Great Rivers United Way; La Crosse Area Day with the Milwaukee Brewers; American Red Cross blood drives; Sugar Creek Bible Camp; Boy Scouts of America; Adopt-a-Highway; American Cancer Society; JDRF-La Crosse; Habitat for Humanity; Junior Achievement; Logan High School Band Parents Organization; Logan High School Parents Organization; La Crosse Symphony Conductor Wannabee winner; and a variety of other projects.

Quarberg was chief editor of "The Fest of Times," a 240-page book that covers the history of La Crosse's Oktoberfest celebration. He has been a contributing writer for "La Crosse Magazine."

Among his achievements and honors are: two gold and three bronze national awards in the CASE Circle of Excellence Awards Program for communications projects; Pride of CASE V awards; numerous La Crosse Addy Awards; Oktoberfest Festmaster and President's Award; and numerous Academic Staff Development grants. He was named the 2016 Maple Leaf Parade Marshal.
In 2015, Quarberg was elected to his first term on the Board of Education for the School District of La Crosse. He has served as the board's treasurer and vice president, as well as Wisconsin Association of School Boards delegate and representative to the La Crosse Public Education Foundation.

Quarberg is a proud UW-La Crosse alum and supporter. He lives in La Crosse. He and his wife, Gail, have two children.
Kudos
named
Brad Quarberg, University Marketing & Communications, was named to the Board of Directors for Rotary Lights on March 28. He represents the Rotary Club of La Crosse-Valley View.
Submitted on: Mar. 29, 2022
elected
Brad Quarberg, University Communications, elected vice president. of the La Crosse Board of Education during its reorganization meeting April 26. Quarberg was re-elected to the board for a third term April 6.
Submitted on: May 3, 2021
elected
Brad Quarberg, University Communications, elected president of the Bethany St. Joseph Board of Directors.
Submitted on: April 5, 2021
elected
Brad Quarberg, University Communications, elected chair-elect of the Council for Advancement and Support of Education District V Board of Directors during the annual meeting in Chicago in December.
Submitted on: Feb. 4, 2020
named
Brad Quarberg, University Communications, was named to the Mondovi High School Alumni Hall of Fame for his generosity and service to the community.
Submitted on: Oct. 11, 2019
awarded
Brad Quarberg, University Communications, received the award for a lifetime donation of 15 gallons of blood from the American Red Cross at the Newman Center Blood Drive on June 22, 2016 in La Crosse, WI.
Submitted on: July 7, 2016
Memberships & affiliations
[{"organization":"School District of La Crosse","position":"Board of Education","url":"https://www.lacrosseschools.org/"},{"organization":"CASE District V","position":"Advance Newsletter Editor Emeritus","url":"https://www.case.org/districts/district-v-great-lakes"}]
Brad Quarberg's office hours