Profile for Kelly Gorres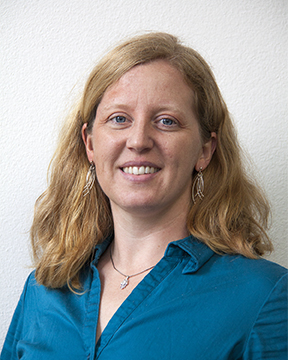 Contact me
Kelly Gorres
Associate Professor
Chemistry & Biochemistry University of Wisconsin-La Crosse
Specialty area(s)
Biochemistry, Virology, Reactivation of Epstein-Barr virus
Current courses at UWL
CHM 320 Study Abroad: Ecosystem Chemistry
CHM 325 Fundamental Biochemistry Lecture
CHM 325 Fundamental Biochemistry Lab
CHM 417 Biochemistry I Lab
CHM 419 Advanced Biochemistry Lab
CHM 530 Chemistry for Nurse Anesthesia
Education
Postdoctoral Fellowship
Yale University

Ph.D. Biochemistry 2009
Delta Certificate in Research, Teaching, and Learning
University of Wisconsin-Madison

B.A. Chemistry 2003
University of Minnesota-Morris
Career
Research and publishing
Anderson AG, Gaffy CB, Weseli JR, Gorres KL. 2019. Inhibition of Epstein-Barr virus lytic reactivation by the atypical antipsychotic drug clozapine. Viruses. May 17;11(5):450. doi: 10.3390/v11050450.
Ornaghi S, Davis JN, Gorres KL, Miller G, Paidas MJ, van den Pol AN. 2016. Mood stabilizers inhibit cytomegalovirus infection. Virology. 499:121-135.
Gorres K, Daigle D, Mohanram S, McInerney GE, Lyons DE, Miller G. 2016. Valpromide inhibits lytic cycle reactivation of Epstein-Barr Virus. mBio. 7(2):e00113.
Gorres K, Daigle D, Mohanram S, Miller G. 2014. Activation and repression of Epstein-Barr Virus and Kaposi's sarcoma-associated herpesvirus lytic cycles by short- and medium-chain fatty acids. J. Virol. 88:8028–8044. (Cover Photo)

Daigle D, Gradoville L, Tuck D, Schulz V, Wang'ondu R, Ye J, Gorres K, Miller G. 2011. Valproic acid antagonizes the capacity of other HDAC inhibitors to activate the Epstein-Barr virus lytic cycle. J. Virol. 85:5628–5643.

Gorres KL and Raines RT. 2010. Prolyl 4-hydroxylase. Crit. Rev. Biochem. Mol. Biol. 45:106–124.

Gorres KL, Pua KH, Raines RT. 2009. Stringency of the 2-His-1-Asp active-site motif in prolyl 4-hydroxylase. PLoS One 4:e7635.

Derewenda U, Boczek T, Gorres KL, Yu M, Hung LW, Cooper D, Joachimiak A, Raines RT, Derewenda ZS. 2009. Structure and function of Bacillus subtilis YphP, a prokaryotic disulfide isomerase with a CXC catalytic motif. Biochemistry 48:8664–8671.

Gorres KL and Raines RT. 2009. Direct and continuous assay for prolyl 4-hydroxylase. Anal. Biochem. 386(2):181–5.

Gorres KL, Edupuganti R, Krow GR, Raines RT. 2008. Conformational preferences of substrates for human prolyl 4-hydroxylase. Biochemistry 47:9447–9455.