Profile for Lisa Giddings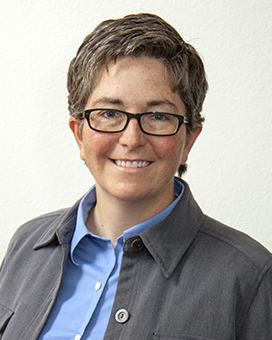 Specialty area(s)
Labor Economics, Transition Economies, Sports Economics and Economics of the Family with a focus on Same-Sex Households
Brief biography
I am an Associate Professor in the Department of Economics. I received my Ph.D. in August of 2000 from American University in Washington D.C. My fields of study were labor, gender and transition economics.
I love teaching at UWL. Our students are bright, curious, and hard working.
I recently attended two teaching workshops that have transformed my pedagogy and classroom. The American Economic Association's EDUCATE Workshop, and UWL's Inclusive Teaching Institute. These experiences have encouraged me to address the classroom culture, content, and pedagogy in my courses with the goal of providing significant learning opportunities for all of my students in the context of radical inclusivity. I want all of my students to find Relevance, Belonging, and a Growth Mindset (RBG) in my courses (see Bayer, Bhanot, Bronchetti and O'Connell, 2020).

In terms of research, I have spent most of my career exploring the effects of the economic transition in Central and Eastern Europe (with focuses on Bulgaria, Germany and Tajikistan).
I am also interested in exploring topics in the economics of the family including differences in the division of labor between different and same-sex households. This line of research asks questions like "do gay and lesbian couples divide labor in a manner that is more or less like different-sex couples where the husband tends to work more in wage/salary labor and spend less time on household chores than does the wife" and do children in the household affect this calculus?
Additionally I've been working on a few topics related to athletes and the economics of sports. With Mike Haupert (UWL), I have explored the salaries and demand for women's baseball (think A League of Their Own - "there's no crying in baseball!"). We are currently extending our analysis to the National Women's Hockey League.
Finally, I have been working in the behavioral economics lab and exploring cognitive effects of exposure to racist artifacts.
Current courses at UWL
ECO 110 Microeconomics and Public Policy
ECO 308 Intermediate Microeconomic Theory
ECO474 Behavioral Economics
Education
B.S. University of Nebraska-Lincoln, Mathematics, Economics and Literature, 1991
M.A. University of Nebraska-Lincoln, Economics, 1994.
Ph.D. American Univerisity, Economics, 2000.
Teaching history
ECO 120 Global Macroeconomics
ECO336 Women in the U.S. Economy
History of Economic Thought
Comparative Economic Systems
Professional history
Teaching Positions Held
University of Wisconsin - La Crosse, Associate Professor
August 2000 to Present
University College Dublin, Dublin Ireland, Visiting Associate Professor
January 2013 - May 2013.
Macalester College, St. Paul MN, Visiting Associate Professor
January 2007 - May 2010
Trinity College, Washington DC, Visiting Instructor
August 1999 to August 2000
American University, Washington DC Adjunct Instructor
August 1994 to December 1997

Research Positions Held
Nathan Associates, Inc., Arlington VA, Research Associate.
May 1997 to September 1999
Conducted research on various projects ranging from a study of rent
decontrol in Washington, D.C. intellectual property rights as related to economic damages, international trade, development, and contemporary issues. Led a seminar to expand the firm's knowledge-base on intellectual property rights.

The World Bank, Washington DC, Consultant
October 1997 to April 1998
Performed a labor market analysis of Venezuela focusing on education, the informal
sector and unemployment; intra-web site management and development.

Bureau of Labor Statistics, Washington, DC, Economist
September 1998
Performed controlling and analysis of various employee benefits including health,
life, defined contribution and defined benefits for the national employee benefits survey.

Institute for Women's Policy Research, Washington, DC, Research Fellow
May 1995 to August 1995
Performed regression analysis on participation in the Federal Food Stamp
Program using the Survey on Income and Program Participation (SIPP)
longitudinal data set.
Research and publishing
Forthcoming. With Mike Haupert. "Women on the Field and Money in the Bank: An Overview of the Business of the All American Girls Professional Baseball League." NINE: special issue on women in baseball.
2021. Giddings, Lisa A. "Gender Division of Labor Among Couples." In Handbook of Feminist Economics. Eds. Gunseli Berik and Ebru Kongar.
2019. Lisa Giddings and Michael Haupert. "Earning Like a Woman: Salaries versus Marginal Revenue Products in the AAGBPL and MLB: 1947-52." Journal of Sports Economics. Vol. 20(2): 198-217.
2021. with Mieke Meurs. "Elder Care and Paid Work: Gender Differences in the Relationship Between Unpaid Elder Care Work and Employment in Bulgaria." European Social Policy. Forthcoming.
2019. with Dutta N, Giddings L, Roy S. Can Greater Attention to Women's Rights Help Address Income Inequality?. Contemporary Economic Policy. Vol. 37(3): 545-59.
2016. Lisa Giddings and Adam Hoffer. "Exercising Willpower: Differences in Willpower among Athletes and Non-Athletes." Contemporary Economic Policy. Vol. 34(3): 463-474.
2014. Lisa Giddings, John M. Nunley, Alyssa Schneebaum and Joachim Zietz ."Birth Cohort and the Specialization Gap Between Same-Sex and Different Sex Couples." Demography. Vol. 51(2): 509.534.

2013. Mary Patricia Byrn & Lisa Giddings. "An Empirical Analysis of the Use of the
Intent Test to Determine Parentage in Assisted Reproductive Technology Cases." Houston Law Review. Vol. 50(5): 1295-1324.

2013. Lisa Giddings, Donna Anderson and Kathryn Birkeland. "Is itprofitable to offer paid leave? A case study of the legal profession." Journal of Legal, Ethical and Regulatory Issues. Vol. 16(1): 73-89.

2012. Meurs, Mieke and Lisa Giddings. "Use of Maternal Health Care in Tajikistan: A Bargaining Framework". Feminist Economics. Vol. 18(3): 109-140.

2009. Giddings, Lisa, Donna Anderson and Kathryn Birkeland. "Employee Opinion on Work-Family Benefits: Evidence from the U.S." New Zealand Journal of Employment Relations. Vol. 34(3).

2008. Giddings, Lisa A. "Student Comprehension of Primary Data: A Pedagogical Tool to Improve Comprehension." Teaching Forum: A Journal of the Scholarship of Teaching and Learning.

2007. Meurs, Mieke and Lisa Giddings. "Decline in Preschool Use in Post-Socialist Societies: The Case of Bulgaria." Journal of European Social Policy.

2007. Meurs, Mieke, Lisa Giddings and Tilahun Temesgen. "Changing Childcare Enrollments in Post-Socialist Central Asia: Causes and Implications" Comparative Economic Studies. Vol. 49: 81-100.

2004. Giddings, Lisa A. Irene Dingeldey and Susan Ulbricht. "The Commodification of Lone Mothers' Labor: a Comparison of US and German Policies." Feminist Economics. Vol. 10(2): 115-142.

2003. Giddings, Lisa A. "Continued Decline for Ethnic Minorities in the Transition?: Changes in Ethnic Earnings Differentials in Bulgaria, 1986, 1993 & 1997." Economics of Transition, European Bank for Reconstruction and Development (EBRD). Vol. 11(4): 621-648.

2002. Giddings, Lisa A. "Changes in Gender Wage Differentials in Bulgaria's Transition from Plan to Mixed Market." Eastern Economic Journal. Vol. 28 (4): 481-498.

2002. Giddings, Lisa A. "Has the Shift Toward Markets Hurt Ethnic Minorities? Changes in Ethnic Earnings Differentials in Bulgaria's Early-Transition." The International Journal of Manpower. Vol. 23(1): 9-31.

1998. Giddings, Lisa A. "Political Economy and the Construction of Gender." Feminist Economics. Vol. 4(2): 97-106.

Edited Volumes
2003. "Lesbian and Gay Households." In Karine S. Moe, (Ed.) Economics of Gender and the Family. Blackwell Publishing: Portland and Oxford.

2000. "Division of Labor." In Timothy Murphy, ed. Reader's Guide to Lesbian and Gay Studies. Fitzroy Dearborn Publishers: Chicago and London.

Other
2009. Review of Queer Economics: A Reader" in Eastern Economic Journal.

2007. "A Review of The Red Riviera: Gender, Tourism and Postsocialism on the Black Sea." Feminist Economics. Vol. 13(2): 234-238.

2006."Girls Can't Marry Other Girls." Journal of Feminist Family Therapy. Vol. 18(1/2).

2004. Review of Inequality & Industrial Change: A Global View. Edited by James K. Galbraith and Maureen Berner. Boston, Massachusetts: Cambridge University Press, 2001. Eastern Economic Journal . Vol. 30(1): 145-147.

1999. The Economics of Intellectual Property Rights. Nathan Associates Inc.: Arlington, VA. Co-authored with Stephen Schneider.
Important links