Profile for Michael Hoffman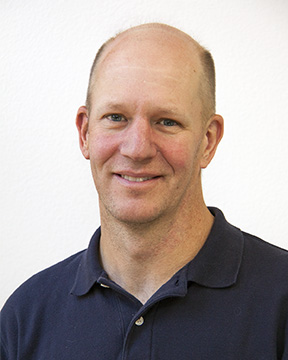 Contact me
Michael Hoffman
Professor
Microbiology University of Wisconsin-La Crosse
Specialty area(s)
Virology
Chair, Department of Microbiology
Brief biography
Postdoctoral training with Dr. Amiya Banerjee, 1995-99, Cleveland Clinic Foundation
Postdoctoral training with Dr. Ann C. Palmenberg, 1994-95, UW-Madison
Doctor of Philosophy in Molecular Biology, 1994, UW-Madison with Dr. Ann C. Palmenberg
Bachelor of Sciences in Biology, 1988, University of Illinois-Urbana.
Current courses at UWL
Mic 130 - Global impact of Infectious Disease
Mic 500 - Orientation to Clinical Microbiology
Mic 420/520 - Virology Lecture
Mic 421/521 - Virology Laboratory
Career
Teaching history
Mic 100 - Microbes and Society Lab
Mic 230 - Fundamentals of Microbiology Lab
Mic 410 - Immunology Laboratory
Research and publishing
My lab has three main areas of research interest.
The first interest is in the assembly and release of human parainfluenza virus type 3 (HPIV3) particles. HPIV3 is a common respiratory tract pathogen which infects most children by five years of age. Most HPIV3 infections result in an upper respiratory tract disease (the common cold), but in contrast to other cold-causing viruses, HPIV3 has a greater propensity to cause disease lower in the respiratory tract where is can cause bronchiolitis and/or pneumonia. In the US, it is estimated that HPIV3 causes approximately 1 million cases of medically-attended lower respiratory tract illness, and 18-29 thousand hospitalizations per year. In developing countries, HPIV3 likely has an even greater impact. Acute lower respiratory tract infections (primarily pneumonia) are the leading cause of infectious disease death among children in these countries, accounting for approximately 1.86 million deaths in 2002. And while the epidemiology is not as complete as for developed countries, HPIV3 and related viruses certainly account for a significant percentage of these deaths.
Currently, there are no effective antiviral therapies or vaccines against HPIV-3, although candidate vaccines are being developed. Active research on the replication of HPIV3 is critical for understanding the molecular basis of pathogenesis and the development of effective antiviral drugs and vaccines against this virus.
Assembly and release of enveloped RNA viruses like HPIV3 occur when the virus core, composed of the RNA genome and associated proteins, moves to the inner surface of the plasma membrane where viral envelope proteins are located. From this position exocytosis (budding) occurs. In budding, the core and cell membrane bulge outward until membrane fission occurs and infectious virus particles are released from the infected cell. By understanding how viral protein come together during assembly, and how viral proteins interact with cellular proteins to facilitate release, potential targets for antiviral drug development may be identified.
The second research interest is characterization and risk assessment of novel viruses from fish. For this project, my lab collaborates with the US Fish and Wildlife Service - La Crosse Fish Health Center (LFHC). The LFHC conducts routine health surveys of wild fish and investigates fish kills in hatcheries and wild populations. When screening fish for viruses, tissue samples are collected, homogenized and the resulting extracts are placed onto cultured fish cells. If a virus is present in the fish tissue, that virus may replicate in the cultured fish cells. Viral infection of the cultured cells is indicated by the observation of cytopathic effects (CPE) in the cells – i.e. the infected cells look abnormal. Upon observation of CPE, diagnostic tests are run to confirm the identity of the virus. Occasionally however, the LFHC is unable to identify the virus with their battery of diagnostic tests. Thus, these viruses are likely to be previously unrecognized viruses – i.e. novel fish viruses. These are the viruses my lab analyzes.
Characterization of these novel fish viruses typically involves obtaining sequence information from their genomes. With this information, we can categorize the virus, and develop PCR-based diagnostic assays. Using the diagnostic assay, we can conduct surveys for the virus in wild fish populations, and perform experimental infections of the host fish species. The survey and experimental infections help to inform fisheries managers of the risks posed by these novel viruses. For example, if the virus is discovered in fish to be stocked, there would be little concern about stocking those fish if the virus was already widespread and caused little pathology upon infection of fish. Conversely, there would be greater concern if the virus was highly pathogenic and not current found in waters to be stocked.
The third project involves examination of plant extracts for antiviral activity. By exposing viruses such as HPIV3, poliovirus (Sabin strain), vaccinia virus and influenza virus to varying concentrations of plant extracts we can determine if there is narrow or broad spectrum antiviral activity in these extracts. Most recently, my lab has collaborated with researchers at the University of Wisconsin - Superior in examining extracts from the highbush cranberry (Viburnum trilobum) for antiviral activity.
RECENT GRANTS:
UW System WiTAG: Highbush Cranberry Project: Biofuels and Pharmaceuticals through Native Plants of NW Wisconsin. July 2013- June 2016.
UW-La Crosse Research Grant, Characterization and Risk Assessment of Novel Viruses from Fish, July 2013 – June 2014.
NIH AREA grant # 1 R15 AI1084053-01: Characterization of Human Parainfluenza Virus Type 3 Assembly and Release, Sept 2009-August 2013.


RECENT PUBLICATIONS:
Inflammasome Antagonism by Human Parainfluenza Virus Type 3 C Protein. Shil NK, Pokharel SM, Banerjee AK, Hoffman M, Bose S. J Virol. 2018 Jan 30;92(4)
Bracken MK, Hayes BC, Kandel SR, Scott-Shemon D, Ackerson L, Hoffman MA. Viral protein requirements for assembly and release of human parainfluenza virus type 3 virus-like particles. J Gen Virol. 2016 Jun;97(6):1305-10.
Mor SK, Phelps NB, Barbknecht M, Hoffman MA, Goyal SM. J Virol Methods. A multiplex RT-PCR assay for the detection of fish picornaviruses. 2015 Sep 1;221:131-4.
Barbknecht, M., S. Sepsenwol, E. Leis, M. Tuttle-Lau, M. Gaikowski, N.J. Knowles, B.A. Lasee, and M.A. Hoffman. 2014. Characterization of a new picornavirus isolated from the freshwater fish Lepomis macrochirus. J Gen Vir. Mar;95(Pt 3):601-13.
Gander, J.R., L.M. Schwan and M.A. Hoffman. 2011. Analysis of nucleotides 13-96 of the human parainfluenza virus type 3 antigenomic promoter reveals positive- and negative-acting replication elements. Virology, 419(2), 90-96.
Hoffman, M.A., L.M.Thorson, J.E. Vickman, J.S. Anderson, N.A. May and M.N. Schweitzer. 2006. Roles of human parainfluenza virus type 3 bases 13 – 78 in replication and transcription: Identification of an additional replication promoter element and evidence for internal transcription initiation. Journal of Virology, 80(11), 5388-5396.