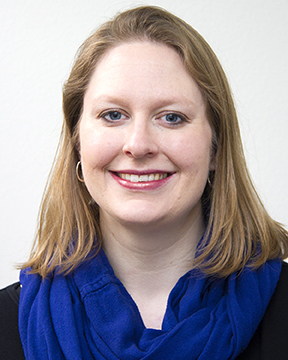 Specialty area(s)
Professional and Technical Writing; Medical/Scientific Rhetorics and Writing; Feminist Rhetorics; Disability Studies; Grant Writing
Brief biography
As a scholar, Dr. Moeller is invested in studying and critiquing connections between technical communication, social justice advocacy, NPOs, medical rhetorics, and identity construction.
Teaching history
UWL 100: First Year Seminar
ENG 110: College Writing I
ENG 307: Writing for Management, PR, and the Professions
ENG 308: Technical Writing
ENG 314: Grant Writing
ENG 333: Introduction to Rhetoric and Writing
ENG 335: Introduction to Professional Writing
ENG 450: Practicum
ENG 425: Practicum in Professional Writing
ENG 497: Senior Seminar (Feminist Rhetorics; Body Rhetorics)
Research and publishing
Moeller, Marie. "Advocacy Engagement, Medical Rhetoric and Expediency: Teaching Technical Communication in the Age of Altruism." In: Key Theoretical Frameworks: Teaching Technical Communication in the Twenty-First Century. Eds. Angela M. Haas and Michelle F. Eble. University of Colorado Press. (2018).
Moeller, Marie and Erin Frost. "Food Fights: Cookbook Rhetorics, Monolithic Constructions of Womanhood, and Field Narratives in Technical Communication." Technical Communication Quarterly. 25.1 (2016). 1-11.

Moeller, Marie and Julie Jung. "Sites of Normalcy: Understanding Online Education as Prosthetic Technology." Disability Studies Quarterly. 34.4 (2014). Online.

Moeller, Marie. "Pushing Boundaries of Normalcy: Employing Critical Disability Studies in Analyzing Medical Advocacy Websites." Communication Design Quarterly. 2.4 (2014): 52-80. Online.

Moeller, Marie, Trish Jenkins, Janet Ruth Heller, and Mahli Xuan Mechenbier. "Forum on Organizing." College English. 73.4 (2011): 450-465. Online.