Profile for Mark Sandheinrich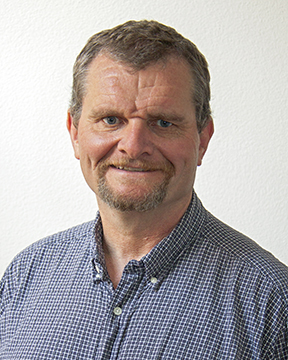 Contact me
Mark Sandheinrich
CSH - Dean
Dean's Office-CSH University of Wisconsin-La Crosse
Specialty area(s)
Aquatic toxicology, fish ecology
Brief biography
Mark Sandheinrich, PhD is Professor of Biology and Dean of the College of Science and Health at the University of Wisconsin-La Crosse. He earned a PhD and MS in Fisheries Biology from Iowa State University and a BS in Ecology, Ethology & Evolution from the University of Illinois at Urbana-Champaign. He has 30 years of experience and more than 40 publications on aquatic ecology and on the effects of contaminants in aquatic systems. He and his students conduct research on (1) the bioaccumulation, maternal transfer, and reproductive effects of methylmercury exposure in fish; (2) bioaccumulation of methylmercury in aquatic food webs and (3) identification of controls on ecosystem sensitivity to mercury in atmospheric deposition.
Education
Ph.D. Iowa State University, 1988
Major: Fisheries Biology/Aquatic Toxicology
Minor: Statistics

M.S. Iowa State University, 1982
Major: Fisheries Biology

B.S. University of Illinois, Champaign-Urbana, 1980
Major: Ecology, Ethology, and Evolution
Career
Research and publishing
Representative publications:
Sandheinrich, M. B., and P. E. Drevnick. 2016. Relation among mercury concentration, growth rate and condition of northern pike: A tautology resolved? Environmental Toxicology and Chemistry 35:2910-2915.

Brigham, M. E., M. B. Sandheinrich, D. A. Gay, R. P. Maki, D. P. Krabbenhoft, and J. G. Wiener. 2014. Lacustrine responses to decreasing wet mercury deposition rates – results from a case study in northern Minnesota. Environmental Science & Technology 48:6115-6123.

Haro, R. J., S. W. Bailey, R. M. Northwick, K.R. Rolfhus, M. B. Sandheinrich, and J. G. Wiener. 2013. Burrowing dragonfly larvae as biosentinels of methylmercury in freshwater food webs..Environmental Science & Technololgy 47:8148-8156

Wiener, G. J., M. B. Sandheinrich, S. Bhavsar, J. R. Bohr, D. C. Evers, B. A. Monson, and C. S. Schrank. 2012. Toxicological significance of mercury in yellow perch in the Laurentian Great Lakes region. Environmental Pollution 161:350-357.

Sandheinrich, M. B., and J. G. Wiener. 2011. Methylmercury in freshwater fish: Recent advances in assessing toxicity of environmentally relevant exposures. Pages 170-190 in Beyer, W. N., and J. P. Meador (editors), Environmental Contaminants in Biota: Interpreting Tissue Concentrations, 2nd edition. CRC Press/Taylor and Francis, Boca Raton, Florida.

Sandheinrich, M. B., R. A. Bodaly, S. P. Bhavsar, P. E. Drevnick, and E. A. Paul. 2011. Ecological risk of methylmercury to piscivorous fish of the Great Lakes region. Ecotoxicology 20:1577-1587.

Wiener, J. G., and M. B. Sandheinrich. 2010. Contaminants in the Upper Mississippi River: Historic trends, responses to regulatory controls, and emerging concerns. Hydrobiologia 640:49-70.
Kudos
served
Brenda Leahy, Michele Nauman and Kalia Vang, all Academic Advising Center & Career Services; Ana Mendoza and Corey Sjoquist, both Admissions; Kaylie Connaughty, Heather Dutcher, Britney Heineman, Jake Speer and Maren Walz, all Advancement; Michael Abler and Renee Redman, both Biology; Zac Knutson, Budget Office; Dawn Hays, Campus Child Center; Mark Sandheinrich, College of Science & Health; Ashley Jochimsen, Counseling & Testing; Ryan Friesen, English; Samuel Schmidt, Exercise & Sport Science; Meredith Thomsen, Extended Learning; Ka Lia Smith, Financial Aid; John Kelly, Geography & Earth Science; James Longhurst, History; Natalie Solverson, Institutional Research, Assessment & Planning; Christine Manno, Management; Suzanne Anglehart, Microbiology; Anthony Chergosky, Regina Goodnow and Sean Hurtubise, all Political Science & Public Administration; Sandra Grunwald and Betsy Morgan, both Provost's Office; Nathan Barnhart and Jeff Keenan, both Rec Sports; Vitaliano Figueroa, Student Affairs; Kara Ostlund, Student Life; and Kyle Burke, University Centers; served Verification Tent Staffing during Move In Week. THANK YOU to the many staff and faculty who greeted students and their families at the Verification Tent during Residence Life Move In Week. These welcoming faces helped ensure those who are vaccinated are recorded as such and those who are not vaccinated had completed a negative COVID test prior to move in. We could not have completed this large task without their assistance. They have helped keep our community healthy and contributed to the campus-wide endeavor of welcoming students back to campus.
Submitted on: Sept. 13, 2021
published
Mark Sandheinrich, CL-51, authored the article "Relationship among mercury concentration, growth rate, and condition of northern pike: A tautology resolved?" in the journal Environmental Toxicology and Chemistry published on Dec. 4, 2016 by the Society of Environmental Toxicology and Chemistry.
Submitted on: Dec. 5, 2016
Important links