Profile for Tammy Fisher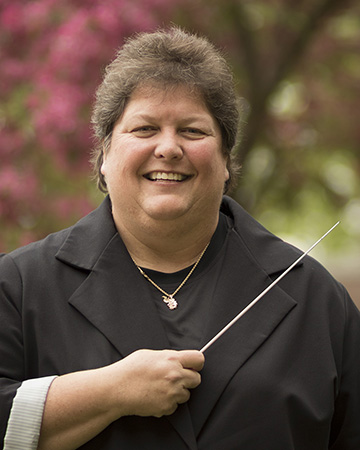 Contact me
Tammy Fisher
Associate Professor
Music University of Wisconsin-La Crosse
Specialty area(s)
Marching and Symphonic Bands, Instrumental Music Education, Conducting, Percussion Studies
Brief biography
Dr. Tammy Fisher is the Director of the Screaming Eagles Marching Band and Percussion Studies at the University of Wisconsin – La Crosse. In addition to directing the Screaming Eagles Marching Band and Symphonic Band, she teaches courses in instrumental music education, percussion pedagogy, and conducting.
Fisher has served as principal timpanist in the La Crosse Symphony Orchestra since October 2001. She has appeared as a percussion soloist with the La Crosse Symphony Orchestra, La Crosse Concert Band, Westby Community band and several high schools across Wisconsin and Minnesota. She is a member of the Grumpy Old Men big band jazz band as well as the Too Darn Hot and 7 Rivers Jazz bands.
Current courses at UWL
Screaming Eagles Marching Band
UWL Symphonic Band
Basic Conducting
Applied Percussion Lessons
Percussion Ensemble/Drum Ensemble
Student Teacher Supervision
Percussion Techniques and Pedagogy
Marching Band Techniques
MUS110 - Music Listening Experience
Education
Ph.D. Music Education Aug 2004
The University of North Carolina - Greensboro
Dissertation: "A Survey of Undergraduate Percussion Curricula at Selected 4-Year Colleges and Universities"
Minors: Research Methodology, Instrumental Conducting, and Educational Leadership
Master of Music, Music Education December 1995
Indiana University of Pennsylvania
Bachelor of Science, Music Education May 1985
Bachelor of Music, Music Marketing
Clarion University of Pennsylvania
Kudos
served
Justin Davis and Tammy Fisher, both Music, sponsored and transported eight UWL band members to participate in the 2020 National Band Association-WI Intercollegiate Band at this year's conference in Oshkosh. These eight students were selected on merit to perform with peers from around the state and is the largest contingent from UWL to attend in ten years.
Submitted on: Jan. 28, 2020