Profile for Willem Vanroosenbeek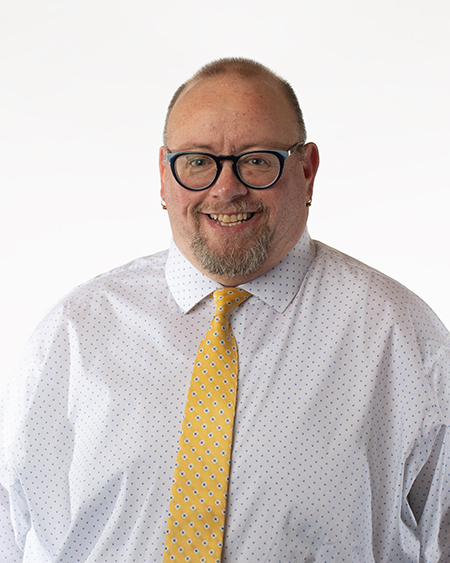 Contact me
Willem Vanroosenbeek Pronounce my name
Pronouns: He/Him/His/They/Them/Theirs
Student Affairs Director (C)
LGBTQQ University of Wisconsin-La Crosse
Specialty area(s)
LGBTQ+ Education
Working with LGBTQ+ people in Health Care
The future is Queer and Nonbinary
Transgender Identity and Experience
Making your Work Place LGBTQ+ Supportive
Brief biography
UW-L Alumnus '92 & '97

Advise:
Rainbow Unity
Transform
Diversity Organization Coalition(DOC)

Campus Committees:
Academic Staff Council Member
Academic Staff Madison Representative
Bias Support & Education Team
Joint Planning & Budget
Transgender Task Force

Volunteer:
7 Rivers LGBTQ Connection - Board Member
La Crosse Community Foundation - June Kjome Fund
Habitat for Humanity - Family Selection Committee
Current courses at UWL
RGS/SOC 105 Introduction to LGBTQ Studies
Education
Bachelors of Science in Therapeutic Recreation Minor: Psychology '92
Master of Science in College Student Personnel '97
Career
Teaching history
EFN 205 Understanding Human Services 2001-2017
EDS 206 2019
LGBTQ Studies in Paris, France
SAA 720 White Privilege
UW-L 100
RGS/SOC 105 Introduction to LGBTQ Studies Fall 20, 21, 22



Professional history
Community Services Specialist, 1997-2001, Wisconsin Coulee Region Community Action Program (CAP), La Crosse, WI
Certified Therapeutic Recreation Specialist, 1992-1995, Gundersen Health System, La Crosse, WI
Kudos
presented
Willem Vanroosenbeek, Pride Center; Andrew Ericson, Sustainability; and Blythe McConaughey, Violence Prevention; presented on how we came to work in sustainability, violence prevention, and LGBTQ+ advocacy at the International Youth Media Summit July 27 in La Crosse. They shared with student leaders from over 20 countries participating in a media summit. Ericson was the mentor for the group focused on sustainability, Blythe was the mentor for the group focused on violence, and Will was the mentor for the group focused on discrimination. Each group will be creating a three-minute PSA about their topic area.
Submitted on: July 31
presented
Willem Vanroosenbeek, Pride Center, presented "The Future is Nonbianry and Queer" at the 2023 Adolescent Health Symposium on Feb. 17 online.
Submitted on: Feb. 20
published
KJ Newkirk, Mikka Nyarko, Anders Cedergren, Keely Rees and Emily Whitney, all Public Health and Community Health Education; Willem Vanroosenbeek, Pride Center; and Casey Tobin, Psychology; co-authored the book "Be the Change: Putting Health Advocacy, Policy, and Community Organization into Practice in Public Health Education" published on Oct. 14 by Oxford University Press . Advocacy has become a key part of public health degree programs across the country. Many programs have added policy and advocacy courses into curricula in response to new emphases in accreditation requirements, yet few public health textbooks comprehensively cover the advocacy skills that health professionals need to effect change. Be the Change is an affordable introductory resource on public health advocacy, policy, and community organizing for both undergraduate and graduate students within the health and social sciences. Using a conversational and reader-friendly style, the authors draw on their experience as diverse advocates and practitioners in the field to synthesize the purpose, strategies, and tactics used in successful advocacy campaigns in public health. In each chapter, they highlight case studies of actual advocacy campaigns alongside concrete strategic recommendations for implementing change at the local, state, and federal levels. Full of useful stories and advice, Be the Change amplifies the important advocacy work happening around the United States, from traditional health organizations to grassroots community activists, and provides readers with the tools and inspiration to put advocacy into practice every day. REVIEWS: "Few people truly understand how policy shapes our health. In simple language, Be The Change helps practitioners understand this critical connection and provides them with strategies from real world success stories to determine where they can act most effectively." -- Larry Cohen, Founder, Prevention Institute and author, Prevention Diaries "A timely and practical playbook, Be the Change offers students the how-to skills for change-making. An essential read for all students who want to make the world a better place." -- Mona Hanna-Attisha, MD, MPH, Flint pediatrician and author of What the Eyes Don't See "As a public health researcher, I know that racism, not race, is a fundamental cause of racial health inequities. Structural racism is a fixable problem, and policy makers have the power to enact solutions. This book is a tool to educate and empower public health changemakers, providing them with context, wisdom, and inspiration to build our shared vision of an antiracist future." -- Rachel Hardeman, PhD, MPH, Founding Director, Center for Antiracism Research for Health Equity, University of Minnesota School of Public Health
Submitted on: Nov. 11, 2022
presented
Willem Vanroosenbeek, Pride Center, presented "The Art of Calm" at Midwest BLGTA College Conference on Oct. 22 in Columbus, OH. Work demands, pandemic uncertainty, families, friends, and boredom could be taking their toll on our ability to find quiet, peace, and/or calm. Roosenbeek explored techniques to restore, calm and get back to center.
Submitted on: Oct. 30, 2022
elected
Willem Vanroosenbeek, Pride Center, was elected Madison representative for Academic Staff Council.
Submitted on: Aug. 8, 2022
served
Courtney Warax, New Student & Family Programs; Lisa Klein, Community Engagement; Scott Brown, Facilities Planning & Management; Chelsea Wyman, Murphy Library; Justin Davis, Music; Willem Vanroosenbeek, Pride Center; Nathan Barnhart, Rec Sports; Laurie Harmon, Recreation Management & Therapeutic Recreation; Jenni Brundage and Andie Coxey, both Residence Life; Jamie Henk, Student Association student; Kyle Burke, Magann Dykema, Drea Higgins, Michael Slevin and Corey Stilwell, all University Centers; Kaylie Connaughty and Maren Walz, both University Marketing & Communications; and Gabrielle Smartt, Wellness, Health Advocacy; served on the Eagle Fest Planning Committee. The planning committee was responsible for Eagle Fest, a festival full of music, entertainment, food, and fun. It was an exciting opportunity for all students, faculty, staff, family members and local community neighbors to come together and celebrate the beginning of the fall semester!
Submitted on: Sept. 13, 2021
presented
Willem Vanroosenbeek, Pride Center, presented "Telling Our Stories" at 2021 ACUI Webinar on April 23 online. Will served as one of the panelists. To honor GLSEN's Day of Silence and pay tribute to the LGBTQIA story, the LGBTQ+ Community of Practice is hosted a virtual event of "Telling Our Stories.'' This storytelling experience was mirrored after a traditional educational session held at the annual conferences over the years. For this session, there will be a panel that will be sharing their stories.
Submitted on: April 26, 2021
presented
Richard Breaux, Ethnic & Racial Studies; Willem Vanroosenbeek, Pride Center; and Ryan McKelley, Psychology; presented "Race and Ethnicity; Gender and Sexuality; Abilities and Mental Health (respectively)" at the Onalaska School District's Equity Day on Friday, Feb. 12 online.
Submitted on: Feb. 12, 2021
presented
Submitted on: Nov. 25, 2019
presented
Willem Van Roosenbeek, Pride Center, presented "LGBTQ+ Identities in our Schools " at UWL's 22nd Annual Fall for Education Conference on Nov. 4, 2019 in La Crosse, WI.
Submitted on: Nov. 4, 2019
Memberships & affiliations
[{"organization":"Consortium of Higher Education LGBTQ Resource Professionals","position":"Member","url":"https://www.lgbtcampus.org/"}]