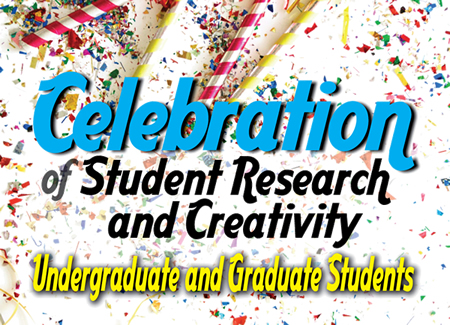 The annual UWL Celebration of Student Research & Creativity is designed to give UWL students the opportunity to present their work through oral presentations, poster displays, gallery exhibits, and artistic performances. The event highlights student research and creativity accomplishments and the important role faculty and academic staff play as mentors in the scholarly activity process. The UWL Celebration encourages dissemination of scholarly work results from all disciplines represented in the UWL academic community.
Celebration 2018 will be held Tuesday, April 10th, 9:00-12:45
Meet us at the Bluffs (2nd floor of the "U" - the new student union) for over 150 poster, oral, and exhibit presentations by undergraduate and graduate students.
When available, the event schedule and abstract book will be posted here. Please check back in early April.
Presentation Guidelines
These guidelines will give you specific details about how to format your oral or poster presentation at the UWL Celebration, as well as some general ideas to think about in preparing any presentation of your work.
Oral presentations are 20 minutes long
Posters can be up to 42" wide
Art displays can be on an easel or table; let us know your needs
Eligibility
Any UWL student engaged in collaborative or independent research or creative activity who is mentored by a UWL faculty or staff member is eligible to apply. Participants in all disciplines are welcome. The project does not have to be funded by the undergraduate research and creativity program or a research, service, and educational leadership grant in order to be presented at the UWL Celebration. Abstract submission opens in early February each year and closes just before spring break. Watch this site and email announcements for specific deadlines.
Past and Future Celebrations
UWL Celebration of Student Research & Creativity is held in the Student Union. The date for following year is listed below:
Celebration 22 - April xx, 2019 (TBA)
Previous years' Celebration publications
Example course assignments for students attending the Celebration