Community Engaged Learning Program
A page within Instructors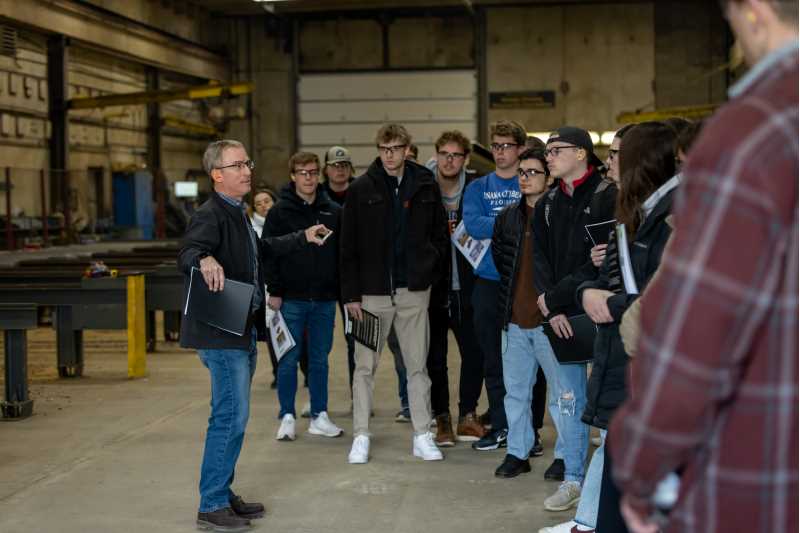 Paul Bagniefski, far left, president of Mid-City Steel, leads UW-La Crosse accountancy students on a tour of the company's manufacturing facilities. Students are gaining real-world accounting experience through a partnership with Mid-City Steel — part of UWL's Community Engaged Learning program.
About the program
The Community Engaged Learning (CEL) Program is a classroom to community relationship that involves academically-based community engaged courses where student learning takes place in partnership with a community organization/business. The student has course content related reflection and faculty mentorship that enhances student learning while also providing a service to the partnering agency.
Criteria
If your course meets the criteria to be a part of the CEL program, instructors are invited to apply for a designation to be added to their course section in WINGS. Once approved, the designation remains on the course and can be added or removed at the request of the instructor at any time. The designation will be reviewed every five years. Learn more about the CEL program process.
Apply
Instructors can preview the CEL application here. Deadlines to apply are as follows:
Fall courses

Round 1: February 15 (designation applied by the start of student course registration)
Round 2: May 15

Spring courses

Round 1: September 15 (designation applied by the start of student course registration)
Round 2: January 15

Summer courses
High impact practice
Instructors across a wide variety of disciplines at UWL already actively design course content around community-based activities. These Community Engaged Learning experiences are considered high-impact practices and are linked to higher student satisfaction and retention—particularly when they occur early in a student's college career.
In addition, the mutually beneficial partnerships fostered in this program address societal concerns and improve quality of life by co-creating partnerships that meet community needs. Other benefits include:
Collaborating with community partners allows instructors to provide an authentic experience to students.
Collaborations can contribute to scholarly outcomes and provide service opportunities.
Collaborations show stakeholders outside of the university how instructors are engaged beyond the classroom, using their skills and expertise to benefit the wider community.
Collaborations lead to strong student outcomes such as understanding the construction of knowledge, having the ability to carry out data analysis and scientific writing, and understanding the use of evidence to support hypotheses and assertions.
Visit us!
UWL Office of Community Engagement
Cleary Alumni & Friends Center, Room 114
1725 State Street
La Crosse, WI 54601