Profile for Darci Thoune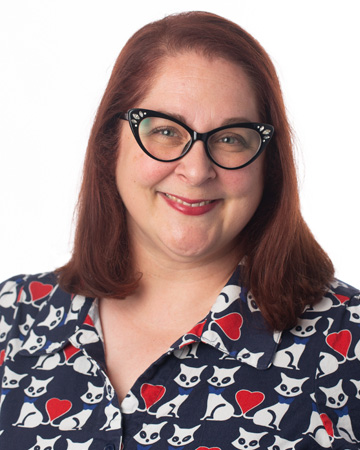 Contact me
Darci Thoune Pronounce my name
Pronouns: She/Her
Professor
English University of Wisconsin-La Crosse
Specialty area(s)
Writing Program Administration, First-Year Writing, Composition Pedagogy, Feedback, Assessment, and Fat Studies.
Brief biography
Growing up, I was a military kid who found constancy in school and reading. Constancy turned into love and led me to a career where I get to be in school forever.
Current courses at UWL
ENG 100--College Writing Workshop (x2)
ENG 333--Introduction to Writing and Rhetoric
Education
Post-Doctoral Fellow in Writing Program Administration
University of Kentucky, Lexington, KY, 2008.

Ph.D. in Rhetoric and Composition
University of Louisville, Louisville, KY, 2006.
Dissertation: "'Act Your Age': Age, Gender, and Instructor Identity in the Composition Classroom."

Graduate Certificate in Women's, Gender, and Sexuality Studies
University of Louisville, Louisville, KY, 2005.

M.A. in Literature
University of Louisville, Louisville, KY, 2001.
Thesis: "'This Cathexis Between': Maxine Hong Kingston, Adrienne Rich and Julia Kristeva on Motherhood."

B.A. in English and French
Central Michigan University, Mount Pleasant, MI, 1996.
Career
Teaching history
Undergraduate
ENG 100, Writing Workshop
ENG 110/112, College Writing
ENG 200, Literature and the Human Experience
ENG 303, Special Topics in Writing and Rhetoric
ENG 313, Writing, Genre, and Style
ENG 342, The Essay
ENG 375, Writing Research
ENG 413, Capstone Research Project
ENG 497, Senior Seminar in Rhetoric and Writing (Topics: Life Writing, Queer Rhetorics, Writing and Resistance)
FYS 100, First-Year Seminar
Graduate
ENG 500, Composition Pedagogy
Research and publishing
Thoune, Darci L. (2021) "Am I Fat?" International Fat Studies Handbook. Eds. Cat Pause and Sonya Renee Taylor. Routledge.
Heaser, Sara A. and Darci L. Thoune. (2020) "Designing a Corequisite First Year Writing Course with Student Retention in Mind." Composition Studies 48.2 (2020): 105–115. https://compositionstudiesjournal.files.wordpress.com/2020/08/heaser-thoune.pdf
Thoune, Darci L. (2020) "Failure Potential: Using Failure as Feedback." Failure Pedagogies: Learning and Unlearning What it Means to Fail. Eds. Laura Micciche and Allison Carr. https://doi.org/10.3726/b16255; https://www.peterlang.com/view/title/69667
Barske, Valerie, Katia Levintova, Valerie Murrenus Pilmaier, and Darci L. Thoune. (2019). "Scholarship of Teaching and Learning (SoTL) and Gendered Division of Labor on Our Campuses: Implications and Recommendations for Personnel Decisions." Academic Labor Beyond the College Classroom: Working for our Values. Eds. Holly Hassell and Kirsti Cole. https://www.routledge.com/Academic-Labor-Beyond-the-College-Classroom-Working-for-Our-Values-1st/Hassel-Cole/p/book/9780367313227
Stoll, Laurie Cooper and Darci L. Thoune. (2019). Elevating the Voices and Research of Fat Scholars and Activists: Standpoint Theory in Fat Studies Fat Studies. https:// DOI: 10.1080/21604851.2019.1629812
Crank, V., S. Heaser, D. Thoune. (2019) "Re-Imagining the First Year as Catalyst for First-Year Writing Program Curricular Change." Journal of the Scholarship of Teaching and Learning. 19(1). https://doi.org/10.14434/josotl.v19i1.26780
Thoune, D. (2018) "A Review of Faculty Development and Student Learning." Across the Disciplines. 15 (2). https://wac.colostate.edu/docs/atd/reviews/condonetal2018.pdf
Moeller, M., D. Thoune, B. Kopp. (2015) "What? We're a Writing Major?: The Rhetoric and Writing Emphasis at The University of Wisconsin - La Crosse." Eighteen Program Profiles. Salt Lake City, UT: University of Utah Press.

Thoune, D. (2011) "The Pleasures and Perils of Being First." WPA: Writing Program Administration, 35 (1). 156-159.

Kendall, C., Kirkman, D., and Thoune. D. (2008) "An Assessment Narrative—The University of Kentucky." The NCTE-WPA White Paper on Writing Assessment inColleges and Universities. http://www.wpacouncil.org/UK
<file://localhost/.%2520%2520http/::www.wpacouncil.org:UK>
Kudos
served
Darci Thoune, English, served as a Steering Committee Member for the Writing Innovation Symposium in Milwaukee, on Feb. 2-3, 2023.
Submitted on: Feb. 6
awarded
Lee Baines and Markus Mika, both Biology; Linda Dickmeyer, Communication Studies; Darci Thoune, English; Naghmeh Gheidi, Exercise & Sport Science; Daniel Bretl, Microbiology; Kamilo Lara, Military Science, ROTC; Seth King, Physics; Brian Kumm-Schaley, Recreation Management & Therapeutic Recreation; and Jane Brannan, Veteran Services; received a UWL Challenge Coin at the Stole & Recognition Ceremony on Friday, May 6 in La Crosse, WI. Students presented a challenge coin to the staff or faculty member of their choosing in recognition of the impact the staff/faculty had on their academic career. Challenge Coins are an enduring military tradition. Military Commanders often give a coin to service members as a mark of camaraderie or to recognize hard work and excellence. They are intended to instill unit pride, improve esprit-de-corps, and serve as a reward for a job well done. A challenge coin signifies the person went above and beyond in their duties.
Submitted on: May 6, 2022
published
Submitted on: July 8, 2020
Important links