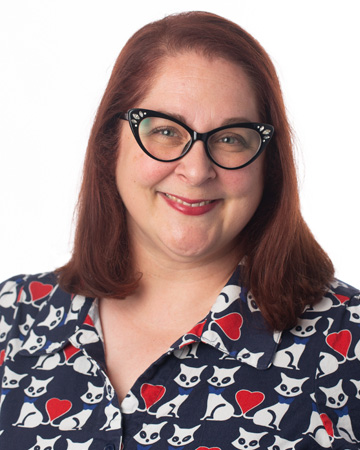 Specialty area(s)
Writing Program Administration, First-Year Writing, Composition Pedagogy, Rhetorical Genre Studies, Feedback, Assessment, and Queer Theory.
Current courses at UWL
ENG 303--Advanced Composition
ENG 413-R/W Senior Portfolio
Education
Post-Doctoral Fellow in Writing Program Administration
University of Kentucky, Lexington, KY, 2008.

Ph.D. in Rhetoric and Composition
University of Louisville, Louisville, KY, 2006.
Dissertation: "'Act Your Age': Age, Gender, and Instructor Identity in the Composition Classroom."

Graduate Certificate in Women's, Gender, and Sexuality Studies
University of Louisville, Louisville, KY, 2005.

M.A. in Literature
University of Louisville, Louisville, KY, 2001.
Thesis: "'This Cathexis Between': Maxine Hong Kingston, Adrienne Rich and Julia Kristeva on Motherhood."

B.A. in English and French
Central Michigan University, Mount Pleasant, MI, 1996.
Teaching history
Undergraduate
UW-L 100 Freshman Seminar
ENG 110/112, College Writing I
ENG 200, Literature and the Human Experience
ENG 303, Advanced Composition
ENG 313, Prose Style and Editing
ENG 342, The Essay
ENG 413, Senior Portfolio
ENG 497, Senior Seminar in Rhetoric and Writing (Topics: Life Writing, Queer Rhetorics)
Graduate
ENG 500, Composition Pedagogy
Research and publishing
Thoune, D. (forthcoming) "A Review of Faculty Development and Student Learning." Across the Disciplines.
Moeller, M., Thoune, D., Kopp, B. (2015) "What? We're a Writing Major?: The Rhetoric and Writing Emphasis at The University of Wisconsin - La Crosse." Eighteen Program Profiles. Salt Lake City, UT: University of Utah Press.

Thoune, D. (2011) "The Pleasures and Perils of Being First." WPA: Writing Program Administration, 35 (1). 156-159.

Kendall, C., Kirkman, D., and Thoune. D. (2008) "An Assessment Narrative—The University of Kentucky." The NCTE-WPA White Paper on Writing Assessment inColleges and Universities. http://www.wpacouncil.org/UK
<file://localhost/.%2520%2520http/::www.wpacouncil.org:UK>