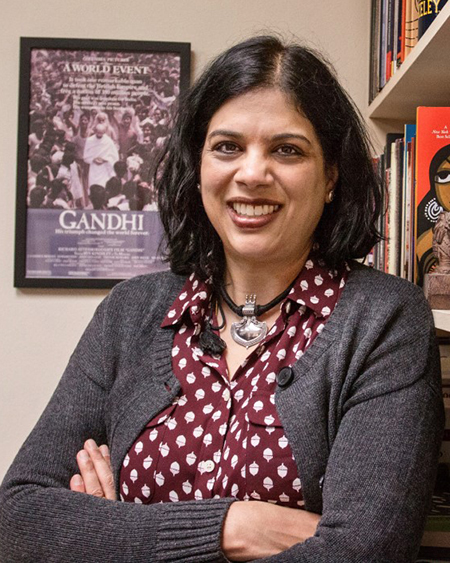 Specialty area(s)
South Asian studies; British empire; Hinduism in south India; colonialism and modernity
Brief biography
I teach courses which aim to introduce general South Asian history to the non-specialist as well as focus on specific thematic topics, such as religion, politics, and gender in the early modern, colonial, and post-colonial contexts of South Asia. Home to one-fifth of the world's population, South Asia includes modern-day India, Pakistan, Bangladesh, Nepal, and Sri Lanka.
In my world history courses, I encourage students to study the past from a variety of perspectives—social, economic, cultural, environmental, and political—and to understand the world they live in as a product of historical processes.
On a personal note, I was born in Texas to parents who migrated from India, and raised in California. During my free time, I like to cook Indian food, read novels, do yoga, ride my bike, and explore new places.
Current courses at UWL
HIS 102: Global Transition and Change
HIS 200: Historiography and Historical Method
HIS 250: Survey of Asia
HIS 328: History of Hinduism
HIS 363: Modern South Asia
HIS 364: Gandhi's India
HIS 383: Women in South Asia
HIS 415: Religion and Conflict in Modern South Asia
HIS 490: History Research Seminar
INS 495: Global Challenges and Opportunities
Education
Ph.D. South & Southeast Asian Studies, University of California, Berkeley (Designated Emphasis in Women, Gender & Sexuality)
M.A. South & Southeast Asian Studies, University of California, Berkeley
M.S. Education, California State University, Hayward
B.A. English and Education, Hunter College (C.U.N.Y.)
Professional history
UW-La Crosse
Assistant/Associate Professor of History, 2010-present
Director, International Studies, 2017-2021
Affiliated Faculty in Women's, Gender, & Sexuality Studies, 2011-present
Yale University
National Endowment for the Humanities (NEH) Summer Scholar, 2018
French Institute of Pondicherry
Fulbright-Nehru Fellow, 2016-2017
UC Berkeley
Visiting Assistant Professor of History, 2012-2013
Instructor of South Asian Studies, Gender & Women Studies, and History of Art, 2003-2009
Research and publishing
Research:
My general field of research interests concerns the political, social, and cultural history of seventeenth to twenty-first century South Asia, particularly India. My first book project focuses on the life of a religious monument in south India sponsored by people who migrated into the area and left their distinct cultural imprint. I explore the site's history from the early modern to contemporary period through various perspectives, such as politics, religion, art history, literature, visual culture, cultural tourism, ethnography, and gender studies. My second book project examines the history of a popular south Indian religious icon from the medieval period to present day through literature, politics, art history, ritual practices, and transnational crime. The interdisciplinary approach in my research informs my teaching as well: in my courses about South Asia, I teach through the lens of literary, visual, historical, ethnographic, and cinematic texts.
My work has been supported by the Fulbright-Nehru Academic and Professional Excellence Award (Research), UWL Faculty Research Grants, UWL Provost's Office, UWL Foundation Grants, UWL International Scholarship Grants, UWL International Development Funds, UWL College of Liberal Studies Small Grants, American Association of University Women's American Dissertation Award, Fulbright-Hays Doctoral Dissertation Abroad Award, Doreen B. Townsend Center for the Humanities Dissertation Fellowship, Foreign Language & Area Studies Fellowships, and grants from UC Berkeley's Center for South Asian Studies, Tamil Chair, Gender & Women's Studies Department, and South & Southeast Asian Studies Department.
Publications:
Architecture of Sovereignty: Stone Bodies, Colonial Gazes, and Living Gods in South India. [monograph under consideration soon]
In Pursuit of Dancing Śiva: The History of India's Iconic Cultural Treasure. [manuscript in preparation]
"Touting Devas: 'Inappropriate' Appropriations of Hindu Gods." [under review]
"From Warrior Queen to Śiva's Consort to Political Pawn: The Genesis and Development of a Local Goddess in Madurai," in eds. D. Dimitrova & T. Oranskaia, Divinizing in South Asian Traditions (New York: Routledge, 2018), 59-70.
"Two sides of the 'India's daughters' coin," Vidura-A Journal of the Press Institute of India 9:1 (January-March 2017): 11-12.
"An Imperial Japanese Visitor in Colonial India: Exchange, Resistance, and Formations of Asian Modernity," Prabuddha Bharata (Awakened India) 22:1 (January 2017): 185-96. Issue: Special edition on Sister Nivedita aka Margaret E. Noble.
"Re-Enchantment in the Museum: Gaṇeśa, Hindu Art and the Living Divine," Journal of Curatorial Studies 5.2 (October 2016): 162-85.
"Producing Heritage: Culture as Commodity in Madurai," International Journal of Tourism Anthropology 5:1/2 (June 2016): 47-70. Issue: "Sites of Religion, Sites of Heritage: Exploring the Interface between Religion and Heritage in Tourist Destinations."
"Orwell's Reflections on Saint Gandhi," Concentric: Literary and Cultural Studies 40:1 (March 2014): 51-77. Issue: "Orienting Orwell: Asian and Global Perspectives on George Orwell."
Review of Faisal Devji, The Impossible Indian: Gandhi and the Temptation of Violence (Cambridge, MA: Harvard University Press, 2012). History: Review of New Books 42:1 (January 2014): 30-31.
Vikrama Cholan Ulaa by Ottakkuthar. Translated by Kausalya Hart and Gita V. Pai. Chennai: Dhwani Books, 2003.